The Maginhawa Community Pantry resumed its operation to aid the poor by distributing free food and other essential needs. The operation got halted due to the safety concerns of the initiator, Ana Patricia Non, after she was red-tagged and allegedly accused of having ties with the communists.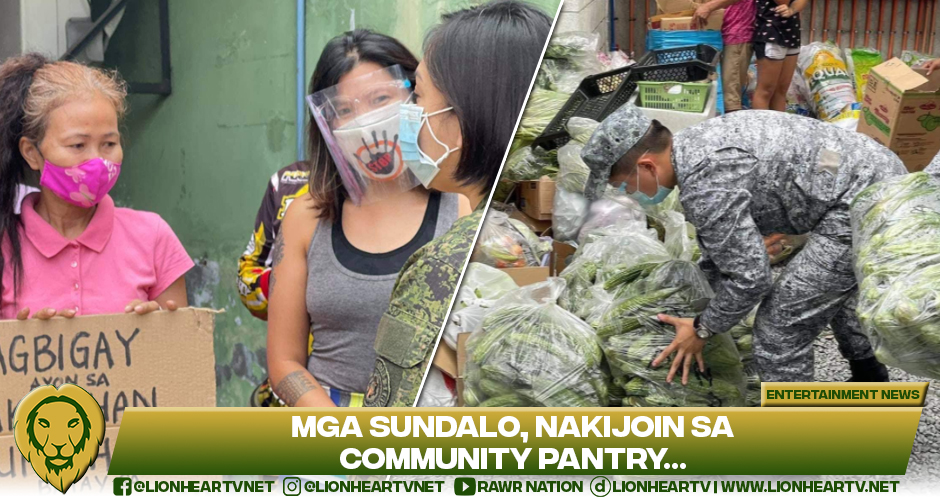 Ana Patrica Non, a 26-year-old furniture designer, did her modest effort to help the people in need. Her idea was to have a small cart on a busy street that contains food items. These food items are free and anyone could either take from it or spare some to put something on it. At the top of the small cart, a tagline was written on a piece of cardboard saying "Maginhawa Community Pantry: Take what you need. Give what you can."
Non's sole purpose in installing a community pantry was to do charitable works for those who are in their end ropes.
The Philippines has known for imposing the longest quarantine lockdown across the world. This has badly damaged the country's economy, hence the poorest of the poor are living their life with little hope.
However, her acts of 'Bayanihan' got mistaken as threatening. She was linked with the communists as PNP did profiling and NTF-ELCAC red-tagged her on social media.
NTF-ELCAC's spokesperson, Lieutenant General Antonio Parlade Jr., assured the organizers to not fear if there is nothing to be feared. Parlade justified that the police are doing profiling because some of its organizers seem to have a controversial background.
Parlade used a biblical figure to attack Non. He even compared Non to Satan.
"Isang tao lang yan di ba? Isang tao lang, si Patricia di ba? Same with Satan. Si Satan binigyan ng apple si Eve. Dun lang nagsimula yun."
Parlade's statement implies that Non is bribing and deceiving the community as she was the initiator that spurred the movement.
Netizens expressed their anger upon hearing Parlade's statement during his interview on One News on Tuesday, April 20, 2021.
Netizens tweeted tons of hate for Parlade, for comparing Non to Satan.
The theater actor and writer, Juan Miguel Severo tweeted that Parlade has no sense of decency within him.
The audacity of Parlade – with that face and track record – to liken Ana Patricia Non to Satan. Unbelievable. Rurok ng kawalanghiyaan.

— Juan Miguel Severo (@TheRainBro) April 21, 2021
Tonyo Cruz, a blogger and a writer, challenged Parlade, Badoy-Partosa, and Diño to donate their salaries and allowances as a contribution so that the country will be able to suffice the needs of its people and not have a narrow mentality.
We challenge Parlade, Badoy-Partosa, and Diño to donate their their entire 2021 salaries and allowances, para may ambag naman sila, at wag ding maging talangka.

Also: defund and abolish NTF-ECLAC so we could redirect its P19-billion budget to ayuda, testing, and bakuna.

— Tonyo Cruz (@tonyocruz) April 20, 2021
ABS-CBN host, Bianca Gonzaga also tweeted her concerns over the statement of Parlade's likening Non to Satan although her acts were of selfishness.
"It is for this reason that we express our grave concerns over the statement of Lt. Gen. Antonio G. Parlade, Jr. regarding Ms. Ana Patricia Non, likening her selfless act to that of Satan's." pic.twitter.com/RF9wSt0ocF

— Bianca Gonzalez (@iamsuperbianca) April 22, 2021
Despite the unwarranted profiling of the PNP and red-tagging of NTF-ELCAC, the AFP joins the organizers of the community pantry to extend their help among those who are in dire need due to loss of livelihood. The Armed Forces Chief, General Cirilito Sobejan, sent his orders to Civil-Military Operations Office (J7) on Thursday to extend their support on the rise of community pantries across the country amid the surge of COVID-19 cases and the red-tagging.
"So, in fact, we are looking for funds for this purpose and (I'm) even contemplating of convincing the members of the Armed Forces to donate one day of our subsistence allowance so with that we will be able to accumulate a substantial amount to support the community pantry or other similar humanitarian undertakings," Sobejan said during in a virtual presser on Thursday.
He emphasized that this act does not have any either personal greed or divisive agenda. He then said that they are willing to donate their subsistence allowance to buy food items as donations as this effort will greatly help the Filipinos.
The Media and Civil Affairs Group of the AFP delivered twenty (20) sacks of assorted vegetables as their contribution to the community pantry.
According to their group commander, Maj. Louzel Lara claims that they support this Bayanihan act.
"Na-inspire po kami sa mga nangyayaring community pantries kaya po lahat ng mga donor namin we pulled it out and iikot kami sa iba't ibang pantries po ngayon around Quezon City," Lara said.
They also laid some plans to help nine more community pantries.
Netizens expressed their gratitude and appreciation for the support and kindness of the AFP.
ABS-CBN's actress-comedian, Pokwang tweeted as she expressed her gratitude to the AFP's donation.
mabuhay po kayo mga sir, mam…. saludo po kmi sa inyo… God bless you and protect you po 🙏🏼❤️ https://t.co/MxVZbSBY9J

— marietta subong (@pokwang27) April 22, 2021
A Netizen named Zhander Cayabyab shares a meme via tweeter. The meme shows the dismay of NTF-ELCAC upon seeing the AFP donating 20 sacks of assorted vegetables.
— Zhander Cayabyab (@zhandercayabyab) April 22, 2021
Another Netizen named Nikki The Peasant concluded that the AFP's work for the community pantry is an 'act against' their seniors in the position. He then congratulated the team for such work.
I would like to think that this is sort of a protest against their higher ups. Kudos to this team for helping. https://t.co/ExeeaDjnzH

— Nikki the Peasant (@macronikki) April 22, 2021
Jerry Cacanindin, a tweeter user tags Parlade as the AFP donated for the Maginhawa Community Pantry. He even pointed out that Parlade is making more damage to the AFP. Resigning from his position is the best answer said Cacanindin.
https://twitter.com/GerryCacanindin/status/1385114962356367364?s=19
Tonyo Cruz again tweeted about how should the persons in uniform must serve the public rather than red-tagging those who are doing Bayanihan acts.
Ganyan po dapat.

Mag-ambag, wag mag-redtag https://t.co/7qGKnrzjRh

— Tonyo Cruz (@tonyocruz) April 22, 2021
Ganyan po dapat.

Mag-ambag, wag mag-redtag https://t.co/7qGKnrzjRh

— Tonyo Cruz (@tonyocruz) April 22, 2021
The German Ambassador to the Philippines, Anke Reiffenstuel was deeply impressed by how united Filipinos are after she donated some food items at Maginhawa Community Pantry.
Been at Maginhawa #CommunityPantry today, donated food items. Deeply impressed by the solidarity spirit of the Filipinos. Great respect for the volunteers and the initiative.#germanyinphl pic.twitter.com/1G6ohtshBz

— Ambassador Anke Reiffenstuel (@germanyinphl) April 21, 2021
Inday Espina Varona, a journalist, asked in her tweet if AFP's work is sincere and true.
Parlade must resign then.
"Lorenzana, Sobejana back community pantries, offer help." If THAT is sincere, there's only one thing to do: fire Parlade.

— inday espina varona (@indayevarona) April 22, 2021
The Defense Secretary of Philippines, Delfyn Lorenzana, emphasized that no matter how different one's belief from another, kindness will still prevail.
Kindness is everyone's color.
Kahit ano pa ang paniniwala basta taos pusong tumutulong, susuportahan natin. The DND appreciates and supports these community pantries. We are ready to assist if requested and, if necessary, to deploy the AFP Mobile Kitchens where they are needed. pic.twitter.com/cqf2dUuupM

— Delfin Lorenzana (@del_lorenzana) April 22, 2021
Just as these community pantries are growing all over the archipelago of the Philippines, Non said that there are around 350 community pantries installed. These acts of kindness and graces are given did not just inspire the Filipinos but also the people from East Timor, a country belonging to South-East Asia.
A Twitter user named Mugen, was shocked upon knowing that the idea of having a community pantry has reached Dili, East Timor. According to the Vice Consul of the Philippines, Laser Sumagaysay, it was named "Bairro Farol's Community Pantry."
https://twitter.com/tr1pnaut1k/status/1385058585164468224?s=19
A Netizen puns that Parlade must fly to East Timor as Non might be a contact of the initiator of East Timor's community pantry.
Hoy, Parlade puntahan mo East Timor mayroon na silang community pantry. Baka contact yan ni Patricia

— rainbow (@rainbow06406065) April 22, 2021
Despite the fiasco, the donations for community pantries poured even more. It has raised more cash than Non could ever imagine.
Zene Bernardo, a relative organizer of the Maginhawa Community Pantry, shared their achievement in fundraising through PayPal in facebook post. Originally, their goal was to reach $5,000 but to their surprise, it surpassed $10,300.
A twitter user named Josh shares the aftermath of red-tagging the community pantry. It helped the organizers to gain more for the fundraising. Thus, Erwan Heusaff allegedly donated.
while lorraine badoy, parlade, and the rest of ntf-elcac had countless accusations and red tagging…

the #CommunityPantryPH just raised $10,792 usd!!! i just need to mention this celeb guy who silently supported this cause. mabuhay ang mga organizers ng mga community pantries! pic.twitter.com/8R2YPfB5S5

— josh (@juswatiyan) April 21, 2021
Another Netizen named Lean Porquia tweeted the tagline "Imagine the backfire". The attempt of red-tagging surges the donations for the community pantry.