Recently, the 69th Miss Universe had its preliminary competition and the national costume is one of the exciting segments, avid patrons of the beauty pageant look forward to each year.
This year, some of the contestants wore and dazzled the craftsmanship and creativity of Filipino designers.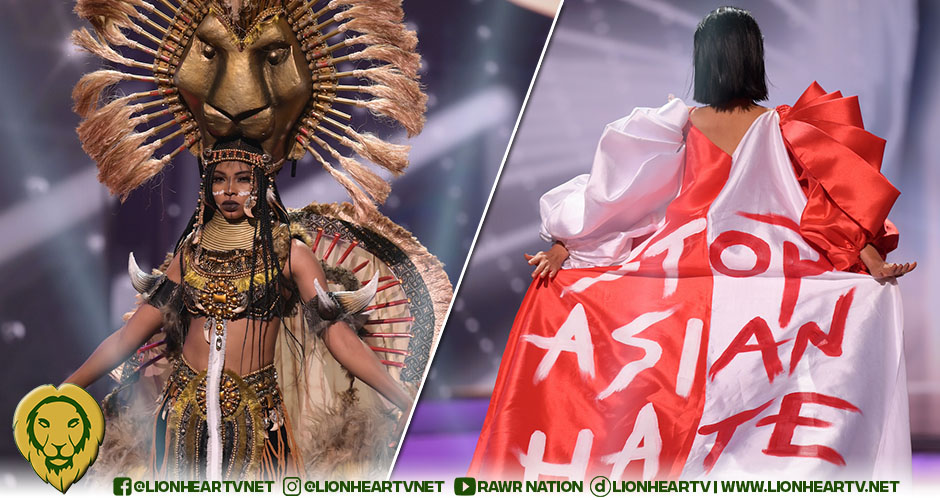 Miss Cameron's NatCo concept.
One of the featured designers in Miss Universe 2020 is the Filipino fashion student Kennedy Gasper, from whom Ms. Angele Kossinda of Cameroon took the concept and brought it to the Miss Universe level.
Gasper revealed that the candidate herself approached him to design her costume.
Kossinda returned to her roots with a lion headdress, two additional lion heads on the sides, and some gleaming gold accessories.
https://twitter.com/niallftzaddy/status/1392997032256704518?s=20
The Central Luzon State University Fashion and Textile Technology student was hesitant at first but was eventually able to complete the task with the assistance of local authorities.
Miss Singapore's. NatCo
Another fashion designer Paulo Espinosa proudly shared that he assisted in designing the National Costume of Miss Universe Singapore 2020's National Costume.
In Paulo Espinosa's facebook account, he proudly shared that he was with the official designer Arwin Meriales in creating the costume.
"The official designer, Arwin Meriales, and I are both happy with your comments. It was a short notice and we only had 2 days to make it kaya pinintahan ko agad after my day job.
"Iniyakan pa ni Arwin to (😅) and I think he had a panic attack due to some mishaps a day before shipment."
Rabiya Mateao's headpiece for her NatCo.
Manny Halasan, a jeweler from Bulacan, created the headpiece design for Rabiya Mateo's national costume for the 69th Miss Universe, but the beauty queen was unable to wear it on stage during the competition.
But it was immediately clarified in an interview with ABS-CBN News' MJ Felipe, where Miss Universe Philippines national director Shamcey Supsup explained the reason for this, saying that the headpiece keeps falling off whenever Mateo tries to wear it.
VICTORIA'S SECRET MODEL REALNESSSSS!!!!!

How can you not love her!

(Developing story: supposedly may headdress daw to which symbolizes the sun. Nevertheless, ferfek parin yung look for her!)#MissUniverse2020 #AribaRabiya
RABIYA ShowItToTheUniverse pic.twitter.com/l1eZwB7H0g

— Moxxxy Andrews (@heymoxy) May 14, 2021
"I'm pretty sure alam niyo naman na I brought the headpiece for Rabiya but unfortunately it was… she couldn't. Nahuhulog.
"It was hard for her to wear it, so we decided na kung saan siya mas komportable," she continued. "Mabigat na rin kasi 'yung wings niya in the first place.
"We're so sad na hindi nasuot but still, Rabiya was able to give us a powerful performance."
Though incomplete, the late Filipino Rocky Gathercole-designed 'Victoria Secret Angel-look alike' national costume of Mateo could have brought a real spectacle with the headpiece.
And for this year's Miss Universe candidates, they will walk the runway wearing the shoes designed by Filipino designer Jojo Bragais.
The Miss Universe Organization announced that local brand Bragais will be the pageant's shoe sponsor for the pageant.
"All of our delegates walk with purpose, strength, and in their own unique stride. Presenting the official footwear sponsor of the 69th Miss Universe competition Jojo Bragais, who empowers women to 'Walk. Win,'" Miss Universe organization said.
Jian Lasala for Miss Belize
LOOK: Miss Belize Iris Salguero wore this gown designed and made by Jian Lasala, entitled 'Heaven's Gate'. pic.twitter.com/GCJzXvG2XL

— MJ Felipe (@mjfelipe) May 15, 2021
Filipinos are world-class indeed. It is not the first time that the creativity of Filipino designers got admired in the fashion industry. Names like Michael Cinco, Monique Lhuillier are just two of the many Filipino fashion designers who gained prominence and respect worldwide.
Michael Cinco for Miss Romania and Miss Czech Republic
LOOK: These evening gowns worn by Miss Czech Republic Klara Vavruskova and Miss Romania Bianca Lorena Tirsin were made by Michael Cinco. pic.twitter.com/NAaX28fWx3

— MJ Felipe (@mjfelipe) May 15, 2021
The Miss Universe stage is one stage to showcase the beautiful creations imagined and executed by Filipino designers. 
***Additional text by Jude Cartalaba.
Comments