Two lawmakers, Anakalusugan Rep. Michael Defensor and Deputy Speaker Rodante Marcoleta, received an earful from medical professionals and personalities on Thursday, September 16, after they insisted that the government should use the antiparasitic drug Ivermectin for COVID-19 patients.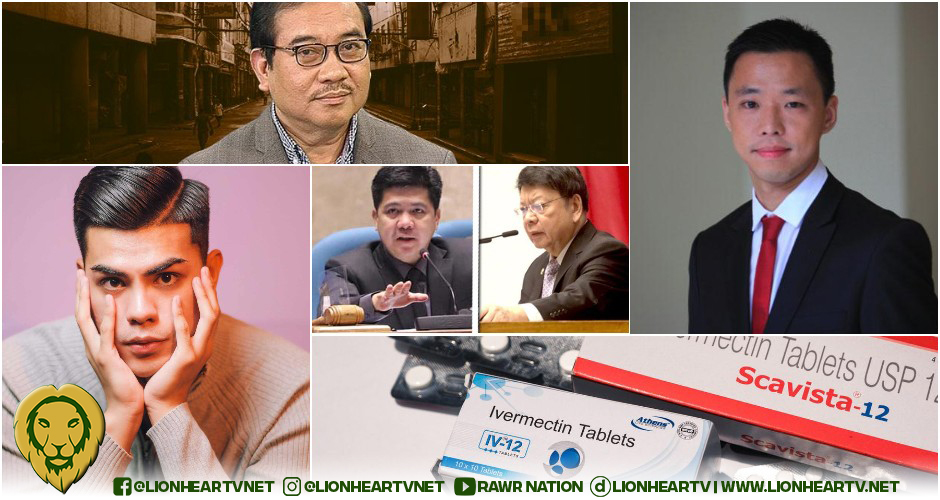 Defensor and Marcoleta joined a petition for the Supreme Court, seeking a writ of mandamus that would require government agencies to "immediately issue" a Certificate of Product Registration for Ivermectin and to issue licenses to companies that will make and sell the drug.
However, the antiparasitic drug was still in clinical trials whether it would be effective against the coronavirus.
The Department of Health (DOH) has stated that "evidence has shown it does not give you any benefit in preventing, shortening the duration of hospitalization or the progression of your disease when you have COVID-19."
Over twitter, several medical professionals and personalities shared their thoughts on the lawmakers' desire to use veterinary medicine to combat COVID-19.
Arshie Larga, a registered pharmacist, even concluded that Marcoleta and Defensor's brains are already 'rotten.'
Grabe inuuod na ata talaga ang utak ng dalawang 'to🙄 https://t.co/8VVRSeCCbV

— Arshie Larga (@Arshiethromycin) September 16, 2021
Dr. Tony Leachon even described the lawmakers' petition as a start of chaos.
Chaos ! https://t.co/59p3juIDll

— Tony Leachon MD (@DrTonyLeachon) September 16, 2021
Dr. Harold Henrison Chiu, on the other hand, got bothered by three petitioners who signed the petition since they are medical doctors.
Nakakabother yung fact na 3 out of 6 petitioners are MDs 😱😱😱 https://t.co/7Bkt8olPGR

— Harold Henrison C. Chiu, MD (@88DoubleDragon) September 16, 2021
Ronnie Baticulon, a pediatric neurosurgeon noticed that Dr. Rafael Castillo, a member of the Board of Medicine, was among the petitioners who would regulate the use of Ivermectin.
Baticulon then suggested that Castillo should resign because he decided to support a still-unproven medicine for COVID-19.
Apart from Castillo, Dr. Maria Shamylle Quinto, Veterans Memorial Medical Center's Head and Neck Surgeon, and Dr. Homer Lim signed the petition.
Dr. Rafael Castillo, a member of the Board of Medicine, is pushing for ivermectin. He should resign. He cannot be given power to decide who becomes licensed physicians or not. https://t.co/TUNYw9OZr0

— Ronnie E. Baticulon (@ronibats) September 16, 2021
TV personality Justin Dizon even called the lawmakers 'stupid.'
stupid https://t.co/jWzjRqoeOC

— Justin Dizon (@iamjustindizon) September 16, 2021
RJ Naguit, a medical doctor and twitter personality, noted that Congressmen Defensor and Marcoleta are "dangerous to public health."
Your congressmen are dangerous to public health. https://t.co/HKhmRb9GnU

— RJ Naguit 🌹 (@docrjnaguit) September 16, 2021
Journalist Barnaby Lo even shared his opinion that congressmen's move would have the Justices become medical experts despite many medical professionals opposing Ivermectin.
The justices will have to wear the doctors' hat? Because I imagine only those with medical training can accurately determine whether a drug works or not. https://t.co/Ip3TwFP2G3

— Barnaby Lo 吳宗鴻 (@barnabychuck) September 16, 2021
ABS-CBN covered Defensor and Marcoleta's distribution of Ivermectin despite their rejection of the Network's franchise renewal bid.
The Food and Drug Agency (FDA) and the DOH previously issued warnings against the distribution of unregistered drugs, still the congressmen decided to give it out to their constituents in Quezon City on April 23.
Even the US Food and Drug Administration and Centers for Disease Control and Prevention have also warned that people who have used the drug have fallen ill after self-medicating with Ivermectin.