While some [interesting] choices by its director kept the film afloat, this gangster-themed Vivamax feature feels lacking a reward.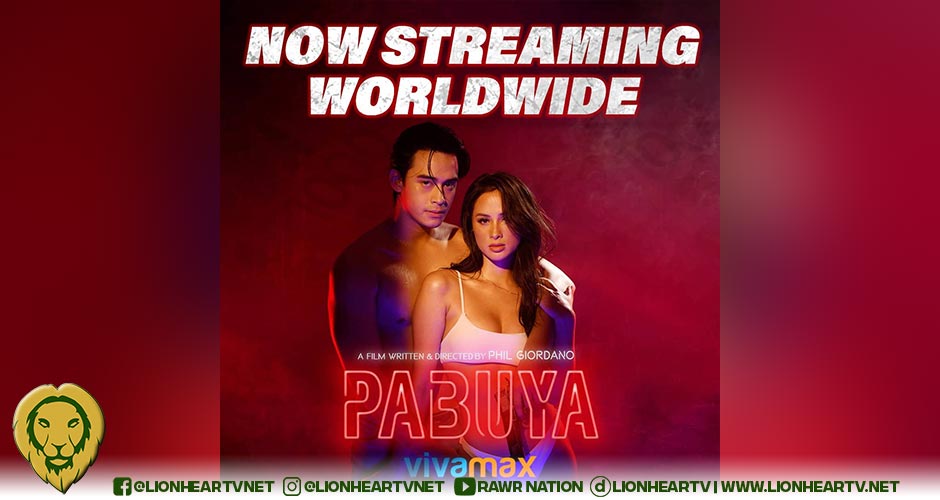 VIVA FILMS
Actors: Diego Loyzaga, Franki Russell,  Jela Cuenca, Felix Rocco, Jiad Arroyo, Andrea Garcia, Marco Gomez, Thor Gomez, Ayesha Aure, Jean Kiley, Aivy Rodriguez, Shiela Snow, Sujin  Kwon, Billy Villeta, Chad Alviar, Yuki Sakamoto, JR Baring
Genre: Sexy, Thriiler, Action
Premise: A gang leader is chased by his rival gangs and the police so he runs to his old flame, who he trusts. But this trust is shaken when the police issues a reward for his capture (Vivamax)
Running Time: 81 minutes
Director: Philip Giordano
Watch it on: web.vivamax.net, Vivamax app
Why You Should See It:
Filled with violence, gore, and sex scenes, Pabuya can be easily distinguished as a Vivamax film. Unlike a few features that followed the streaming app's sex and violence template, however, Pabuya feels lacking to be a rewarding experience for the audience. Except for the masculine viewers who surely won't have a problem with excessively intimate scenes, general audiences will easily see this one as a potential bore.
That said, there is some good stuff to see in this Philip Giordano-helmed gangster movie. Vivamax notably released another film (Sitio Diablo) with a similar theme, last month, and while that brings genre o theme fatigue in normal occasions, Pabuya's troubles do not necessarily arise from its recently explored plot. Felix Rocco is surprisingly the strongest character here, as he took on his character with believable grit and arrogance. Sadly, his strong portrayal almost made Loyzaga and Russell, forgettable.
In the film, Loyzaga plays the gang leader, Pepe. He is being chased by members of his rival groups. He enlists the help of his former flame, Bella (Franki Russell), after being betrayed by his current girlfriend, played by Jela Cuenca. Fresh from playing the son of the infamous dictator, Ferdinand Marcos Sr. in the box-office-grossing film, Maid in Malacañang, Loyzaga is met here with an expectation that he would do great; he has years in business, after all. His character, however, is too plainly written and bored, to make him leave a mark. Russell, a former Pinoy Big Brother housemate, debuts in the film in a lead role. You wouldn't expect her to do great, given her limited acting credentials, but she failed even the modest of expectations.
Giordano made quite good impressions via his previous works, including the short film, Supot (2006), and the Vivamax feature, Pusoy (2022), but he shared the praise with co-collaborators, in those films. In Pabuya, he does the work, all by himself. He did some interesting choices in the film, but he surely can do better.
5 – Excellent
4 – Very Good
3 – Good
2 – Tolerable
1 – Terrible
Pabuya is now streaming on Vivamax app and web.vivamax.net. Watch the official full trailer below:
Comments