Thanks to unbelievably compelling performances pulled-off by some ultra-talented local actors, television remained a cornucopia of unforgettable characters in 2022.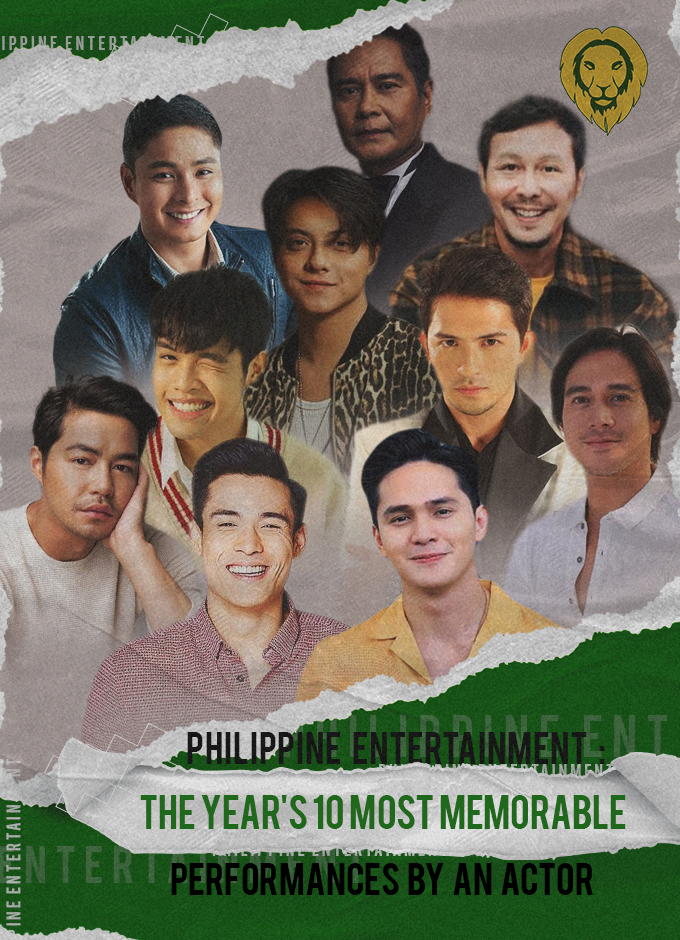 In the wake of an arguably arid 2020 and decent 2021, local television found new vigor in 2022, as most local productions returned to [somehow] normalcy. With such renewed momentum, new television titles emerged, and local audiences got once again glued to their television sets.
But with the rise of streaming services, traditional television has found a formidable threat in the likes of Netflix, HBO Go, and Vivamax. That said, one can't deny that local television has never been more ingenious with never-been-explored genres and rarely-tackled themes. As free television pushes ahead to ward off the seemingly relentless expansion of non-linear media, ideas suddenly brimmed, and along with it, powerful performances from talented actors.
From a police-turned-vigilante to an aspiring boxer… to a modern superhero bestowed by the superhuman strength of a crocodile, characters showed in 2022 along with the incredible actors who portrayed them. 
Here are 10 of the year's most memorable performances by an actor on a television series: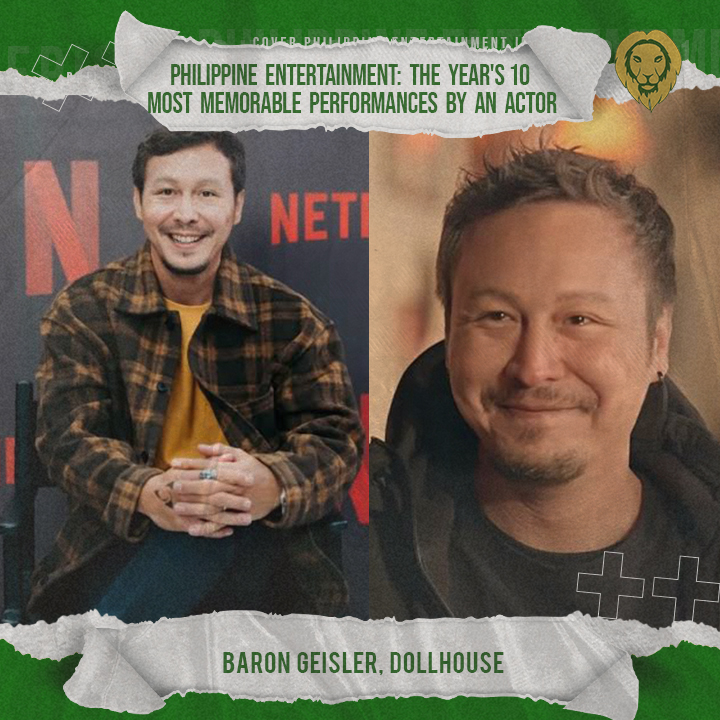 Baron Geisler in Dollhouse. Geisler has practically made a 360-degree turn with the Netflix chart-topper Doll House. Serving as his glorious return to film, the Filipino drama about a former drug addict en route to redemption–was a showcase of the actor's almost forgotten flair. As Rustin, Geisler unloaded his artistic arsenal to remind us how great a dramatic actor he is. 
Coco Martin, FPJ's Ang Probinsyano. Many would argue Coco Martin's character in FPJ's Ang Probinsyano is memorable only because of the length of the show, which took its final bow only after seven years on the air. But while Cardo Dalisay's becoming a household name truly helped Martin secure his royalty status in the Philippine Entertainment scene, how the actor portrayed the iconic role is a spectacle in its own right.
As the only mainstream action drama series in local television for most of its seven-year run, FPJ's Ang Probinsyano unsurprisingly shaped Cardo Dalisay to be one of those characters destined to forever embed in the history of local television. The feat would not have been possible without Martin navigating the character.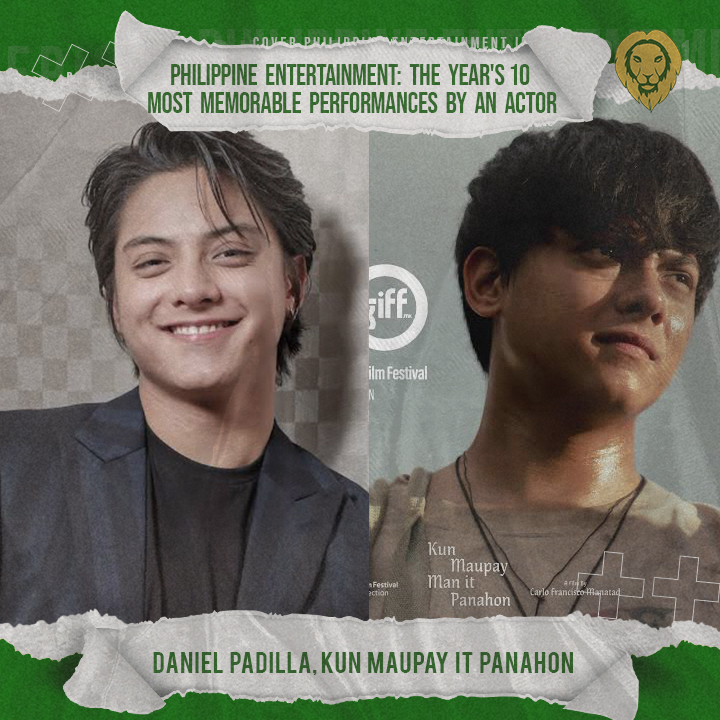 Daniel Padilla, Kun Maupay It Panahon. You can tell that Padilla reached a point in his career where he wanted to try something new when he spent a decade doing mostly romcoms, and he suddenly did Kun Maupay Man It Panahon—a 360-degree turn, as most would say.
Padilla was awarded the Jury Prize at the Metro Manila Film Festival 2021 for his performance in the film, and it is not surprising. Subdued but pointed, Padilla's portrayal of Miguel, a character who hides an internal trauma, is navigated with resonant power. For a young actor who is more known as an astute romcom performer, Padilla carried out his shift to serious drama far better than most may have expected.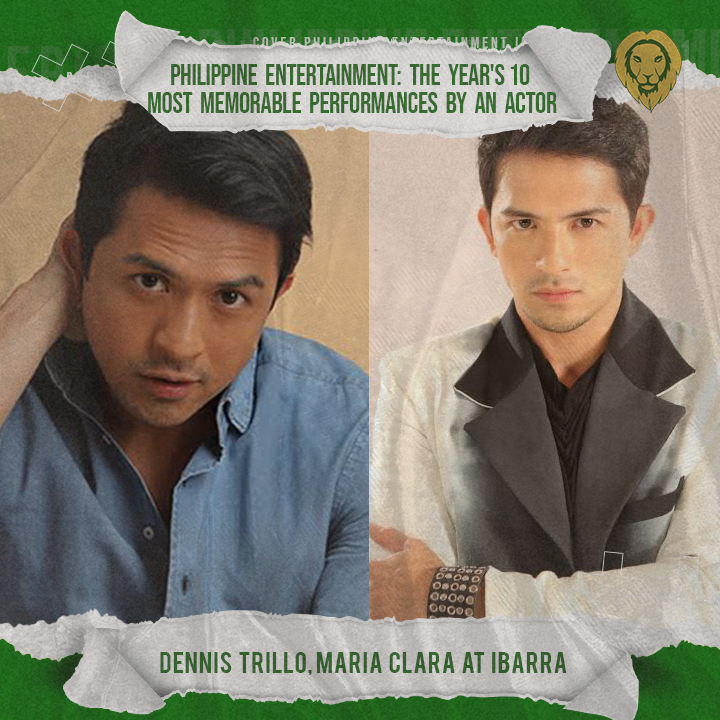 Dennis Trillo, Maria Clara at Ibarra. We can all agree that Trillo is one of the prettiest faces for a leading man in the local entertainment scene. But he is also one of the most talented. No wonder he is widely regarded as GMA Network's 'Drama King', a title fit for royalty in his person. With Maria Clara at Ibarra, Trillo is a seductively charming gentleman from the 1880s, which he delivered with all the mystery and appeal, it required.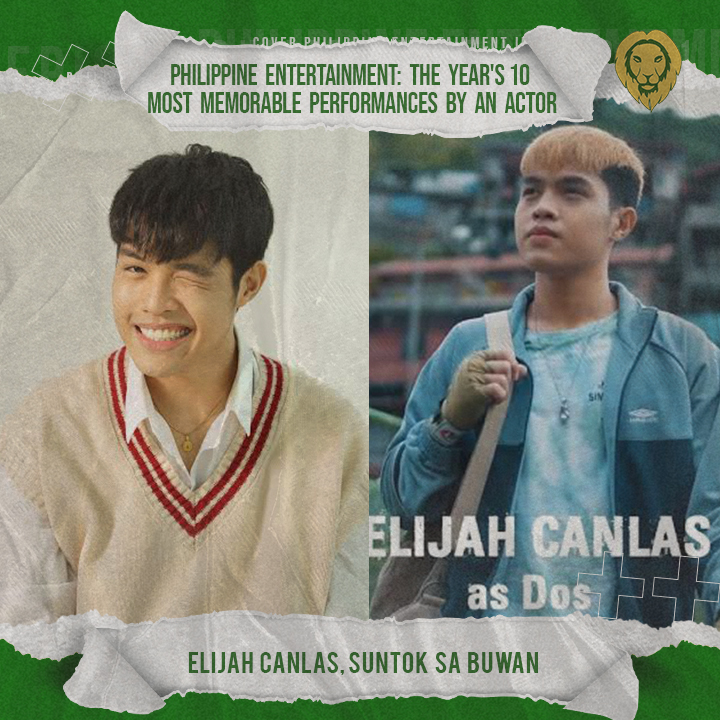 Elijah Canlas, Suntok Sa Buwan. Canlas is one of the country's most awarded young stars, having bagged multiple Best Actor Awards from various prestigious award-giving bodies. Such mindblowing artistry of his was front and center in the recently-concluded primetime sports drama Suntok Sa Buwan. As the tough and brawny young boxer, Dos, Canlas defied expectations of his acting capability.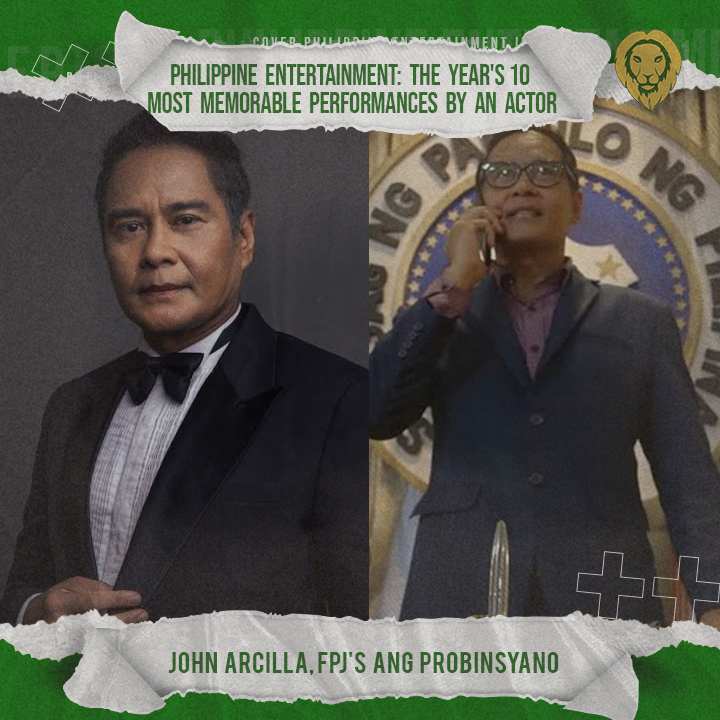 John Arcilla, FPJ's Ang Probinsyano. Arcilla, who may be one of the most talented actors we have, played the unspeakably nefarious Renato Hipolito in the now-defunct FPJ's Ang Probinsyano. The Venice International Film Festival Volpi Cup for Best Actor truly savored the wickedness of his character, but it was simply a sheer showcase of his unquestionable artistic caliber.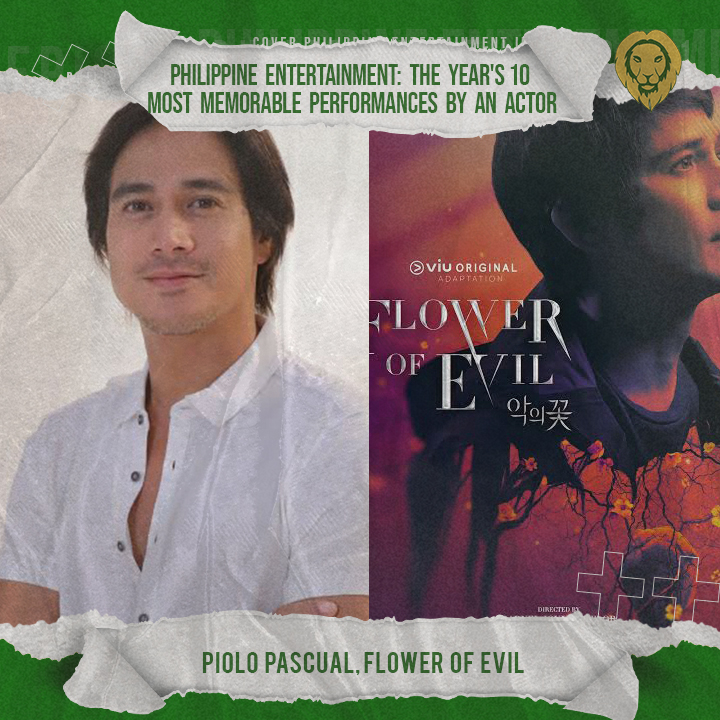 Piolo Pascual, Flower of Evil. There is always a risk in adapting an existing format for local audiences. The risk is even bigger when the one for adaptation is a Korean drama with a global following. Fortunately for Flower of Evil, the material was so good that it was almost impossible to ruin its beauty. That said–it isn't the only reason the Philippine adaptation is so addicting and remarkable. It is also thanks to its ultra-talented cast, which includes the Ultimate Leading Man, Piolo Pascual.
As Jacob del Rosario, Pascual embodied his character's mystery with so much eloquence. He navigated the role with evident restraint, and on its explosive moments, he [just] soared and captivated the audience with sheer intrigue and power.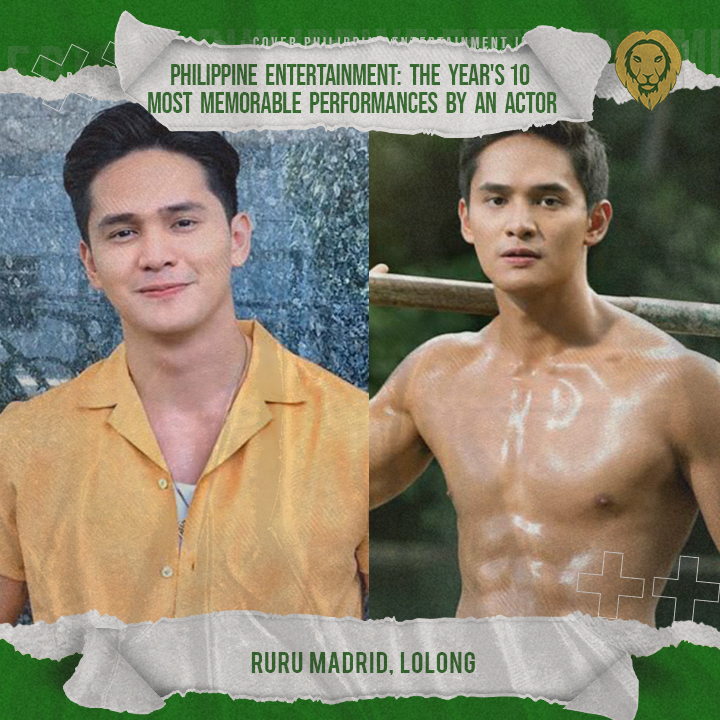 Ruru Madrid, Lolong. It's not difficult to see why this GMA Public Affairs creation made Madrid such a sensational TV personality during its run. The Kapuso actor has the looks and moves of a matinee star, an action star even, which he was able to showcase for the show. Aside from its impressive production and sociopolitical themes–Lolong drew its strength and charm from Madrid. He satisfactorily portrayed his role with ease.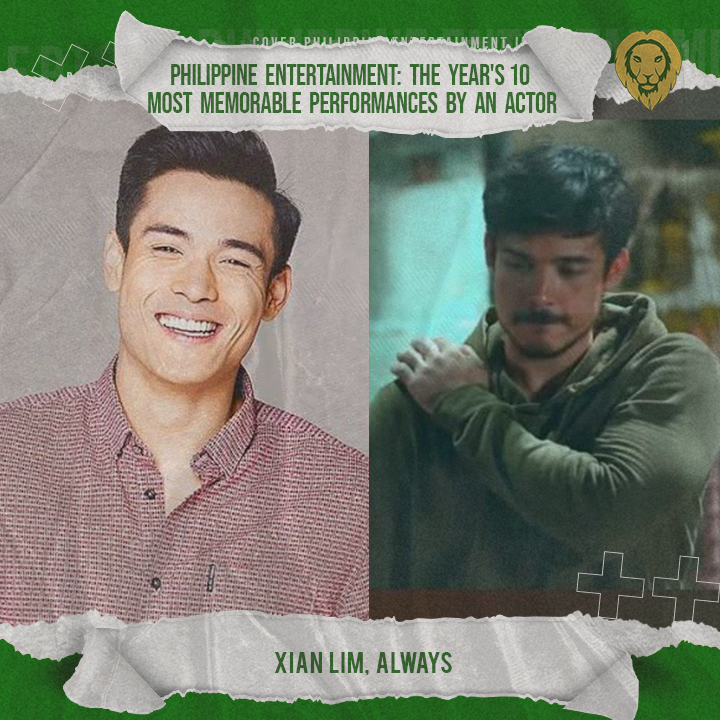 Xian Lim, Always. KimXi's lovely and believable chemistry is undoubtedly one of the reasons why the Filipino adaptation of the South Korean mellow drama Always is [incredibly] beautiful. But it is also about Lim's unquestionable flair as a dramatic actor. His painful take on his character's remorse and inner struggles stands out in the film.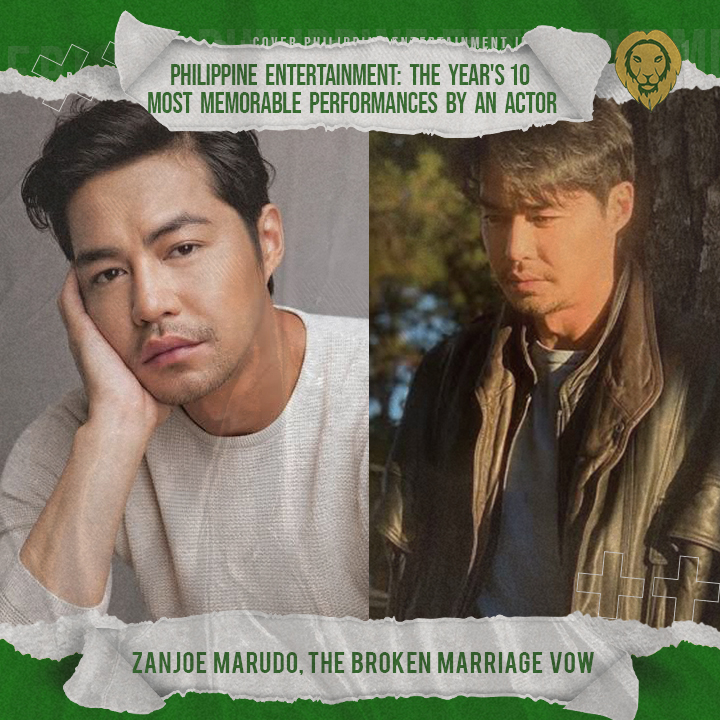 Zanjoe Marudo in The Broken Marriage Vow. Marudo's ease in pulling off contemptible characters has been an open secret, at least in the last two years. Last year, he played the detestable son of a human-trafficking syndicate that abducts children to harvest their body organs, Walang Hanggang Paalam.
In The Broken Marriage Vow, Marudo's character—an infidel man—could have easily veered into forgettable territory, given its familiar profile that got showcased on local television and movies for as many times the audiences can remember. Thanks to great character development, and Marudo's take on the character, David Ilustre actually emerged as one of the year's most memorable male characters.
Missing your favorite performers on the list? Head to the comment section below to share your thoughts and suggestions.
Comments