Television remained a feast of fascinating personalities in 2022, thanks to tremendously gripping performances by several really brilliant local women.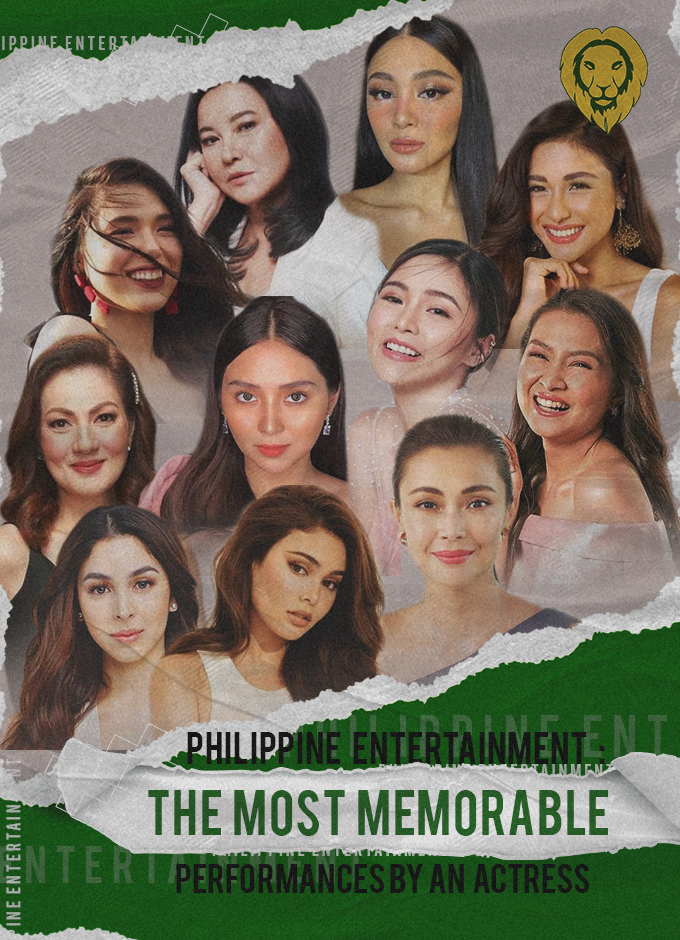 Great actors emerge from the shadows from time to time.
Some may have been in the business for quite a while, only to be brought into the spotlight by that one career-defining performance. That's true for some actresses this year, whose remarkable television performances gathered enough glitter and buzz to catch the attention of both viewers and critics. Of course, many seasoned stars, whose undeniable brilliance has been an open secret, showed they can still surprise. This is true of the actresses who soared and dominated the television scene in 2022.
From an embittered woman trying to redeem herself by exacting revenge on her cheating husband, to a young woman who got transported to the 1880s to learn history, characters shined in 2022, alongside the incredible actresses who portrayed them.
Here are the 10 most memorable female performances of the year:
 Barbie Forteza in Maria Clara at Ibarra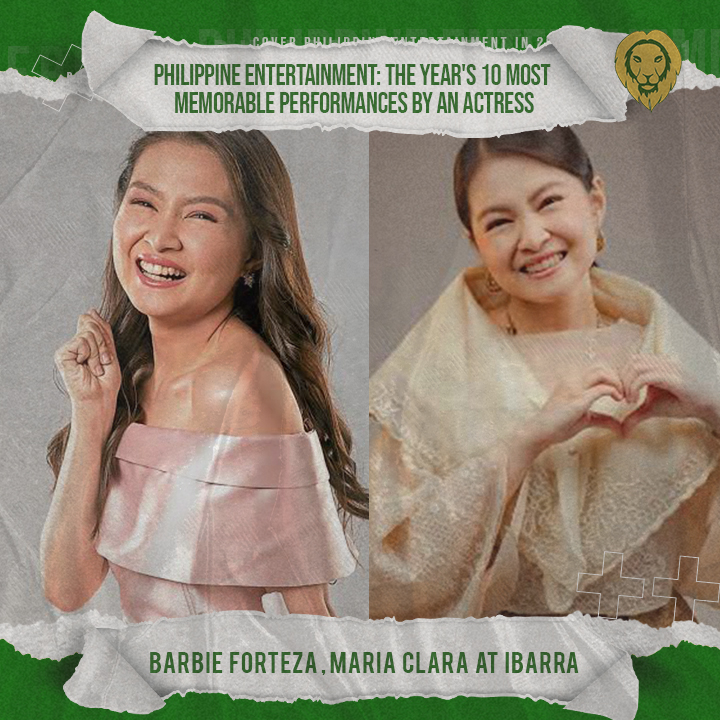 There aren't too many actors who can play both drama and comedy at the same time. It's that fact that makes Kapuso actress Barbie Forteza a rare artist. It's also the biggest reason why her role in the historical portal-fantasy drama, Maria Clara at Ibarra, fits her so well. Her versatility allows her to tackle and showcase Klay's inherent comic allure, as well as her spontaneous boldness.
Carmina Villarroel in  Widow's Web
As Barbara, Carmina Villarroel is a scheming refined, and well-mannered wealthy woman, who apparently has a discreet 'flirty' side. Given her years in proving her versatility, the role was unsurprisingly pulled off by Villarroel with ease. She fully embraced its audacity, fierceness, and mystery, and the character she made the audience love to hate, became one of the series' strongest assets.
Ivana Alawi in A Family Affair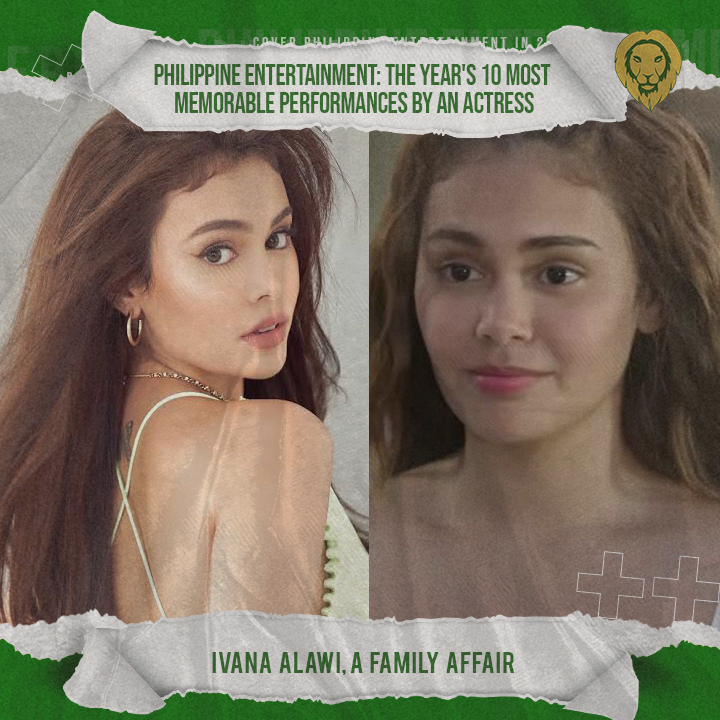 Her take on Cherry Red and Cherry Black, in the Kapamilya revenge-themed series, A Family Affair, did not fall short of a wonder. The social-media-superstar-turned-actress turned out capable of tackling challenging roles, although, in A Family Affair's case, Ivana Alawi managed to pull off better surprises with the anti-hero-ish, Cherry Black.
Jodi Sta. Maria in The Broken Marriage Vow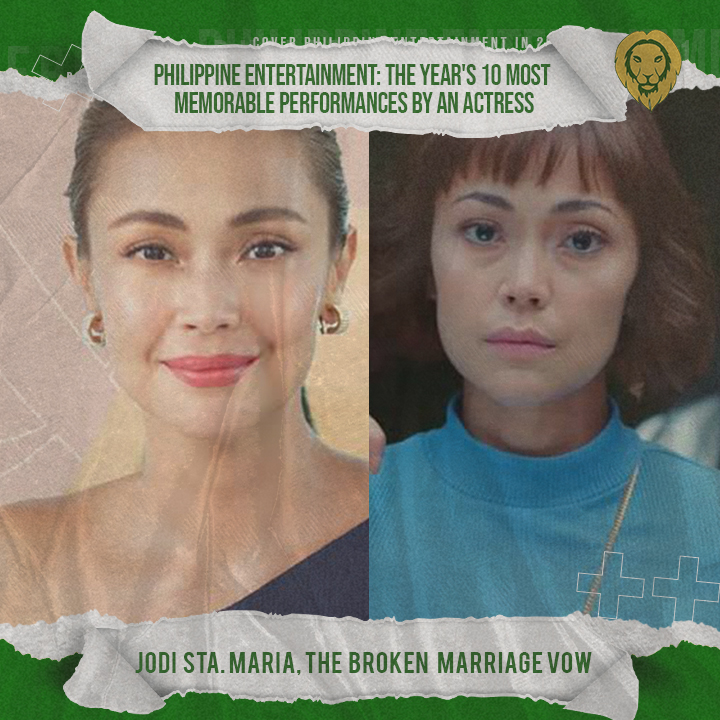 Sta. Maria is undoubtedly one of her generation's most incredible actresses, having showcased her enormous talent in several top-rating and award-winning dramas. Just recently, she made history as the first Filipino actress to bag the coveted Best Actress trophy at the prestigious Asian Academy Creative Awards, and it wasn't surprising.
With The Broken Marriage Vow, she once again treated her fans and Filipino casuals with her performance extraordinaire, as the fierce and strong Dr. Jill Ilustre, who is trying to redeem herself in the wake of her husband's infidelity.
Julia Barretto in Expensive Candy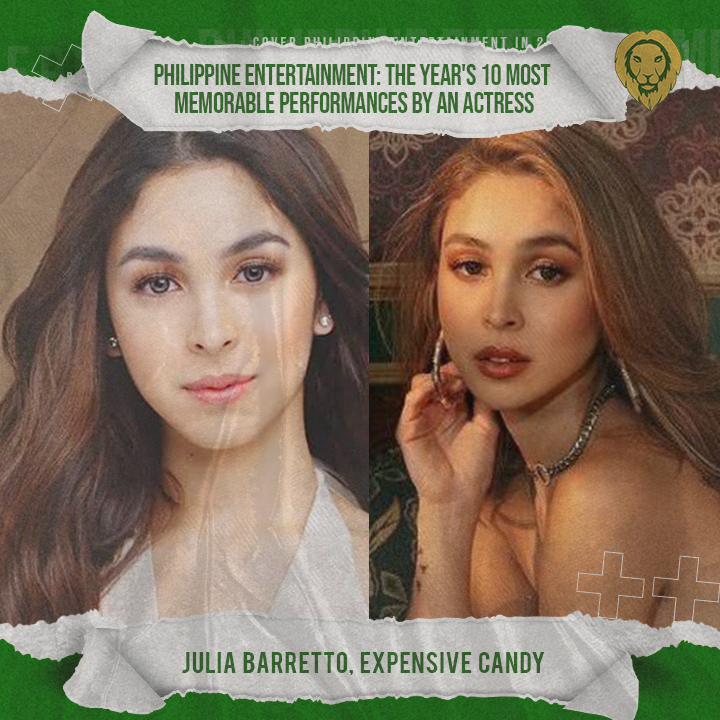 Has Julia Barretto become miles better as an actress, ever since she finally got out of her 'love team' phase? With Expensive Candy, where she played the role of a sex worker, she completely transformed into a spectacle that she previously was not—an actress who can easily pull off nuanced performances, that brim with charisma, allure, and intrigue.
Kim Chiu in Always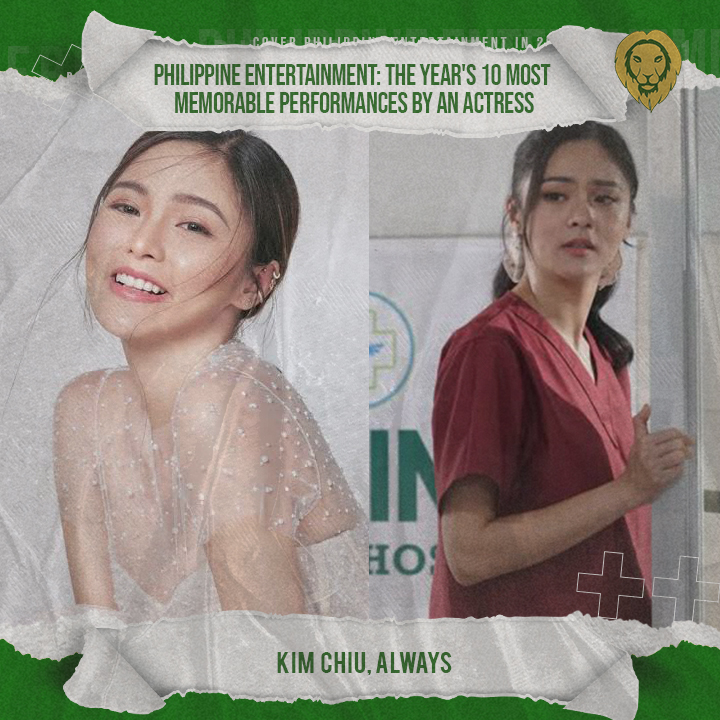 It helped that Anna, the character Kim Chiu played in the Filipino adaptation of the Korean box-office hit, Always, is someone K-Drama binge-watchers can deeply fall for—beautiful, optimistic, but blind. She is the kind you'd easily root for to succeed and have a happy ending, especially in tearjerkers like the film. That said, one of the real wonders of the film is Chiu's genuine take on her character. She shined in both her character's joyful and devastating moments.
Kathryn Bernardo in 2 Good 2 Be True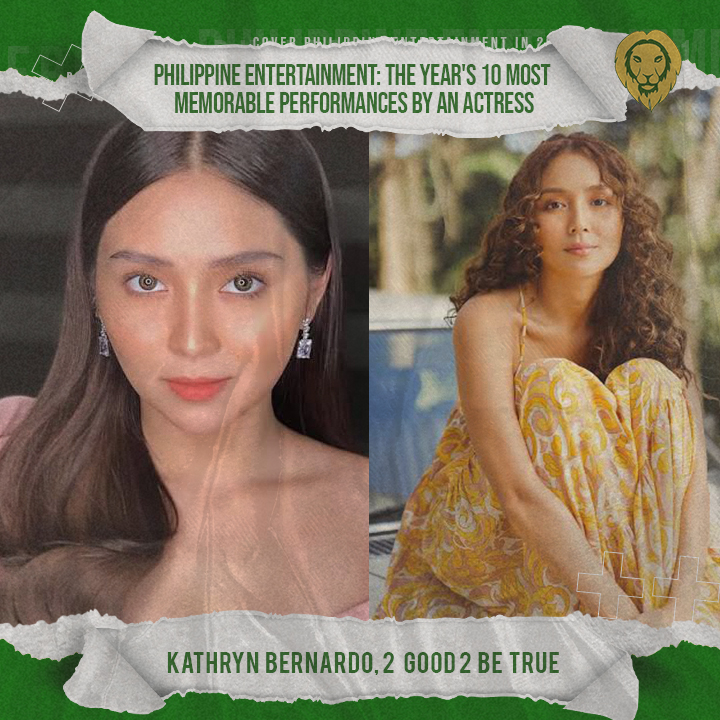 There has been a growing clamor for rom-com to take a back seat in Kathryn Bernardo's career, and it's good that she is likely going to make that happen, next year.  2 Good 2 Be True is their gift to fans who wanted to see KathNiel again in a TV series, the character is no doubt going to be one of the actress' most endearing characters, one that fans will truly cherish until her return to the rom-com genre.
Kylie Padilla in Bolera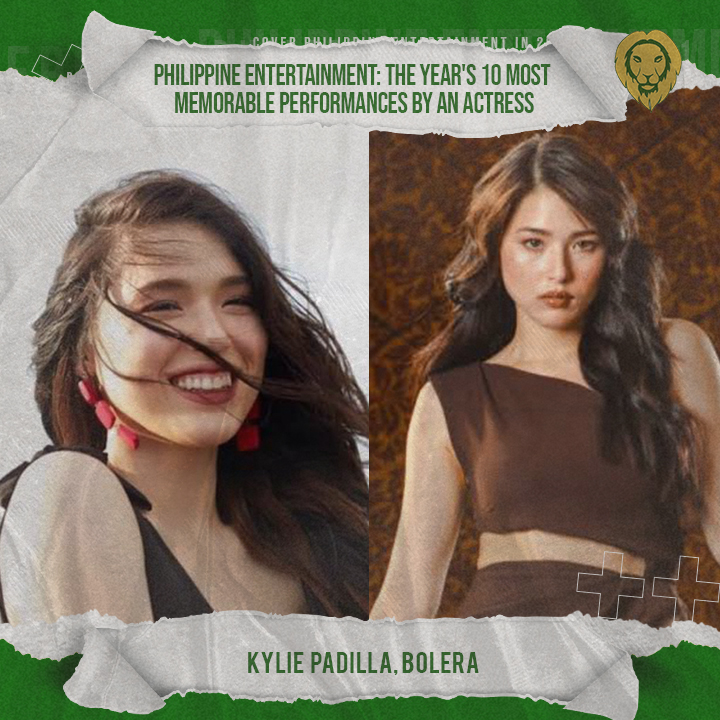 Bolera may have been marketed by GMA Network as a full-pledged sports drama, but it remained adherent to traditional teleserye tropes and formula, until the end. Be that as it may, the series, which served as Padilla's small screen comeback, is packed with memorable unhinged performances, especially that of Padilla, who delivered Joni, a billiards prodigy, with remarkable grit and finesse. That's a feat for an actress like Padilla who only learned the sport, until the offer to play the role, came.
Lorna Tolentino in FPJ's Ang Probinsyano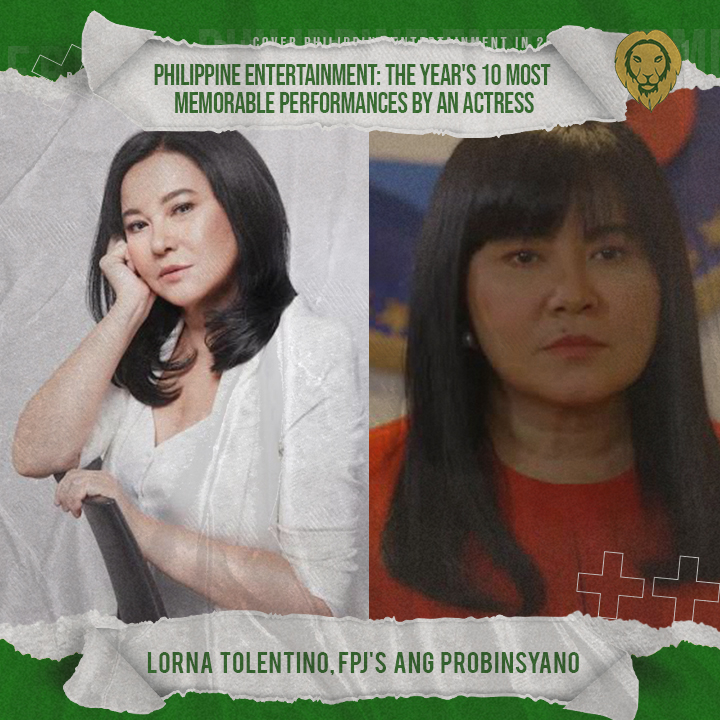 Having spent more than five decades in show business and recognized as one of the local entertainment's grand slam Best Actresses, Lorna Tolentino no longer needs to prove her capacity and brilliance, as an actress. No roles could possibly intimidate her—not even the utterly wicked, Lily Hidalgo, in FPJ's Ang Probinsyano. Just what most expected, she took on the role remarkably, and ended up one of the most despised villains of the phenomenal series.
Nadine Lustre in Greed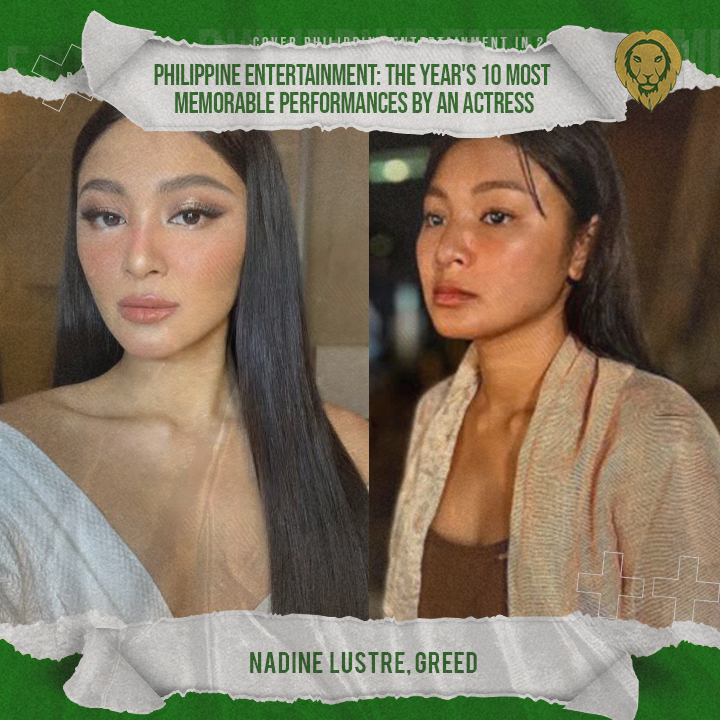 Nadine Lustre is one of her generation's most awarded stars, having bagged no less than three Best Actress Awards from prestigious award-giving bodies like FAMAS, Urian, and the Young Critics Circle. Known for her incredible versatility, the multi-hyphenate actress once again showcased her acting chops, via the Vivamax thriller, Greed.
With her absolutely excellent portrayal in the film, she was able to turn it into a riveting, albeit oddly-paced thriller, and truly a stand-out and a return to form for the award-winning young actress.
Sanya Lopez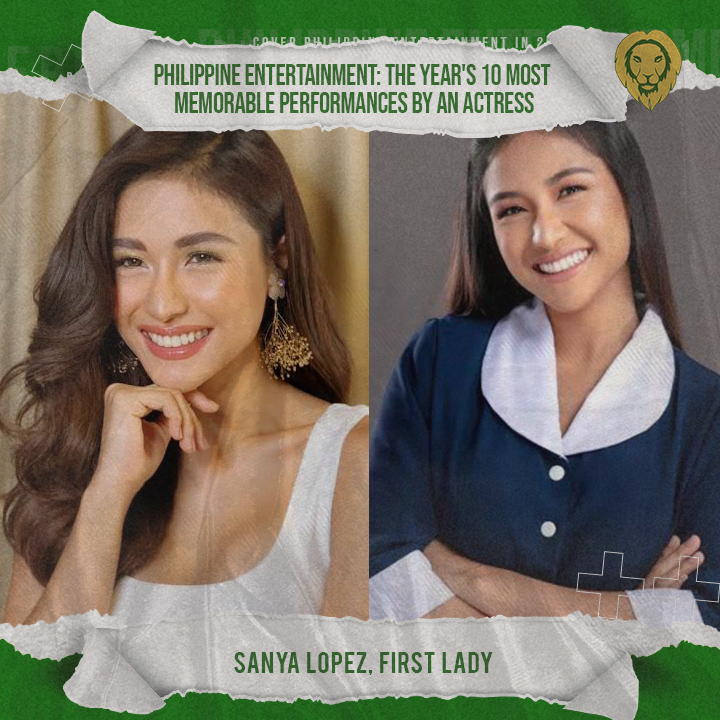 Sanya Lopez's star saw its brightest shine last year, through her breakthrough first title and solo starrer on primetime, the heartwarming 'First Yaya', which unsurprisingly pulled off 'pandemic high' TV ratings. The success of the show landed bigger projects, including the sequel, First Lady. Through her Filipina-style modesty and lovely finesse, Lopez was able to portray Melody remarkably.
Missing your favorite performers on the list? Head to the comment section below to drop their names and share your thoughts and suggestions.
Comments