Avid Pinoy viewers can enjoy streaming of over 30 live TV channels plus video-on-demand content from a selection of series, movies, sports, and more anytime and anywhere in just one app with TapGO TV, now available via SKY.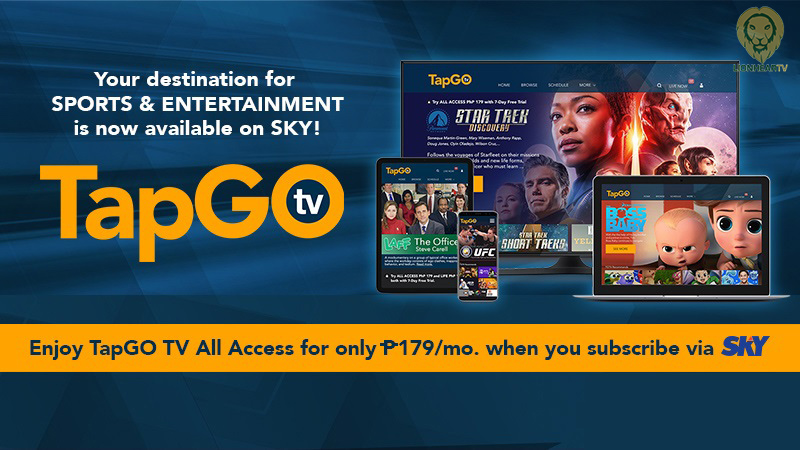 With the TapGO TV app, audiences can tune in to exclusive channels, including Laff, Crime TV, Comic U, and Game Show Central, alongside more programming from Teleradyo, ANC, Knowledge Channel, Dreamworks, TAP TV, TAP Movies, TAP Sports, and Premier Sports, among others.
TapGO TV app also brings the hottest TV programs to stream anytime and anywhere, from sports, general entertainment, and kiddie shows to the biggest blockbusters.
Sports fans can get front-row seats even on the go as TapGO TV brings them all the action from the biggest leagues and competitions live and on-demand, including the NFL, PGA, UFC, WTA, and Formula 1.
Apart from the latest sporting events, viewers can also get their daily entertainment fix for all ages on-demand, from must-watch reality TV programs including "Keeping Up With the Kardashians," must-see episodes of "Chicago Fire" and "Chicago Med," to animated shows "Paw Patrol" and "Boss Baby."
And spend family time by watching your favorite blockbuster hits all day, with movies such as the hit musical-comedy "Pitch Perfect 3," teenage romance flick "Everything, Everything," epic adventures in "The Hobbit: The Battle of the Five Armies," and the iconic "James Bond" saga.
All these and more are in store on the TAP GO TV app (accessible on iOS, Android, Chromecast, and other streaming devices—including SKY EVO), now available via SKY. Avail now for only P179 a month, which can be charged conveniently and hassle-free through your monthly SKY billing.
To subscribe, visit mysky.com.ph/tapgo.
For other updates on SKYcable's programming, cable plans, and more video-on-demand subscriptions, follow SKY on Facebook (fb.com/myskyupdates), Twitter, and Instagram (@myskyupdates).