DXOMARK has announced its latest DXOMARK Awards 2023 which features the best smartphone products of the year. The HUAWEI P60 Pro has emerged on top of DXOMARK's Smartphone Camera rankings for its technological breakthroughs in imaging. DXOMARK is the established image authority that scores and ranks cameras and camera equipment. Widely trusted by experts, its tests are backed by millions of scientific measurements and perceptual analyses.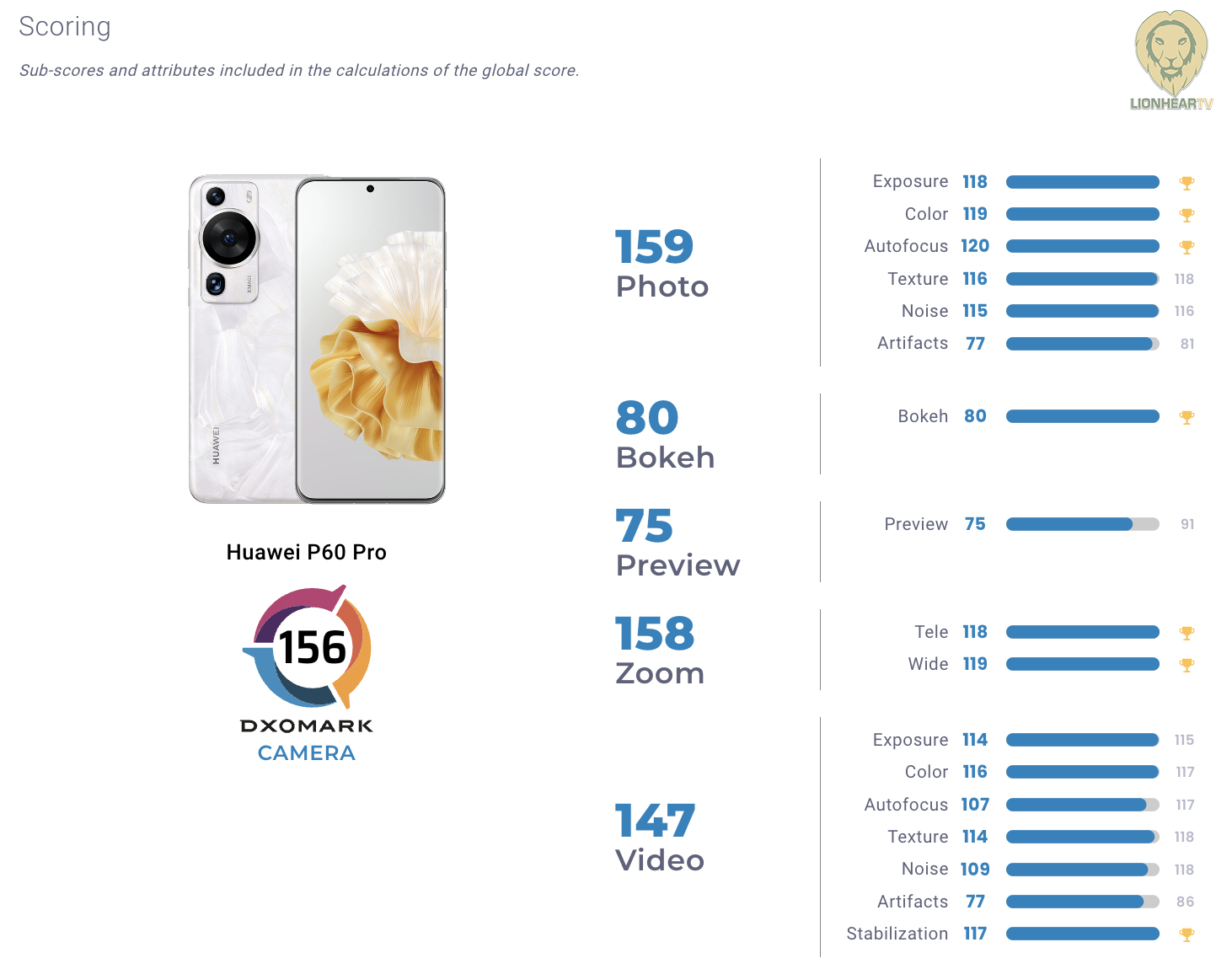 Just recently, the HUWEI P60 Pro was also awarded the Best Photo Smartphone at the TIPA Awards 2023.
According to DXOMARK's latest review, the HUAWEI P60 Pro scored a total of 156 for its overall camera capabilities. On its website, it announced:
"The Huawei P60 Pro takes the top spot in our Camera ranking, thanks to class-leading still image quality with the primary camera and at most zoom settings. Its variable aperture is adjusted automatically based on light conditions and content of the scene, providing an excellent experience in all lighting conditions. In video, it showed some noticeable improvements over its predecessors."
The Ultra Lighting Camera: Captures Images with Highest Clarity and Beauty
Continuing in the HUAWEI P Series' focus on imaging and aesthetics, Huawei's continued efforts to innovate in imaging technology is evident in the HUAWEI P60 Pro. The most exciting feature of the HUAWEI P60 Pro is its focus on light with the main camera equipped with a large-aperture high-transmittance lens group and a RYYB SuperSensing Sensor. This means that photos can be captured in any level of lighting including darker settings, as the camera is geared to produce richly detailed photos with no details left in the dark.
Additionally, its F1.4-F4.0 Auto-Adjustable Physical Aperture allows you to capture a scene more exactly as how you see it with high dynamic range (HDR).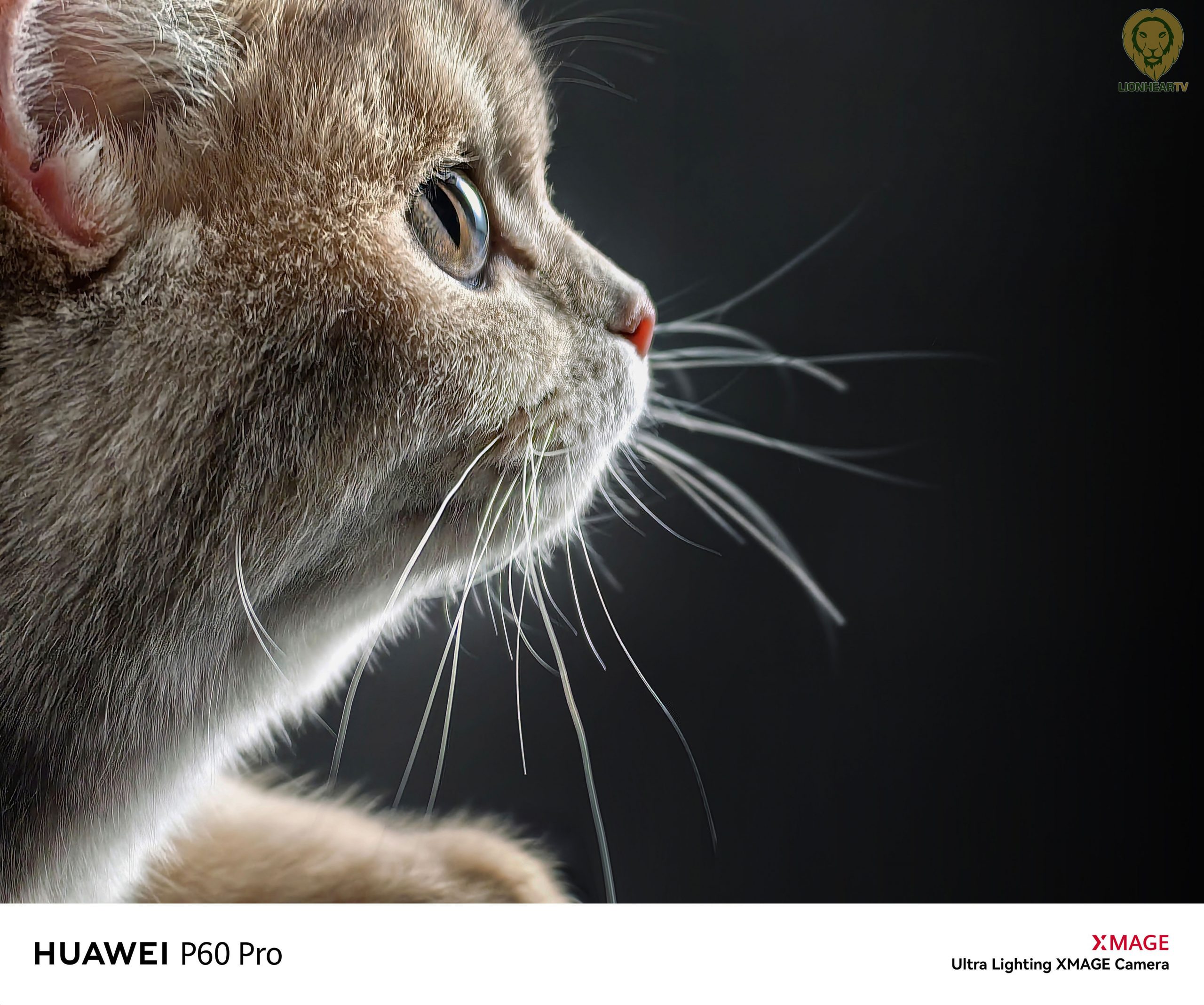 Ultra Lighting Telephoto Camera: Brightens the Dark
The HUAWEI P60 Pro has further achieved a revolutionary breakthrough in telephoto photography by adding the Ultra Lighting Lens Group to the telephoto camera to improve light intake in low-lit and night vision photography.
With the industry's largest F2.1 aperture telephoto lens and RYYB SuperSensing Sensor, the total amount of light entering the telephoto camera lens has increased by 178% when compared to the past edition, producing higher quality night-time portraits and telephoto landscape shots at dawn or dusk.
Telephoto Super Macro: Goes the Distance so You Don't Have to
The HUAWEI P60 Pro also comes in strong in its macro photography department. The P60 Pro was built with an additional set of a Long Travel Slide Zoom Lens Group, which allows flexible control of the focusing distance. This means that the telephoto camera is capable of clear imaging from long-distance shots to zoomed-in macro close-ups.
This is especially handy when using the HUAWEI P60 Pro to shoot day-to-day situations, without having to move from your seat at all, for example: pet photography.
Landing soon in PH
The HUAWEI P60 Pro is testament to HUAWEI's commitment to continuous development of mobile imaging. Photographers and users everywhere can look forward to the HUAWEI P60 Pro which will be available soon from May 12.
Discover the latest from Huawei by checking out the Official Facebook Page.
Want to stay updated on all things Huawei? Join and follow the Official Facebook Community and be part of all the latest conversations on Huawei.
Comments