Get ready to gear up for a successful school year with HP's exciting Back to School Rush promo. HP offers its biggest discount of up to Php2,500, along with the chance to earn GCash rewards of up to Php2,000, when you purchase an HP Smart Tank printer. This promo is the perfect opportunity for students, parents, and individuals looking for a reliable printer that meets their school needs.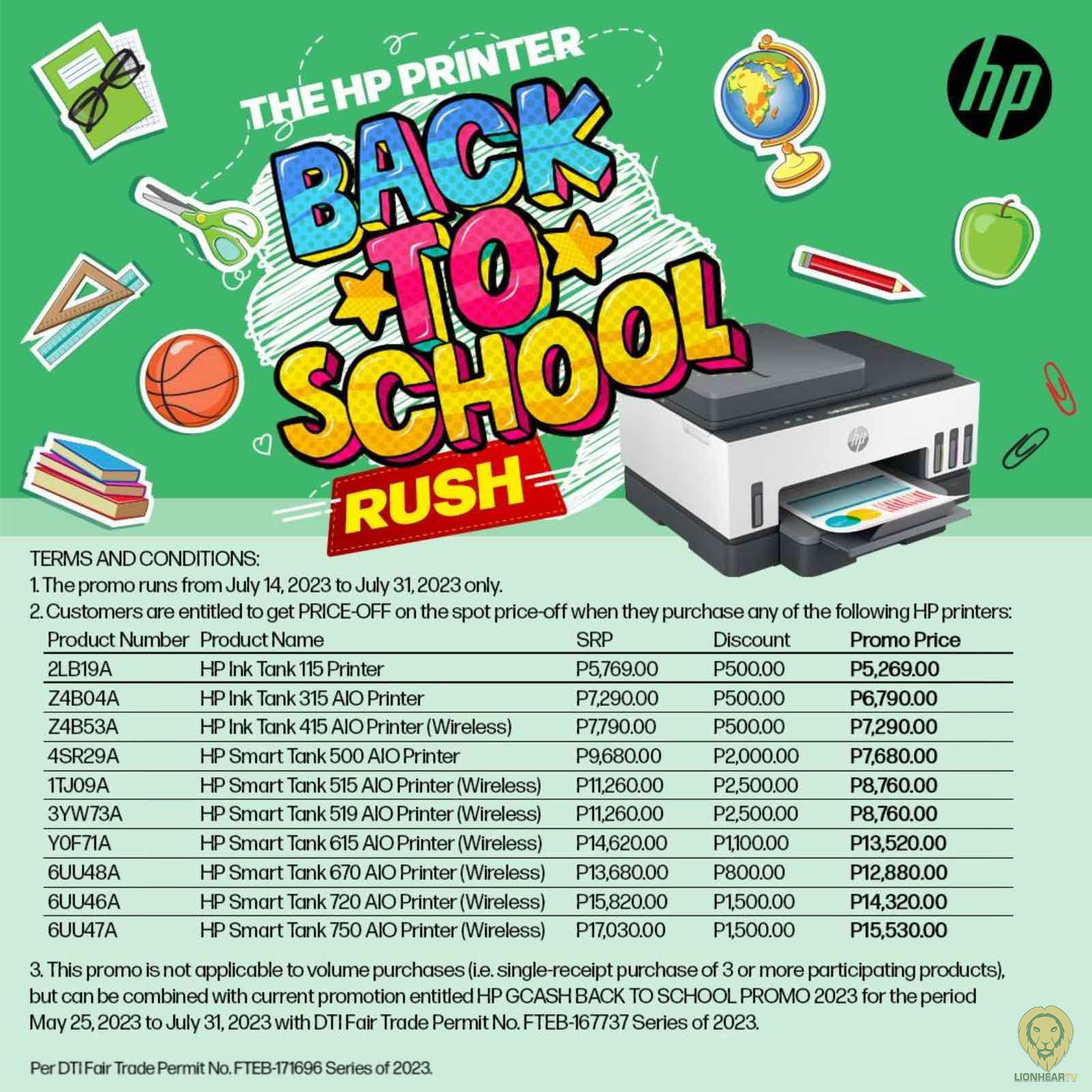 The hero products of this promo are the HP Smart Tank 500, Smart Tank 515, and Smart Tank 519. These all-in-one printers are affordable and offer a wide range of features, making them a perfect fit for families and students requiring high-quality printing capabilities.
One of the highlights of the Back-to-School Rush promo is the GCash reward. With this exclusive offer, customers can earn up to Php2,000 in GCash, which can be used to purchase other school-related items such as textbooks, school supplies, or study materials. HP buyers get this extra bonus when they purchase an HP Smart Tank printer.
Owning an HP Smart Tank printer comes with several advantages for students. With the convenience of wireless printing and the all-in-one functionality of the HP Smart App, students can effortlessly scan, save, and print using a single app. This removes the hassle of connecting multiple devices or dealing with complicated setups. It's a smart choice that streamlines the printing process and saves valuable time for students.
Moreover, the HP Smart Tank 500, Smart Tank 515, and Smart Tank 519 are not limited to student use alone. They are also perfect for households with small businesses or home offices. Parents can benefit from the versatility of these printers, whether it's for printing important documents or helping their children with their school projects. The Back to School Rush promo ensures that your money is well spent on a printer that caters to all your printing needs.
But the perks don't stop there! By taking advantage of this promo, customers can enjoy up to Php 2,000 in GCash cashback. This cashback can be combined with the promo to purchase school supplies, pay school fees, or even grab other school-essential gadgets like an HP laptop PC. It's a fantastic opportunity to save money while investing in the tools and technologies to support your educational journey.
Hurry, make the smart decision for your back-to-school needs, and experience HP printers' convenience, reliability, and affordability.
For more information on the HP Back to School Rush promo, please visit HP Philippines Facebook page for more information. Promo is from July 14 until July 31, 2023, with DTI Fair Trade Permit No. FTEB-171696 Series of 2023.
Comments