In less than a year since its relaunch as a dynamic multi-platform and mega news organization, GMA Integrated News has cemented its position as the 'News Authority ng Filipino.'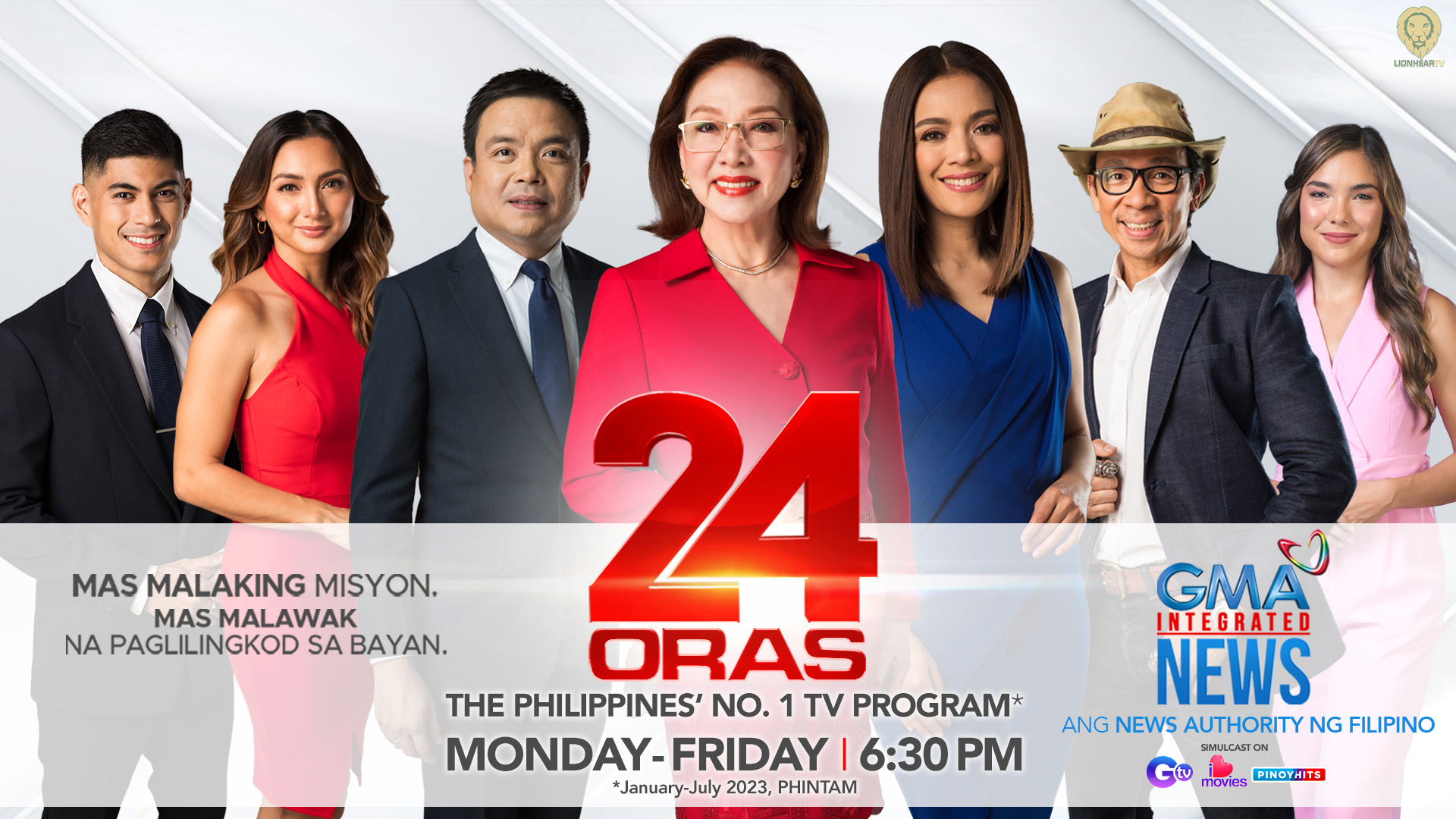 Its flagship newscast, 24 Oras, continues to be the viewers' choice for the latest news, breaking stories, as well as the biggest events here and abroad.
Data from Nielsen TV Audience Measurement show that 24 Oras is still the most watched TV program for January 1 to July 31, 2023 in Total Philippines (combined Urban and Rural). It recorded a combined (GMA/GTV/IHM) people rating of 14.9 percent.
Further, 24 Oras and 24 Oras Weekend tallied a combined (GMA/GTV/IHM) people net reach of 84 percent or 65 million viewers in Total Philippines.
Anchored by Mel Tiangco, Vicky Morales, and Emil Sumangil, 24 Oras continues to uphold the tenets of journalism and deliver truthful, balanced, and credible news and information, as well as top-notch public service to Filipinos wherever they may be.
Providing 24 Oras viewers the latest entertainment news and updates is "Chika Minute" segment host Iya Villana-Arellano. The public also discovers new knowledge and stories behind phenomena with Kuya Kim Atienza's trivia segment, "#KuyaKimAnoNa."
With GMA Integrated News' launch of the "GMA Integrated News Weather Center," 24 Oras introduced Maureen Schrijvers as its weather presenter to deliver weather news and updates weeknights.
24 Oras continues to evolve amid the changing landscape of journalism and news consumption. Earlier this month, it launched its latest segment, "Game Changer" with GMA Synergy sportscaster Martin Javier featuring the latest trends and new discoveries on fitness, lifestyle, technology, and anything that can change the pace of everyday life.
24 Oras Weekend, on the other hand, is anchored by Ivan Mayrina and Pia Arcangel and airs Saturdays and Sundays.
With GMA Integrated News' roster of award-winning anchors and reporters, 24 Oras and 24 Oras Weekend also draw viewers to become inspired, moved, and socially involved through various feature stories and special reports.
Some of these stories include the exposes on the alleged killing of high-profile inmates at the Bilibid as well as the special series "Banta ng Nagbabagong Klima" (The Climate Change Threat Series).
Last July, GMA Integrated News was conferred the "Pambansang Balita Award" at the Hiraya Awards 2023 for the said series on climate change. "Banta ng Nagbabagong Klima" sheds light on the impact of extreme weather conditions, deforestation, and the displacement of communities.
At the 2023 Platinum Stallion National Media Awards, 24 Oras won "Best TV News Program," with Vicky Morales taking home the "Female News Anchor of the Year" award.
Meanwhile, Mel Tiangco was conferred the "Gandingan ng Kababaihan" at the 17th UP BroadSoc Gandingan Awards. She also received the "JPL Lifetime Achievement Award" at The Golden Laurel: The Batangas Province Media Awards 2023.
GMA Integrated News also took home the "Journalism of the Year for TV News Reporting" distinction at this year's Rotary Club of Manila's Pro Patria Journalism Awards.
Catch 24 Oras weeknights at 6:30 p.m. and 24 Oras Weekend on weekends at 5:30 p.m. on GMA with simulcast on GTV, I Heart Movies, and Pinoy Hits. For more updates about GMA Network, visit www.gmanetwork.com.
Comments