Amid the growing number of cases of novel coronavirus (COVID-19) in the country, showbiz personalities Iza Calzado, Bianca Manalo, and Kakai Bautista have some reminders to the public.
As the number goes from 33 to 49 infected persons overnight, many citizens are getting frantic about how to avoid getting infected.
As a result, many Filipinos, especially those who belong in the upper class started bulk-buying sanitation supplies such as tissues, hand sanitizers, and face masks.
Through her Instagram account, Bianca advised her followers to refrain from hoarding as it creates bias and only favors those who can afford to buy in bulk, leaving the unfortunate ones with a few choices or nothing left to buy.
"PLEASE PLEASE do not hoard," said the beauty queen-actress in her Instagram post on Tuesday, March 10.
"Pity our fellow Filipinos who live on their daily wages, who can only afford to buy what they need when they receive their daily or weekly salaries. When they go to buy their needs, the shelves will be empty," she added.
She ended her post by writing, "I hate to say it but it's the upper class that will cause the shortage, and could cause price increases. Pantries will be full in the exclusive villages, while the poorer man will have little choices."
Kakai also aired her sentiments regarding the hoarding of supplies that is currently happening in the country.
In her Instagram story, the All-Out Sundays star shared a post about a grocery store in Adelaide, Australia that is already experiencing a shortage of sanitation supplies due to "stupidity" and panic-buying of their customers who are labeled as "complete idiots."
In her caption, the 41-year old comedienne wrote: "Bagay to sa mga SAKIM na Pinoy sa gitna ng Krisis.
"Kung meron man tatamaan, Unang-una MAHIYA KA. Di lang ikaw ang anak ng Diyos.
"Sana may ganito din tayo Na reminder sa lahat ng groceries and stores."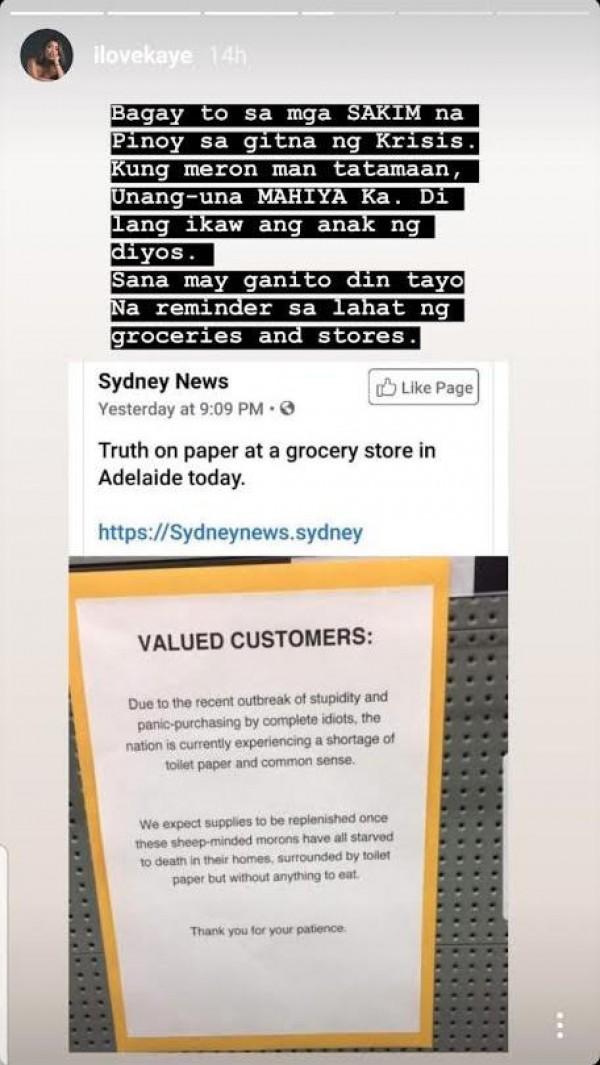 She also shared Bianca's post on her IG story calling out those who want to make the toilet paper their viand.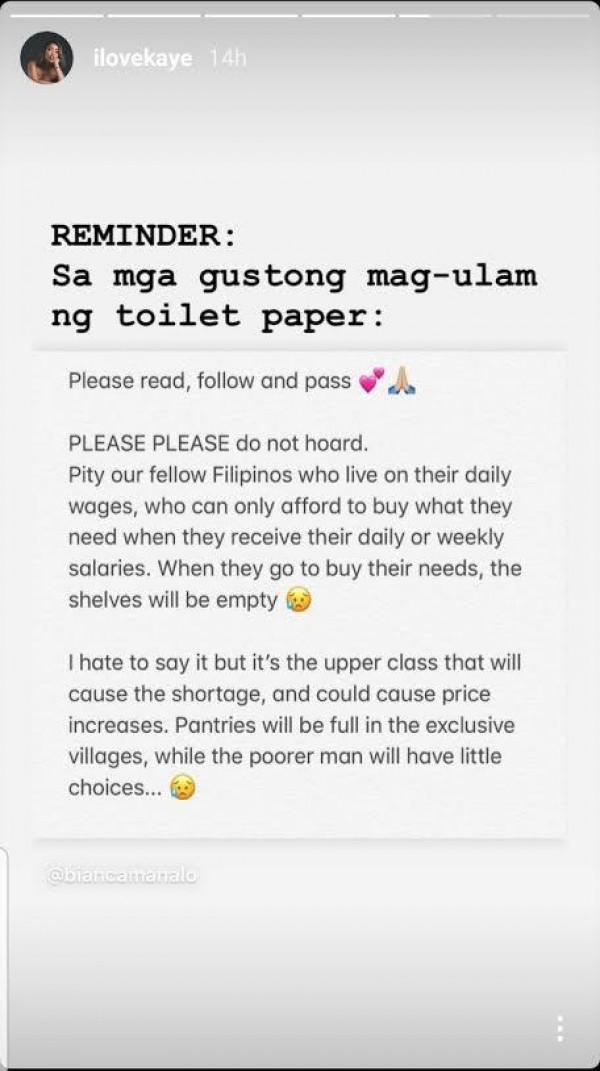 Meanwhile, amid the panic-buying of many Filipinos, TV host Bianca Gonzalez made light of the situation in her IG story.
She said, "Gusto ko mag-panic buying, pero wala kasi akong pera kaya nag-panic na lang ako."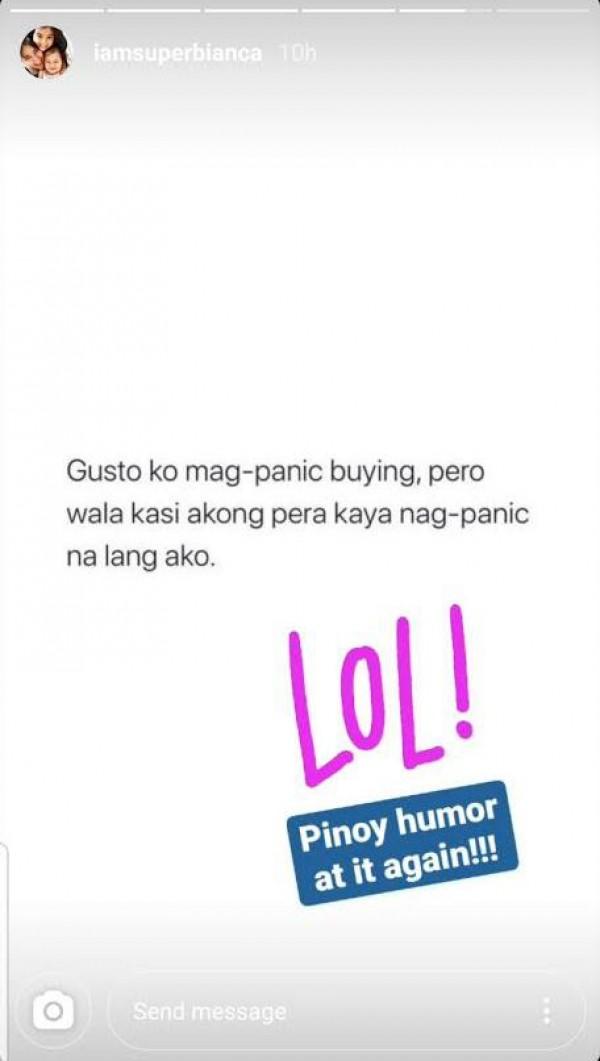 Iza didn't let the opportunity pass without giving a piece of advice to the people.
"Let's just be mindful, and let's not spread panic. I think everybody just needs to sleep better and be more mindful, wag kayong magwalwal please," she said after the pictorial for her upcoming TV series, Ang Sa Iyo Ay Akin.
She also shared the measures that she does to protect and prevent herself from getting ill.
She said, "Honestly it's just really about strengthening my immune system. Unfortunately, not everybody will have access to a vitamin drip. Not everybody will even be able to afford vitamin C that can take as many. For me, that's my personal pangontra, just awareness."
"Of course, if a person is sick, let's try not to be near them, or make beso, or touch our face after being near them," the 37-year old actress added.
The Philippines is currently under a state of public health emergency as more and more individuals are confirmed to have contracted COVID-19.
As a precaution, both the GMA Network and ABS-CBN have temporarily suspended live audiences in their shows to avoid their talents from getting infected and to prevent the spread of the virus.
Comments