Battle of Christmas Station IDs: ABS-CBN vs GMA Network vs TV5.
Now that ABS-CBN already released its much-awaited Christmas Station last December 1, the time has come to assess which among the station IDs released by the three major TV stations tugged at the heartstrings of Filipino viewers the most.
We take note of the strong and weak points of each station ID, and the unifying themes that make them the same.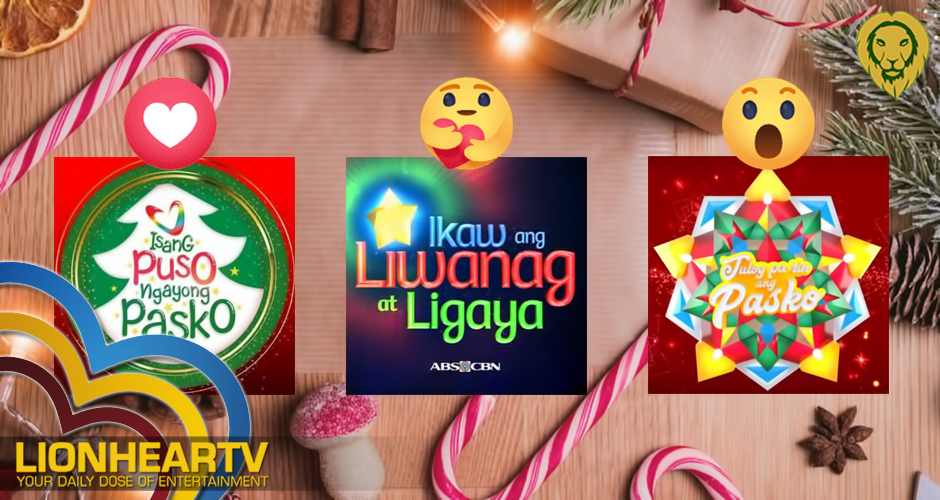 Common Themes
A common denominator in local station IDs is they all highlight the Filipino resilience and other strong positive traits of every Filipino in dealing with challenges they confront each year. The releases for 2020 are not an exception, as GMA Network, TV5, and ABS-CBN once again, underscore our most potent tool in weathering storms—our undying resilience.
With Isang Puso Ngayong Pasko, GMA Network recognizes our innate ability to look on the brighter side of things, and our persistence when faced with formidable challenges. ABS-CBN's Ikaw Ang Liwanag at Ligaya values every person's capacity to be someone else's light and joy, while ultimately lifting it all up to the Lord who serves as our greatest source of guidance during these darkest times. TV5's Tuloy Pa Rin Ang Pasko reminds everyone that in spite of all the unfortunate circumstances we confronted this year, Christmas won't take a holiday—so to speak— and that we can still look for a better year when 2020 comes to an end.
Testimonials are also a common feature in station IDs, and this year, ABS-CBN and GMA Network, once again included powerful testaments from their viewers in their official music videos. Heartfelt messages of hope and gratitude are delivered by the two networks' biggest stars, with footages of their charity works accompanying their messages. Also, employees from all their subunits and departments are given important spots in the music video, as well as solo spots for their most important stars are also given special attention.
Lyrics, Melody, and Recall
The words in the lyrics of the station ID songs are surely in their most potent capacity, largely because of what we've gone through this year.
ABS-CBN's Ikaw Ang Liwanag at Ligaya talks of the familiar sense of longing for a yesterday that may no longer be present today, and in days to come, but as the new normal denies us the chance to do the things we're used to doing, again, we are encouraged to embrace the gifts of the present and the beautiful promises of the future.
Isang Puso Ngayong Pasko recognizes the need to rise up again, and to face the challenges together. It talks of a wound created by the many tragedies we faced, and how it will heal through mutual support for each other.
All the three station IDs used catchy upbeat songs, that are all danceable. However, because of what the network went through this year, ABS-CBN's Ikaw Ang Liwanag At Ligaya will probably get a more lasting impression among audiences, which isn't surprising, to be honest, as it has always been the case since Christmas Station IDs became a common Holiday feature in local Christmas celebration.
And let's be honest, kids going caroling almost only use ABS-CBN CSID songs, especially the iconic 'Star ng Pasko'.
Impact Online
Aside from the song, one of the most anticipated about Christmas station IDs is the amount of impact they will make online. Comparison is inevitable as network fans take note of how many trending topics make it to the trending list, and the amount of views each lyric video or music video makes, becomes a hot topic for netizens.
This year, GMA Network was the first among three stations to release both Christmas Station ID lyric and music videos. After a week, its lyric video has been viewed almost 800,000 times on YouTube, while its official music video, almost 900,000 times on the said platform.
On Facebook, it was able to get more than 1 million views barely 24 hours after its release. ABS-CBN's Lyric video for Ikaw Ang Liwanag at Ligaya has garnered more than 5 million views on YouTube, and 10 million views on Facebook after just 4 days since its release. It's 15 min-long official music video, on the other hand, was able to post almost 2.5 illion views and 1 million views on Facebook and YouTube, respectively, just after 18 hours of its release.
TV5's official lyric video for Tuloy Pa Rin Ang Pasko has so far garnered more than 60,000 views on Facebook and 27,000 views on Youtube, since its November 27 release.
Thank you, mga Kapuso for instantly making our hashtag #IsangPusoNgayongPasko rightfully trend tonight! ❤️

ADVANCED MERRY CHRISTMAS TO ONE & ALL! 🎄 pic.twitter.com/5Yv8GFBUBv

— Rommel Villegas (@for__keeps) November 16, 2020
On the social media platform, Twitter, the release of GMA Network's Isang Puso Ngayong Pasko sent #IsangPusoNgayongPasko to the top of trending topic list. Its music video, on the other hand, peaked at no.5 on local trending videos on YouTube.
ABS-CBN's Ikaw Ang Liwanag At Saya has undoubtedly received greater attention, as #IkawAngLiwanagAtLigaya peaked at no.1 for hours, as well as sent other related topics on Twitter charts. On YouTube, the Lyric video was able to eclipse the 1-week-views of GMA Network CSID lyric video, just after a few hours of its release.