The pageant hasn't started but it seems Miss Universe Philippines 2020 Rabiya Mateo is already receiving hate from bashers. 
Rabiya was bullied by some Indonesian netizens due to an acting scenario posted on social media.
This started because of an interview with Rabiya by Critical Beauty Team. Rabiya then mentioned that she wants to play villain roles in case she is given the opportunity to act.
One of the hosts gave Rabiya a scenario and asked her to portray a beauty pageant winner who had a runner-up who was not happy about her victory.
Rabiya played along and said: "Girl, what are you doing? Like, can't you accept that I defeated you in the first place?"
"Like, you can ruin my crown, my moment, but you cannot take away the fact that I won this competition."
"I'm a Filipino and don't mess [with me]."
This skit caused Indonesians to attack her. Rabiya went on Instagram to clarify the issue.
"This needs to stop. This video was cut and some people are making issues out of this and trying to bully me in IG.
"In the first part of the video which was not included here was [when] we talked about the fact that if I'm gonna accept any role in the future I wanted to be an antagonist because I really wanna challenge myself.
"The hosts gave me a situation and I had a disclaimer that this is just a role before and after this video which was also cut."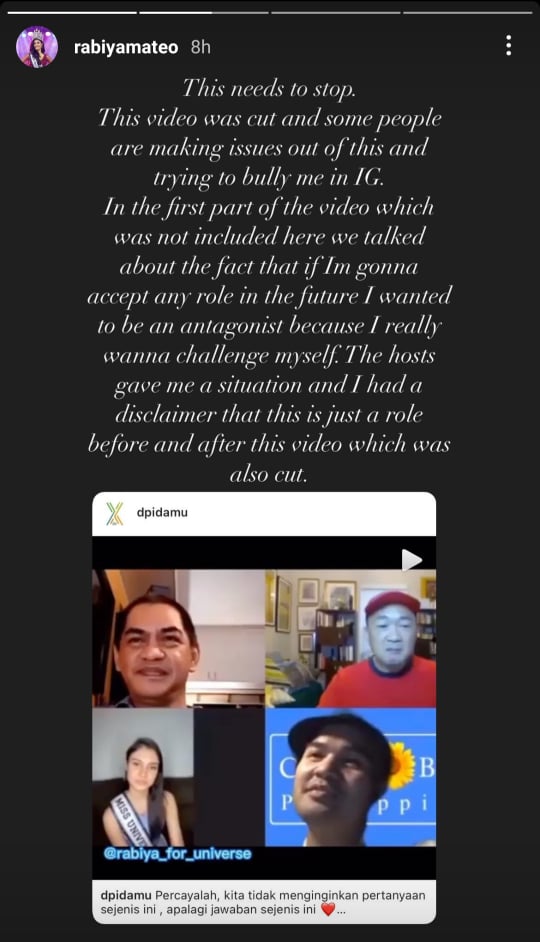 She clarified that she did not criticize any candidate and also said that she is not in favor of bullying.
"I have never done anything to discredit or insult other candidates but putting words in my mouth and creating problems out of nothing is just toxic and it has to stop. No one should be bullied even public figures because that is unkind and pure evil."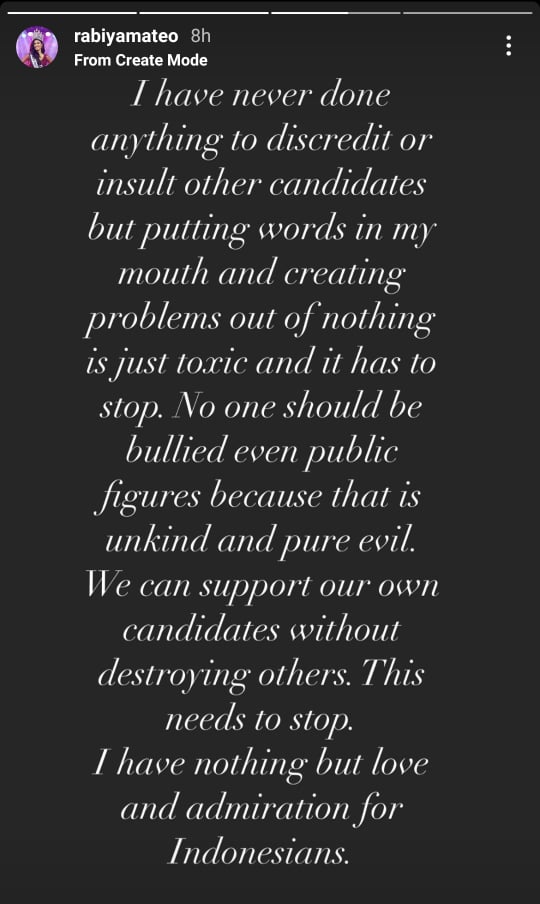 "We can support our own candidates without destroying others. This needs to stop. I have nothing but love and admiration for Indonesians."
With this, Rabiya hopes that bullying shouldn't be normalized in any aspect and she hopes that the pageant should be used as a platform of entertainment instead of bullying, 
"Pageants should be fun. We need to create a positive image in empowering women. I know bashers will always be there but can we not normalize things that are evil and not right? Hatred is an acquired behavior."
"We can surely unlearn it and start doing the right thing."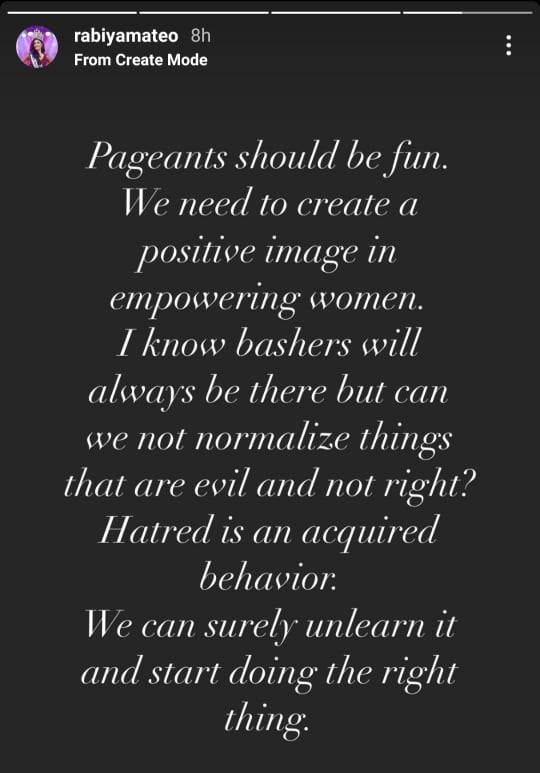 Comments