As the nine singers compete in the much-awaited Tawag ng Tanghalan Grand Finals of It's Showtime!--set on February 1-6–they share the sacrifices they all made to stay in the competition.
LionHearTV asked the nine aspiring singers' sacrifices to stay in the competition during its media conference of It's Showtime! for Tawag ng Tanghalan.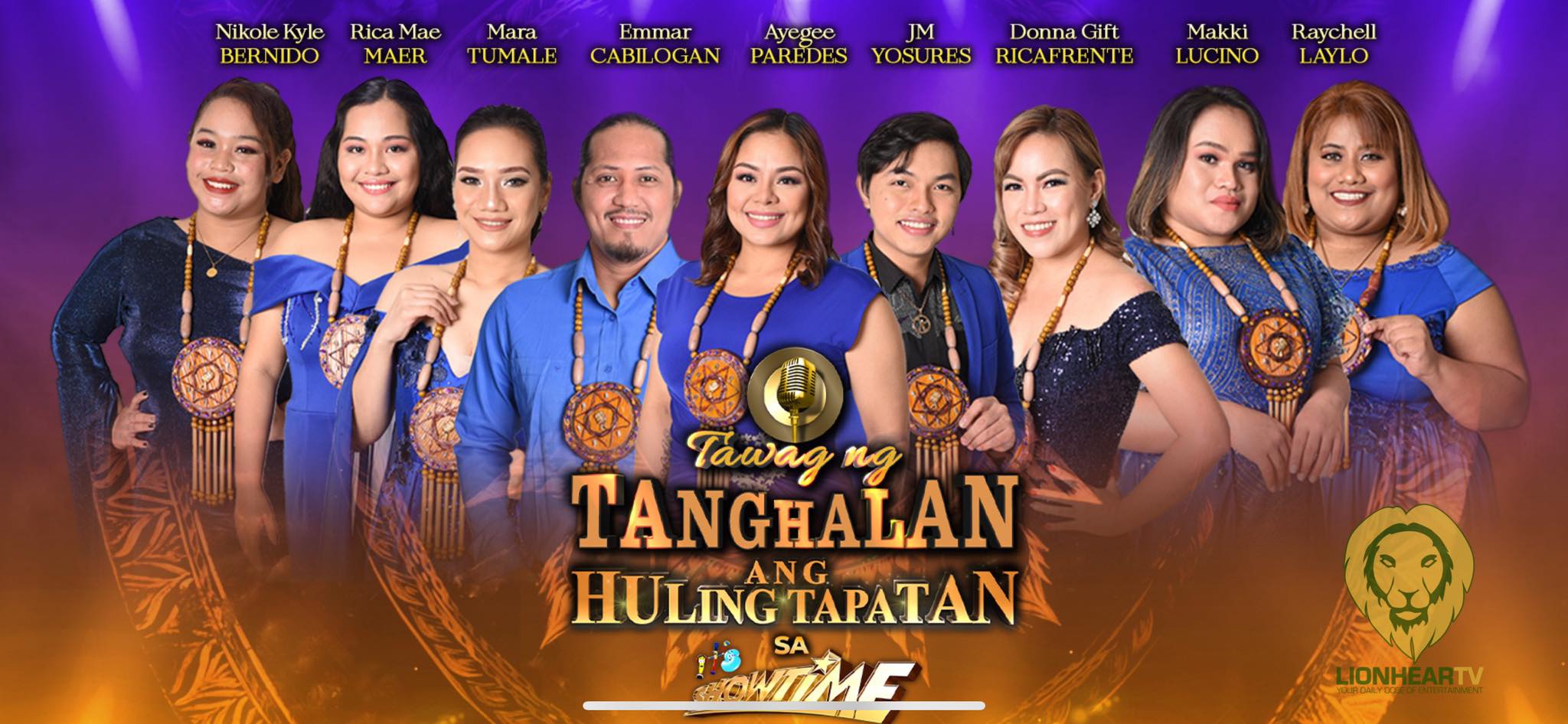 Fighting their way to victory, Nikole Kyle Bernido of Cagayan De Oro City, Emmar Cabilogan of  Leyte, and Rica Mae Maer have something in common on what they sacrificed for Tawag ng Tanghalan.
Missing her family much, the biggest sacrifice that Bernido made is her time with her family, most especially the holiday that she wasn't able to spend with them, "For me dahil sa pandemic po yungparang di ko po makita yung mama ko di po ako naka pag spend ng christmas and new year kasama yung family ko po dahil gusto ko po talaga tong pangarap na to kaya ko pong i risk lahat para sa pangarap ko po."
The same goes with Cabilogan; he said that he wasn't able to spend the New Year's with his family, who was always supportive of him in his singing career, "Ang sa akin po yung pamilya ko po talaga, katulong ko at kasama ko kahit saan ako kumontest sa probinsya namin. Dito din ako dinatnan ng pasko at new year taga leyte po kase ako eh."
With Maer, she also shared that she wasn't able to spend time and holidays with her family, "Ako naman po yung family ko po di ko nakasama sila nung new year, support lang po sila."
JM Yosures of Taguig City had a different sacrifice from the nine singers. He revealed that as he ventured in Tawag ng Tanghalan, his biggest sacrifice was letting go of his work.
It was a shocker to some of his co-contenders. Even before the semi-finals of the competition, he risked his job even though there was no assurance in being part of the Grand Finals,
"Para sa akin naman po yung sacrifice ko po yung right before semi finals po nag resign na ako sa work ni risk ko po talaga. Hinde ko alam if papasok akong grand finals pero ni risk ko talaga.
"Parang 'eto na eh andito na rin ako, laban na lang so yun po."
TNT mothers won't go missing, Mara Tumale of Malolos, Donna Gift Ricafrente of Sta. Cruz Laguna and Ayegee Paredes of Bukidnon had the same sacrifices, too.
As a mother who joined the competition, Mara's biggest sacrifice is her time away from her children, "Ang sa akin naman po yung biggest sacrifice na ginawa ko sa Tawag ng Tanghalan ay yung iwanan yung dalawa kong anak sa bahay. na mi miss ko na po sila lalo na po yung bunso ko po na two years old."
But even being apart from her kids, Mara believes that her children's support is the greatest blessing that she needs during the competition.
"Pero alam ko naman pong super proud nila sa akin tapos nakikita nila ako sa TV. So para sa akin po yun na yung greatest blessing po na makita silang masaya for their mother po."
The same goes with Ayegee, who revealed that she only spent six days with her child after returning from abroad and immediately joined Tawag ng Tanghalan.
"Sa akin po syempre yung oras ko para sa anak ko since OFW po ako kararating ko lang galing Dubai, so parang nag sama lang kame ng 6 days tapos nag start na yung tawag ng tanghalan journey ko.
"Lahat ng occasion sa bahay, birthday niya, pasko new year  as in lahat kase simula nung quarter finals progress na ako di na po kase talaga ako umuwi, yun po yung pinaka malaking sakripisyo ko."
Speaking for the three, Dona Gift had the same sentiments with Ayegee and Mara "Sama lang naman po kame tatlo, na sacrifice po yung oras para sa family pero worth t naman po andito na kame sa huling tapatan."
Meanwhile, Rachell Laylo of Lipa City and Makki Lucino of Sorsogon, spending time with their friends and families–are the things they have sacrificed for the competition.
"Ako po nakasanayan ko po talga na kasama ko yung mga kaibigan ko tsaka yung family ko po that was my first time po in new year na di ko sila kasama tas sila po yung mga kasama ko."
Makki even misses going out with friends, but he can't because of the ongoing pandemic with no luck.
"Yung sacrifice ko po yung lock in kase di ka pwedeng lumabas, lahat po kame naka swab kahit yung outside world wala po sa amin yun  focus lang po talga doon sa contest."
The sacrifices that the nine contenders are making will soon be worth it because winning the Tawag ng Tanghalan is not just a new title. Still, they take home P1 million, a brand new Lessandra house worth P2 million, a recording contract with Star Music, a management contract with Star Magic, and a special trophy designed by Toym.
In the 'huling tapatan' the final three contenders will each perform an artist's medley song in their bid to become the grand champion.
At the end of the day, the grand finalist who will record the highest combined scores of madlang people's votes and judges' scores will be named the Grand Champion.
But who among the nine grand finalists will be the fourth Tawag ng Tanghalan Grand Champion to follow in Noven Belleza, Janine Berdin, and Elaine Duran's footsteps?
Comments