Any clout put in a good way–it will earn praises and inspiration and can even transform the viewers.
Such is the case on the latest vlog by Alex Gonzaga is doing to the online world.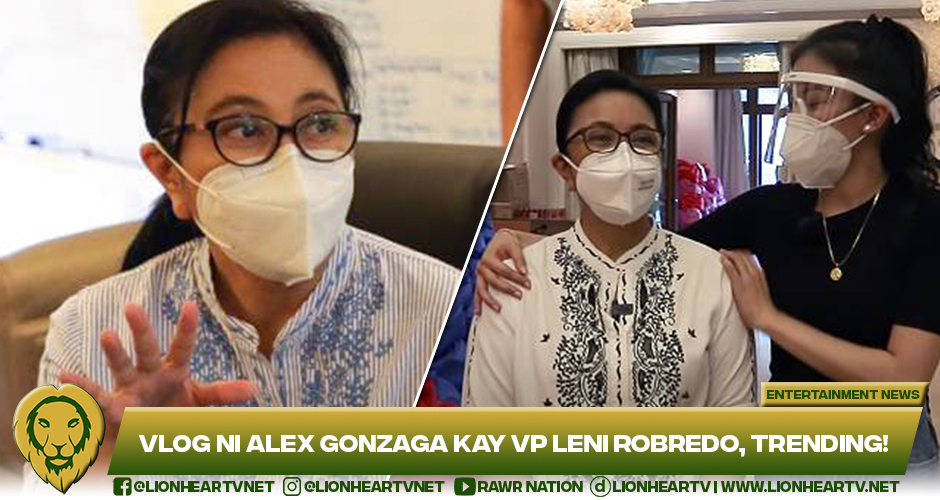 Alex on Saturday, April 3 has uploaded her latest vlog featuring Vice President Robredo and a day in her life at the Office of the Vice President.
Titled Mama Leni for a Day, the vlog instantly sends positive waves online. Many netizens praised VP Leni's efforts and the vlog as a good opportunity to showcase who the Vice President really is.
https://twitter.com/theramzoned/status/1378313654131548164
Netizen @nashainadruz meanwhile wondered where's the hate against VP Leni is coming from. According to her, after she watched the vlog–it revealed that Robredo is so kind and there's nothing to hate about her.
Okay, can someone tell me why some of you hates VP Leni Robredo? I mean i just finished watching Alex Gonzaga's vlog like 2 mins ago and gagi ang bait niya. Idk anything about politics but just tell me the reasons or did u just hate her for nothing?

— Irisha (@Nashainadruz) April 3, 2021
One netizen even said that Alex's vlog proved that Robredo has a 'huge' online following contrary to the DDS nation's claims about VP's image.
Alex Gonzaga's blog just revealed one thing…VP Leni has a huge following. Just look at the comments and the likes that are predominantly favourable. Surprising considering that Alex's fan base is presumed to be majority DDS. This makes me really hopeful in 2022! #RobredoIn2022

— Paul Joseph (@pauljoseph0677) April 3, 2021
Another netizen meanwhile lauded Robredo for having an economics and law degree saying it's a perfect combination.
Just watched Alex Gonzaga's latest vlog. Tulad nung vlog with Vico, it really made my day. Si VP Leni, graduate ng Economics sa UP tapos abogado pa. Expert in economics and law – perfect combination. 💯💯💯

— Kuya Jay (@KuyaaJay) April 3, 2021
Other netizens meanwhile, highlighted Robredo's hard work as a public servant when the vlog tackled Robredo's work even on weekends and holidays.
https://twitter.com/wwwariellejas/status/1378286417240072193
Watching Alex Gonzaga about VP Leni reminds me of the day when I met VP when I was in LPU-Cav. I was a dutertard way back…

— "Sij" (@PeanutLloyd) April 3, 2021
https://twitter.com/BlkTwentyEight/status/1378354545168801794
Yes mga mamser, you've seen it right.

Kasama ni Alex G. si VP Leni sa kanyang vlog. Character development na ba itu? I think so.

One good thing about this is na-utilize na ang malaki niyang platform (10.2M subs) to exhibit the progress of OVP + it's worthwhile to watch hahaha

— kento | head first, fearless (@KentoRiyoKun) April 3, 2021
Another netizen also related to the vlog saying Alex's calling the VP as mom highlighted Leni's caring persona that can calm a nation burdened with so many problems.
You know what makes Alex G ft. VP Leni vlog so (cant find the right words) 'relatable'? With Alex calling her "MOM", our subconscious minds feels it finally found a mother that calms us with our horrible experience with the "DAD"

— 鼠 Kerwin Arangoteツ 龙 (@kerwinkiffy) April 3, 2021
There's a netizen also, @russelmatthew_who shared comments from Youtube where-in former DDS or those who hate Leni being transformed after watching the video.
Ang refreshing magbasa ng comments sa vlog ni Alex Gonzaga where she featured VP Leni!!

I know marami pang kailangang abutin but there is still hope for 2022 talaga huhu #LetLeniLead pic.twitter.com/0AFgFqX4K9

— rus (@russelmatthew_) April 3, 2021
And there's also one who shared how he connected with the VP when Alex brought up her late husband Jesse Robredo, which according to the netizen was touching and showed the 'real' VP as humble and compassionate.
DDS or not, the good thing is Alex was able to show to the people the real VP Leni, no hate, Pure Love, humility and compassion.

— Blessed (@DrahcirPromdi) April 3, 2021
Meanwhile, aside from positive comments about the VP, Netizens also praised Alex for the vlog.
Netizens were happy to see Alex, who was presumed to be DDS giving the Vice President free publicity and a platform to showcase her work at the OVP and her real persona far from what the DDS is portraying about her.
https://twitter.com/WOLFIERODNEY/status/1378245223361339393
https://twitter.com/shwndsheeep/status/1378337211511230464
Alex Gonzaga with Leni Robredo?! If this is a sign of better political choices for the Gonzagas then the world is at least healing ye know

— haru (@thecodestaff) April 4, 2021
https://twitter.com/brianjasonponce/status/1378298828332277761
Currently, the video has already reached 1.9 million views after just a day of uploading with more than 133 thousand positive reactions.
Comments