BL star Alex Diaz withdraws a tweet he posted a year ago, where he expressed his support for President Rodrigo Duterte.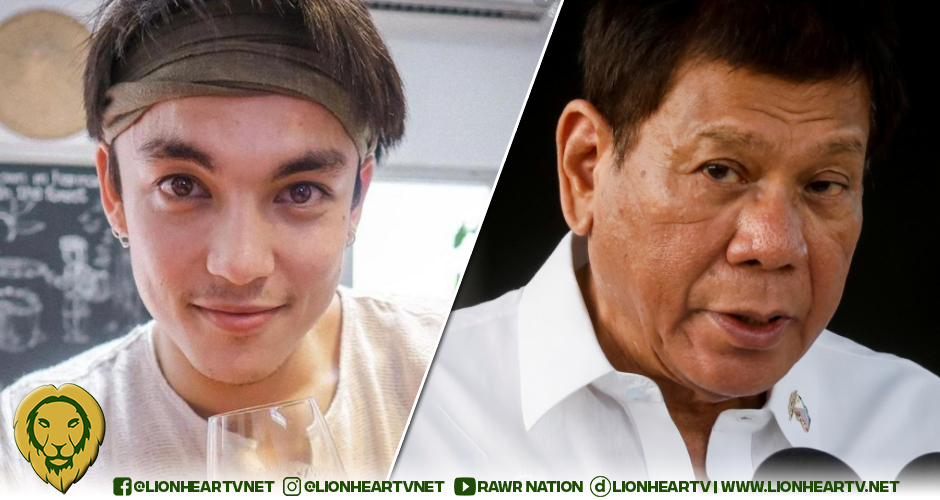 In April 2020, a month into the pandemic, Diaz tweeted his appreciation for Duterte. He recognized the President's efforts for the country.
However, a year after, considering all of the Government's shortcomings and incompetence in combatting the pandemic, the BL star regretted his tweet.
He announced on twitter that he is officially withdrawing back the statement he made a year ago. The actor also apologized to the people for making such a statement, which he now finds awkward and embarrassing.
https://twitter.com/alexandermcdizz/status/1392870545625018368?s=20
A Netizen commented that he is an ex-DDS.
According to Diaz, he supported a Government that turned out not deserving of his support.
lol no. this was my attempt to sympathize with an administration that doesn't deserve it https://t.co/5nRefs3mlG

— △lexander The Great ♚ (@alexandermcdizz) May 13, 2021
The Government's incompetence shows as the COVID-19 situation here in the country remains uncontrollable. The only hope to end the pandemic is the roll-out of vaccines–the Duterte administration still failed to deliver efficiently.
Diaz's disappointment also stemmed from Duterte's inconsistent stand about the territorial dispute at the West Philippine Sea.
Nakakahiya ka Duterte. Mahiya ka sa lahat ng naniwala at sumuporta sayo. https://t.co/Zq6a64Ncma

— △lexander The Great ♚ (@alexandermcdizz) May 11, 2021
Isang #OustDuterte naman dito pls 🤡 pic.twitter.com/FDoCHTeD4a

— △lexander The Great ♚ (@alexandermcdizz) May 10, 2021
During the campaign period, Duterte said he would ride a jet ski to the WPS to claim the nation's territorial rights. Recently, he revealed that it was purely a 'campaign joke.'
"Panahon sa kampanya iyan, at tsaka iyong biro na iyon, we call it bravado. Iyong bravado ko was just a pure campaign joke.
"Nagyabang ako na pupunta ako sa Spratly, magdala ako ng flag na sakay ako ng jet ski."
Diaz also hoped that this revelation of Duterte would serve as a lesson to all voters and would choose leaders carefully in the next elections.
Can you believe this guy?! 16M people and you have the audacity to answer their plight of protecting our sovereignty with "It was a campaign and yall believed it, youre stupid." DDS, its time to put our differences aside and vote in the next President. Lets make the right choice.

— △lexander The Great ♚ (@alexandermcdizz) May 11, 2021
Sana makarating to lahat ng mga DDS. Sana matauhan kayo so we can unite, focus our energy and share knowledge on who the best candidate for presidency will really be this coming election. https://t.co/KIDVU5pPgx

— △lexander The Great ♚ (@alexandermcdizz) May 11, 2021
Comments