As the country celebrated Independence Day on June 12, singer Janno Gibbs released his new song that is in line with the upcoming Presidential election.
Titled imPeaches, is a parody of Justin Bieber's single Peaches. 
The song aims to remind voters to choose their leaders carefully.
It also tackles the dilemma the voters are currently facing as they are still confused about whom to vote for in the coming election. 
Gibbs also threw shade against the past and current President of the country by pointing out the main issue during their administration. 
He mentioned Joseph Estrada's impeachment, Gloria Arroyo's 'Hello, Garci' scandal, Noynoy Aquino's absence during Typhoon Yolanda, and Rodrigo Duterte's loyalty to China.
"O na-impeach na si Estrada, may Hello Garci pa si Gloria, si P-Noy, asan ang Yolanda at si Duterte, love ang China."
Gibbs shared this new song via an Instagram post and there, DDS reacted to the lyrics, "si Duterte, love ang China."
View this post on Instagram
One disagreed with it and said that it was Cory who loved China.
The other one also asserted that all Presidents and even Filipinos love China.
The singer then pointed out that Duterte is vocal about his allegiance to China and he even mentioned it many times on national TV. He also said that this time is not the right time to love China considering the invasion and bullying it is doing against Filipino fishermen at the West Philippine Sea.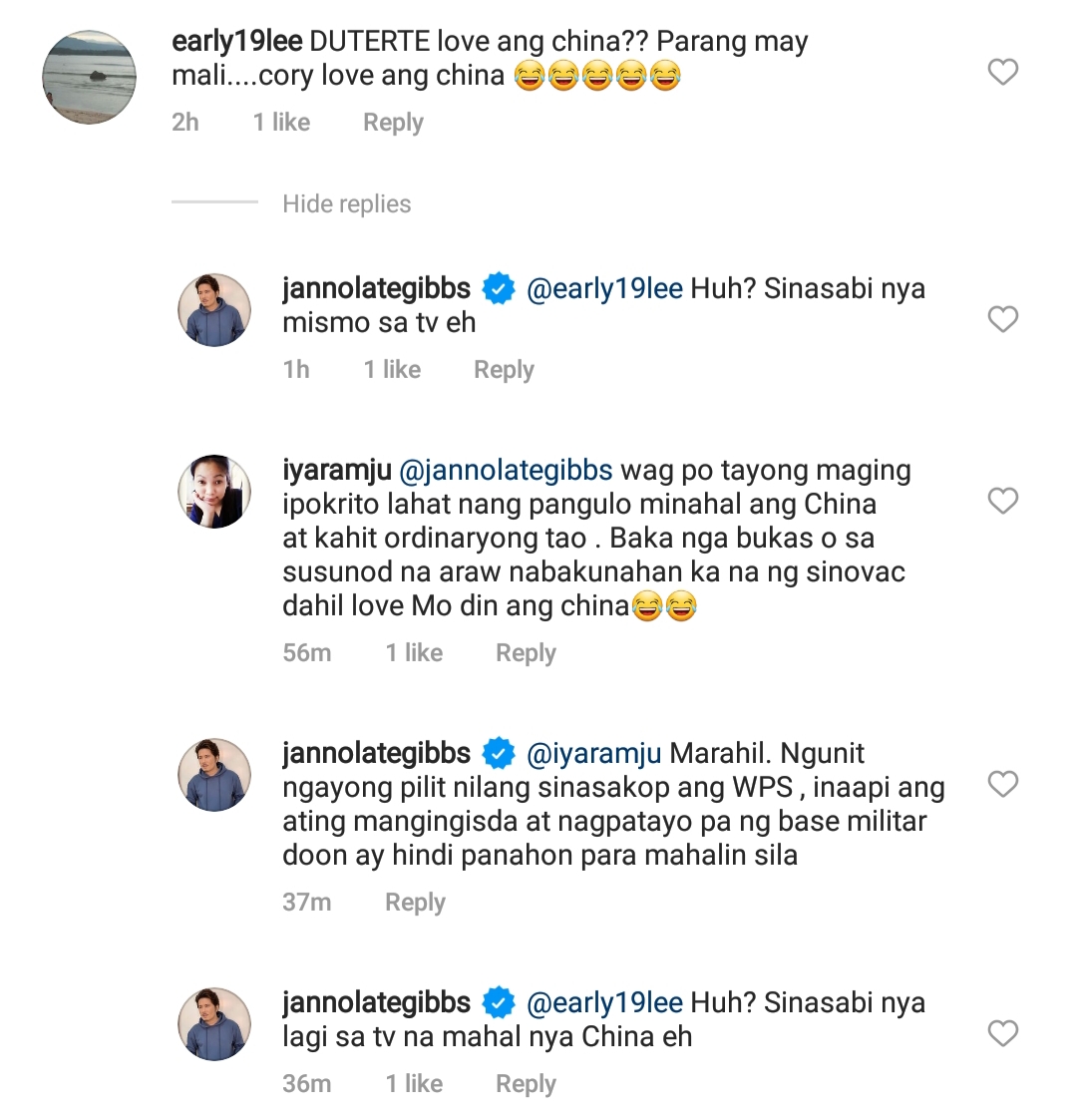 Duterte is consistent with his loyalty to China. He always mentions his gratefulness to the said country because of its help to the Philippines, especially during this pandemic.
He also refused to confront China regarding the turmoil-filled waters of the West Philippine Sea. That's why recently, senator and boxing champ Manny Pacquiao called out Duterte for his poor leadership regarding the said issue. 
Duterte then said that the Philippines has a huge debt of gratitude to China.