Watching our favorite programs may have evolved through the years, with TV shows and movies now available online via different platforms. But the viewing experience on cable TV is still enjoyable and can yield some surprises.
Without relying on an internet connection, cable subscribers can continue to enjoy their favorite programs.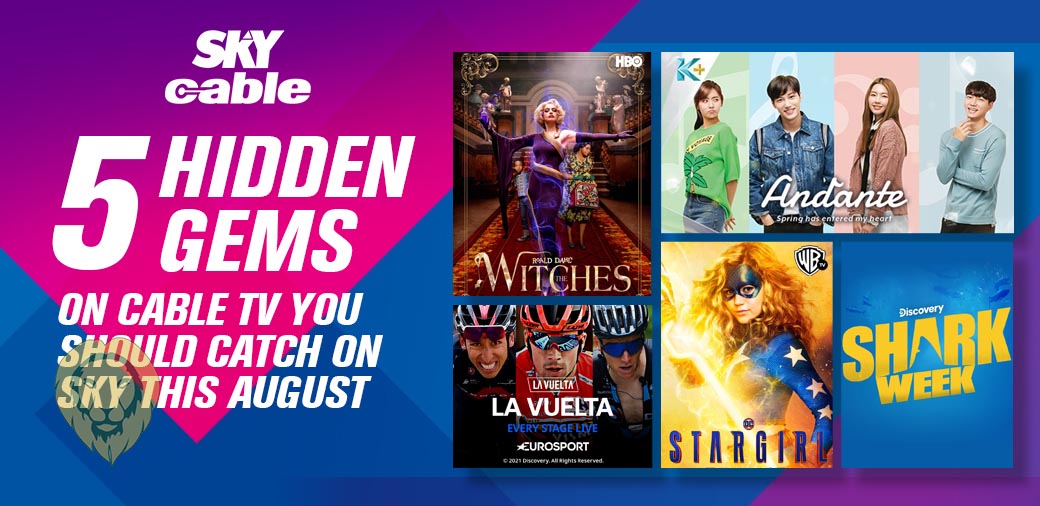 Check out these hidden gems for you and your loved ones to discover for all-around entertainment via SKYcable this August:
1) Romance is in the air with "Andante" on K+
K-Drama lovers can experience the feels anew in this Asianovela hidden gem as K+ brings to Pinoy audiences the coming-of-age romantic series "Andante," starring Kim Jong-In, Baek Chul-Min, Lee Shi-Young, and Kim Jin-Kyung.
Follow Kai (Jong-In) in his countryside experience as he goes through scenarios teaching him the true meaning of friendship and love.
Catch "Andante" every Thursday and Friday starting August 12 on K+ (Ch. 144 Mega Manila) via SKYcable Select for only P100 per month.
2) Enchanting wonders in Roald Dahl's "The Witches" on HBO
Another hidden gem to watch out for is the TV premiere of Warner Bros.' enchanting take on Roald Dahl's classic "The Witches," starring Jahzir Bruno, Chris Rock, Octavia Spencer, Stanley Tucci, and Anne Hathaway.
Follow the Hero Boy (Jahzir) and his grandmother (Octavia) and their wonder-filled adventure to stop the witches' plan of causing mayhem into their world.
Don't miss its premiere this August 28 (Saturday) at 9 PM on HBO (SD Ch. 54 | HD Ch. 168 Mega Manila; SD Ch. 402 | HD Ch. 710 Regional), available on HD Plan 500.
3) Action-packed adventure of Stargirl on Warner TV
The heroic exploits of Courtney Whitmore (Brec Bassinger) continue as she takes on evil with her trusty Cosmic Staff in the second season of DC's "Stargirl."
After defeating the Injustice Society of America and putting a stop to their villainous schemes, Stargirl will have to face another challenge: becoming a leader for the team and keeping hold of her teammates' struggles.
"Stargirl" Season 2 airs every Wednesday beginning August 11 at 8 PM on Warner TV (SD Ch. 34 | HD Ch. 197 Mega Manila; SD Ch. 615 | HD Ch. 738 Regional) via SKYcable's HD Plan 500.
4) Sharks swim through on Discovery
Venture the waters with the ocean's mightiest sharks even at home as Discovery presents its annual "Shark Week" programming block starting August 23 (Monday) at 9 PM.
"Shark Week" brings you everything about sharks! Plus, don't miss its special hosted by Hollywood actress-comedian Tiffany Haddish as she gives us a closer look at the ocean's ferocious creatures.
Watch "Shark Week" on the Discovery Channel (SD Ch. 39 | HD Ch. 180 Mega Manila; SD Ch. 2015 | HD Ch. 720 Regional) available on SKYcable's HD Plan 1000.
5) Fast-paced cycling action in "Vuelta a España" on Eurosport
The world's best cyclists continue their pursuit of glory on the road, this time putting their endurance to the test against one another in one of the most rigorous multi-stage bicycle races in the world, Spain's "Vuelta a España."
This year's edition of the said cycling tournament will also prove to be a challenge for the back-to-back champion Primož Roglič of Slovenia as he looks to accomplish a rare three-peat streak since 2003.
Find out who will take the gold in the 2021 "Vuelta a España" multi-stage cycling race from August 14 (Saturday) to September 5 (Sunday) only on Eurosport (SD Ch. 214 | HD Ch. 249 Mega Manila) via SKYcable's HD Plan 1000.
Elevate your viewing experience by checking out these hidden gems and more with the whole family on SKYcable, best enjoyed with its affordable HD Plans. Starting at P500 a month, you can get the most out of your viewing experience with its The Best Cable Deal, featuring a strong variety of kids, sports, movies, and general entertainment channel line-up in high-definition.
Not yet on SKYcable? Visit mysky.com.ph and check out its offerings suitable for your needs.
For more details, follow SKY on Facebook (fb.com/myskyupdates), Twitter, and Instagram (@myskyupdates).
Comments