Pinoy Big Brother Kumunity Season 10 host Sky Quizon related himself to the TJ Valderrama issue as he admitted on Monday, December 6, that he was a subject of sexual harassment.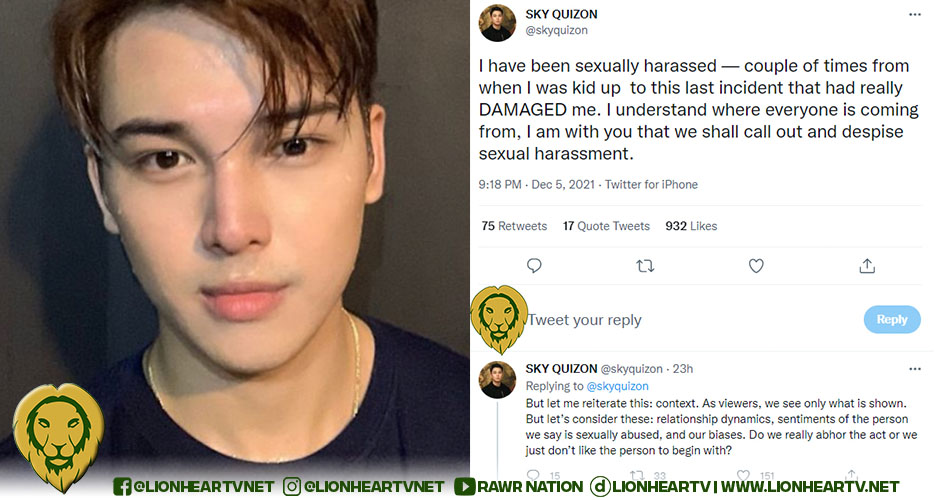 In a now-deleted tweet, Quizon wrote, "I have been sexually harassed — a couple of times from when I was a kid up to this last incident that had really DAMAGED me."
Quizon, however, noted that he does understand the sentiments of the netizens as he said that he also hates sexual harassment.
"I understand where everyone is coming from. I am with you that we shall call out and despise sexual harassment."
The PBB host then continued saying that the audience only sees what was shown in the show but does not know the whole story.
"But let's consider these: relationship dynamics, sentiments of the person we say is sexually abused, and our biases. Do we really abhor the act or we just don't like the person to begin with?"
Quizon pointed out that people hated Valderrama because they hated him, which led to a clouded judgment.
"Hence, do we abhor the act or the person per se just because we have initial and existing prejudices on him/her? I stand my ground: I abhor and despise sexual harassment, and I will never enable such a thing."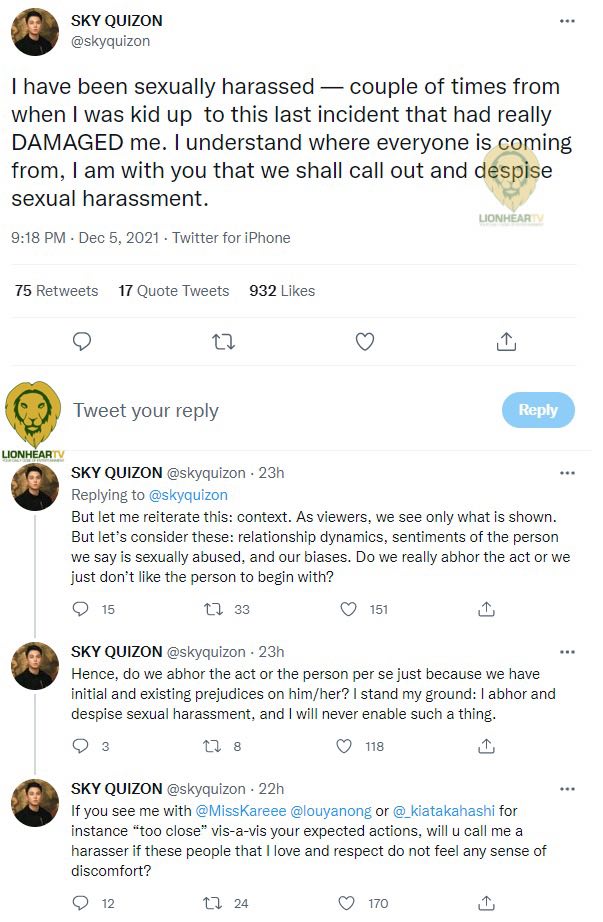 He then provided an example as he tagged Karina Bautista, Lou Yanong, and Kiara Takahashi, his Pinoy Big Brother: Otso fellow housemates with who he remained good friends.
"If you see me with @MissKareee @louyanong or @_kiatakahashi for instance "too close" vis-a-vis your expected actions, will you call me a harasser if these people that I love and respect do not feel any sense of discomfort?"
His statement came after when he defended the latest PBB evictee Valderrama.
In a Kumu Livestream, Quizon also questioned critics of Valderrama, saying he did not see anything wrong with the former housemate's actions towards Shanaia Gomez, another PBB housemate.
"If a person did not do any bad thing, why hate that person?" asked Quizon.
Valderrama was a subject of ridicule from the audience and netizens as they believed he was inappropriate to Gomez.
It even reached the group GABRIELA Women's Party as Valderrama's actions were pointing to sexual harassment.
"We have taken note of several photos and videos related to the 'FORCE EVICT TJ' trend," read Gabriela's post. "A reminder that unsolicited touching and physical contact, even in the context of friendship or even relationship, can be a form of sexual harassment."
Valderrama's girlfriend, Cherry Malaya, even tweeted this after her boyfriend was booted out of the reality game show:
https://twitter.com/CherryMalaya/status/1466807142682624001
Quizon was a Pinoy Big Brother franchise product, being part of Pinoy Big Brother: Otso and progressed as an artist, model, and host.
Comments