Cebu Pacific (CEB), the Philippines' leading airline, welcomes 'CEB-tember' with a #CEBSuperSeatFest this 9.9 for both domestic and international destinations.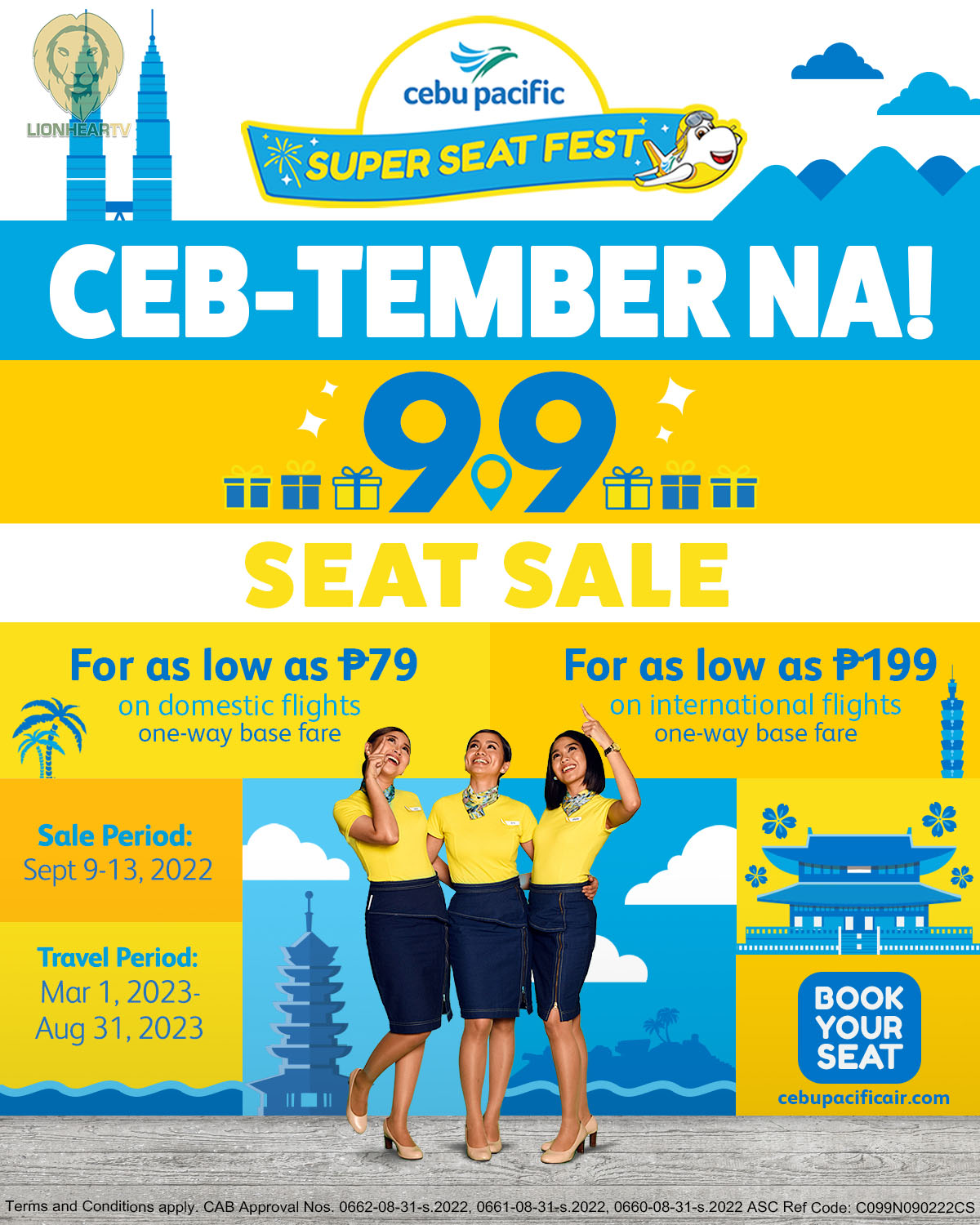 From 10:00AM on September 9, until September 13, 2022, CEB is gifting everyJuan with a SUPER early seat sale to allow them to plot ahead next year's summer vacation plans. With a travel period from March 31 to August 1, 2023, travelers are bound to find value-for-money deals with domestic flights up for grabs for as low as PHP 79 one-way base fare, while international seats are available for as low as PHP 199 one-way base fare.
"We are encouraged to see more people confidently flying nowadays, not only within the Philippines but internationally as well. It has always been our core mission to stimulate travel so we are excited to offer yet another special seat sale as we enter the –ber months," says Candice Iyog, Vice President for Marketing and Customer Experience at Cebu Pacific.
Whether passengers are in the mood to revisit their favorite beach destinations for that much-needed rest and relaxation in Boracay, Bohol, Siargao, Palawan, and Cebu; or fly abroad to explore the unique culture and cuisine in Ho Chi Minh and Hanoi in Vietnam; or Bali and Jakarta in Indonesia; or Kuala Lumpur and Kota Kinabalu in Malaysia; or Bangkok in Thailand; or Seoul in South Korea – this sale will allow you to turn your travel dreams into reality.
Apart from this, the airline also has an ongoing early 'BER sale' with seats for domestic destinations available for as low as PHP 88 one-way base fare, with travel dates covering now until February 28, 2023. This is a testament to how CEB ensures it provides its guaranteed low fares all-year round as it remains committed to empowering everyJuan to fly.
Passengers with existing travel funds may use these to pay for flights and add-ons even during CEB's special seat sales. Apart from Travel Fund, other payment options may also be used, such as payment centers, credit/debit cards, and e-wallets.
The airline currently operates 88% of its pre-pandemic systemwide capacity. To date, CEB flies to a total of 34 domestic and 19 international destinations. It continues to implement a multi-layered approach to safety, while it operates with a 100% fully vaccinated crew, 95% of whom have been boosted – all to ensure every Juan flies safely and conveniently on Cebu Pacific.
Comments