With prices for everyday needs on an upward trend, budgeting your hard-earned money better is a must. Every peso counts – and you should spend it only on things that matter to you or bring you joy.
Maya gets you, which is why the all-in-one money app continues to offer FREE cash in at over 120,000 touchpoints nationwide. Continue getting free cash in at your go-to convenience stores, supermarkets, payment kiosks and even department stores for transactions up to P8,000 per month. For cash in transactions exceeding P8,000, a 2% fee on cash in amount will apply. If you're cashing in online via select banks, you get to enjoy free cash in with a P500,000 monthly* limit!
Cashing in via Maya is not just free, it's also super accessible – with touchpoints that you can reach within a few clicks on your phone or a few steps from your home. The best part about this is that you can do so many things with your money once you've cashed in. You have the choice to save it with a 6% interest rate, grow your extra funds by buying crypto for as low as P1 or spend it to pay for your bills or your groceries. Whichever way you want to use your money – do it all in one app, with Maya!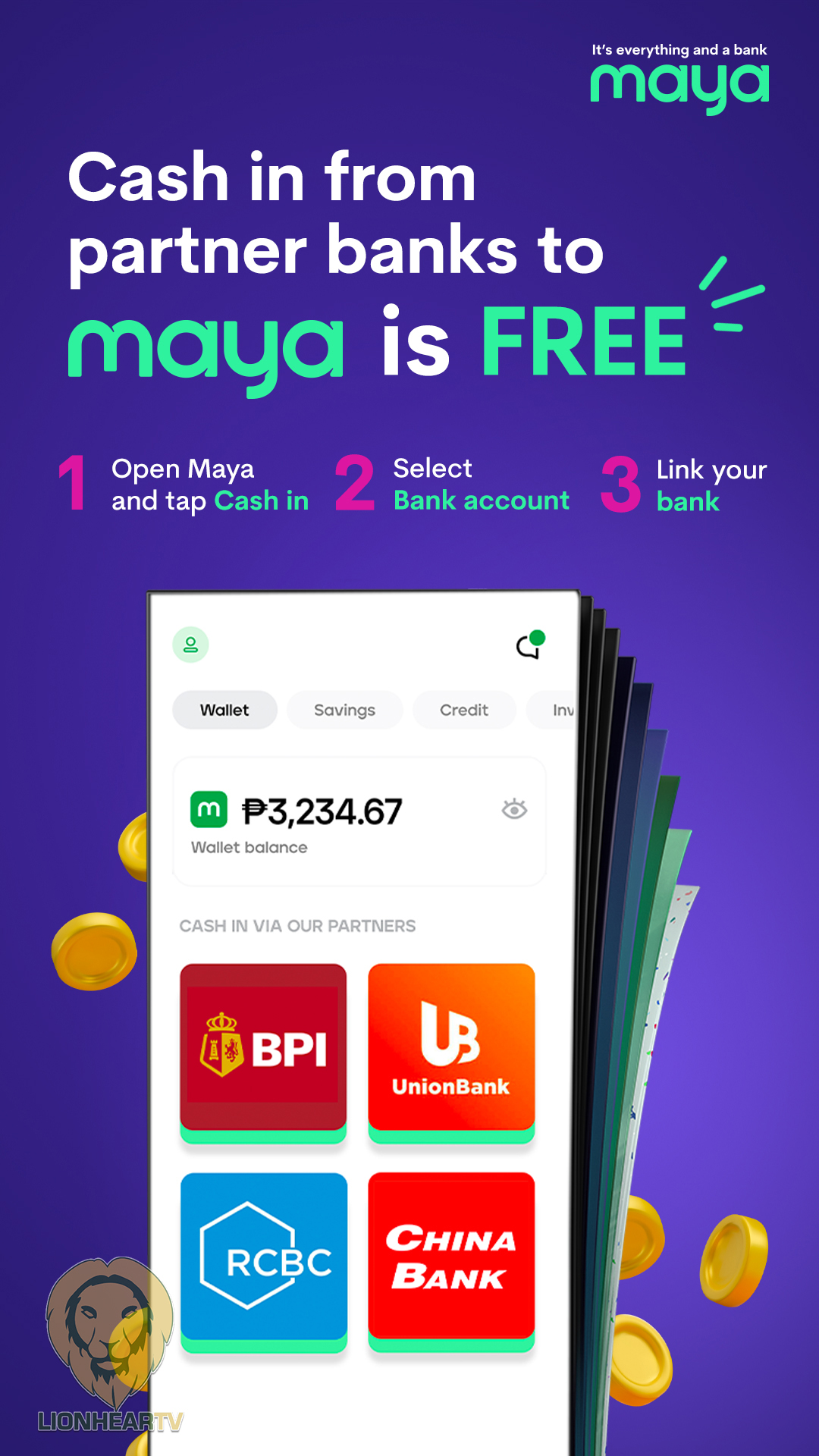 Now, where exactly can you cash in for free at Maya? Below are some of the most popular free cash in touchpoints for the all-in-one money app.
BPI, RCBC, UnionBank, and now, China Bank!
Cashing in to Maya via a linked bank account is a breeze, and it's made even better by Maya's free cash in offer! You can cash in up to P500,000 monthly*, completely free of charge, to your Maya account. The best part of cashing in through your personal banks is that it can be done anytime, anywhere.
First, you need to link your bank account to Maya:
Select Bank Account in the Cash In screen
Choose your partner bank
Enter cash in amount and tap Continue
Log in to your online banking account and complete the authorization requirements of the bank
Select your source account to be linked and tap Continue
Once your account is linked, you can quickly cash in for free whenever you need! Here's how:
Under Linked Bank Accounts, choose your partner bank
Enter your cash in amount and tap Continue
Enter OTP to complete your transaction
Ministop, Family Mart, Alfamart
You can also cash in for free at your go-to convenience stores like Ministop, Family Mart, or Alfamart. So the next time you drop by here to buy some snacks or other items you forgot to put on your grocery list – just cash in with Maya for free, and pay for your purchases cashless!
Your go-to Supermarkets
With Maya's free cash in offers, going cashless on your grocery runs is also easier. If you're out of funds in your Maya wallet, you can easily cash in for free at SM Supermarket, SM Hypermarket, Robinsons Supermarkets, Robinsons Easymart, Landers, The Marketplace, Shopwise, Savemore, Waltermart, Ever, Super8, Southstar Drug, and many more!
The best thing about this is you are not just skipping out on paying for cash in fees, you also get to earn rewards like free Bitcoin, by paying via Maya QR for your groceries!
Payment Kiosks
Payment kiosks like Touchpay, Pay&Go, ZoomPay, and eTap, also offer free cash in via Maya. So wherever you are across the country – you just need to look for these self-service payment machines to put funds in your Maya account.
Your local sari-sari stores
Yep, even your kapitbahay sari-sari store in your community offers free cash in for Maya — via cashback. You can enjoy 100% cashback on your cash in service fee, capped at P150, when you do this transaction at the Maya Center agent near you. With over 60,000 Maya Center agent touchpoints nationwide, finding a sari-sari store to cash-in for free would take no time at all. To provide even more options, TrueMoney outlets also offers free cash in services!
To know more about Maya's free cash in offers, check out maya.ph/cashin.
Maya is the all-in-one money platform bringing Filipinos bolder ways to master their money. It is powered by a unique integrated financial services ecosystem that addresses the ever-evolving financial needs of today's generation through cutting-edge technology.  Maya leads millions of Filipinos — consumers, businesses, communities, and government agencies alike — into a digital economy that's more inclusive, transparent, and empowering.
Maya is powered by the country's only end-to-end digital payments company, PayMaya Philippines, and Maya Bank for digital banking services. To know more about Maya, visit maya.ph or follow @mayaiseverything on Facebook, IG, Tiktok, and YouTube and @mayaofficialph on Twitter. Join our Telegram community at https://t.me/TeamMayaPH for Maya exclusives.
Comments