Whenever Vice Ganda throws a party, it is never wrong to expect the extraordinary. Based on what we've seen in the past, the party gets wild and crazy whenever the Unkabogable Phenomenal Box Office Superstar is the one spearheading such an occasion.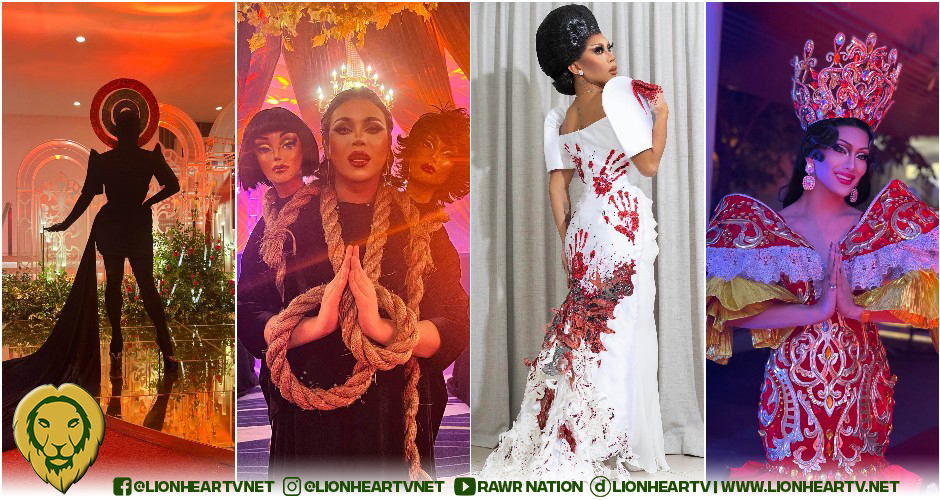 That's why it wasn't surprising if the sophomore #UnkabogaBALL party he threw on December 10–was filled with not-only-glamour-and-sophistication but also fierceness and the bizarre. Thanks to this year's theme (Philippine History) as it allowed the participants to showcase 'ultra-crazy' ideas that did not only make heads turn but also make powerful socio-political statements.
From the Ma-jo-ha-inspired GomBorza outfit of Viñas de Luxe to Eve Le Queen's much-talked-about ABS-CBN shutdown-inspired gown–the 2022 UnkabogaBALL did not fall short. 
It made headline statements that only proved 'everything is political.'
AC Soriano.
WELCOME HOME PAPSIEEEEEE! batas militar x tallano gold couture by @rafa_worldwide for #UnkabogaBALL2022 #TheUnkabogaBALLinCebu ❤️💚👊 pic.twitter.com/5TH73gKn2c

— AC (@ItsACsLife) December 10, 2022
Known for his viral parodies of various big personalities like Toni Gonzaga and Jodi Sta. Maria, AC leveled up his participation in the ongoing fight against historical revisionism.
Through his outfit, the young social media star shed light upon the Martial Law era and the infamous 'Tallano gold' myth.
Awra Briguela.
Grabee yarn @AwraBriguelaaa 🔥🔥🔥❤️❤️❤️ #UnkabogaBALL2022 #TheUnkabogaBALLinCebu pic.twitter.com/7se71q8MNd

— Mariel27 (@marielvcrlprz27) December 10, 2022
Briguela, somewhat pre-empted the upcoming 'mega-serye' based on the Filipina warrior, Urduja, currently being developed by GMA Network for its 2023 line-up.
The rising LGBTQIA+ personality is a feisty scene to marvel at as he channeled the character with angst and grit, making him a true stand-out of the night.
Corazon Filipina.
FILIPINAS

👗 @ehrranmontoya
💎 @farah_abu
Wig from @wigalooph
Styled by @iam_iangarcia

Thank you @ladypgalore
📸 @markpilipinas pic.twitter.com/bjUM8Q3g8c

— CORAZON (@CorazonFilipina) December 10, 2022
Corazon's golden outfit drew inspiration from the Philippines' historic baroque churches. The custom gold Filipiñana she wore is a powerful reflection of the country's deep Catholic faith. But perhaps, the real shock value in her dress is the traditional star lantern-inspired headdress that served as her crowning glory.
Eva Le Queen.
"Unkabogable was not just a title — it is my way of life." – @vicegandako thank you so much for this magical night Meme! You are an inspiration. Love you! #UnkabogaBALL2022 pic.twitter.com/xfqsFy6riS

— Ms. Eva Beteranang Aktres Le Queen (@eva_lequeen) December 11, 2022
Eva Le Queen's combination of the conversation-stirring all-black gown and attention-grabbing headpiece is one of the most compelling statements made during the history-themed fashion extravaganza. The Drag Race Philippines alumna channeled the media giant'0 bout against Congress with such grim and gloom that it reminded everyone of the terror and devastating impact that came in the wake of the network's shutdown in 2020.
Ina Evans.
Ina Evans a.k.a. Ate Dick was fully committed to sticking with this year's theme, as his outfit was practically a trip around the world. The talented comedian paid homage to the discovery of the island of Cebu by Portuguese explorer Magellan in 1521. His Trinidad-inspired headpiece was seemingly an invitation to travel around the world.
Paying homage to Magellan's arrival in the island of Cebu in 1521 and introduced Christianity. The red cape symbolizes the bloody battle of Mactan while the design of the gown symbolizes the paintings in the churches that Catholicism built. pic.twitter.com/H7Cpf2jAXK

— Ate Dick (Inah Evans) (@_AteDick) December 10, 2022
Marina Summers.
The real backstory ✊🏽🤫

Our winning look for the #unkabogaball2022. This is the part of Philippine History that they are trying to conceal with glamour and misinformation. This is the story that should never be forgotten. pic.twitter.com/KJe2Kr2ZB4

— Marina Summers (@marinaxsummers) December 11, 2022
The Drag Race Philippines' first runner-up was a runaway winner with her tragedy-at-the-CCP-inspired gown. 
Marina did not have to channel the former first lady Imelda Marcos, but she did anyway, and it was bloody and eerily powerful–no wonder she bagged the top prize that night, a whooping PhP100,000 from Vice Ganda!
Muah Dayaw.
Before i end this night i would like to share to you my Unkabogaball Look Tonight 💋🔥🌈

Category is Philippine History :

My Take is Musikang Pinoy / HARANA 🎸#Muahdayaw #unkabogaball2022#unkabogaballincebu pic.twitter.com/evfDfLwFtS

— Muah Dayaw (@zedrosal) December 10, 2022
Dayaw paid tribute to Original Pilipino Music (OPM) and the Filipino tradition, a Harana, with a heavily-ornated gold-laced red gown. The towering headpiece he wore added some sense of royalty to her overall look, but even without it, one would say he looked regal, nevertheless. 
Prince Marell.
#UnkabogaBall2022 Category is.. PHILIPPINE HISTORY 🇵🇭 The first out from the very first season of Drag Race Philippines. 👽💙

Thank you for the invite meme @vicegandako 💫 @dragraceph @WorldOfWonder pic.twitter.com/tjDUgJ7P6y

— PRINCE (@princemarell) December 10, 2022
Prince had some sort-of-a-lookback to his 'personal history, when he wore the same turquoise and sky blue ensemble before becoming the first eliminated drag queen of Drag Race Philippines. Almost naked with his middle chest exposed, he made jaw drops when he graced the red carpet.
Rod Singh.
LOOK: Rod Singh looks stunning in a custom "rafflesia" look for Vice Ganda's annual #UnkabogaBALL2022. The #DragDenPH director also bagged a special award which she dedicates to the trans community. pic.twitter.com/P5Z6lLwru7

— Philippine Drag Updates #Mudrakels (@DragUpdate) December 11, 2022
Rod Singh's stunning in a couture ensemble and perhaps took inspiration from the humongous Rafflesia, but he undoubtedly did not stink like the flower he channeled. If anything, he looked regal and someone who hailed from the wonderland with the 'faerie' vibe he sported.
Sassa Gurl.
Babaylan sa public school text book#Unkabogaball pic.twitter.com/u1NSdGNSTY

— Sassa Gurl 🏳️‍🌈 (@Itssassagurl) December 10, 2022
After pulling off a plain 'online seller' look at the GMA Sparkle's Halloween Party in November, Sassa Gurl made a 360-degree turn with his Babaylan-inspired get-up at this year's UnkabogaBALL party. Some said the black-and-white couture he paraded fit better for the Sparkle event. Nevertheless, he delivered and left a lasting impression.
Vice Ganda.
😍😍😍😍@vicegandako#ViceGanda #TheUnkabogaBALLinCebu#UnkabogaBALL2022 pic.twitter.com/9lH8xsDWuE

— Mariel27 (@marielvcrlprz27) December 10, 2022
Being the 'Unkabogable Phenomenal' star that he is, Vice Ganda could not afford to get outshined by any of his event attendees. Not that he minded, of course. Be that as it may, his multiple outfit changes ensured that he remained the biggest star-of-the-night.
He had a minimum of three switches. Each proved to be the main attraction.
Viñas Deluxe.
Hoy boto nyo na ko kahit walang botohan yata hahahaha

Philippine history ang theme at una talagang pumasok sa isip ko is #GomBurZa but make it DRAAAAG!! https://t.co/iDkBS2NdFQ pic.twitter.com/tN0qXdI2Vx

— Vinas DeLuxe (@VinasDeluxe) December 10, 2022
Probably it was either the 'Ma-joha' controversy in Pinoy Big Brother or the martyr priests, Gomez, Burgos, and Zamora a.k.a. GomBurza, that came to the mind of those who witnessed Viñas Deluxe when she paraded her three-headed outfit at the venue.
"I'm wearing my Divine Divas sisters, Brigiding and Precious!" she told the press, but we all know she mostly wanted to deliver a stark reminder to the kids: 'Know your history.
Did you think our list is missing your top bets? Head to the comment section to drop their names. Tell us why you think they slayed as well.
Comments