Whether listening to music, gaming or attending meetings, these revolutionary earbuds from OPPO are the perfect companion.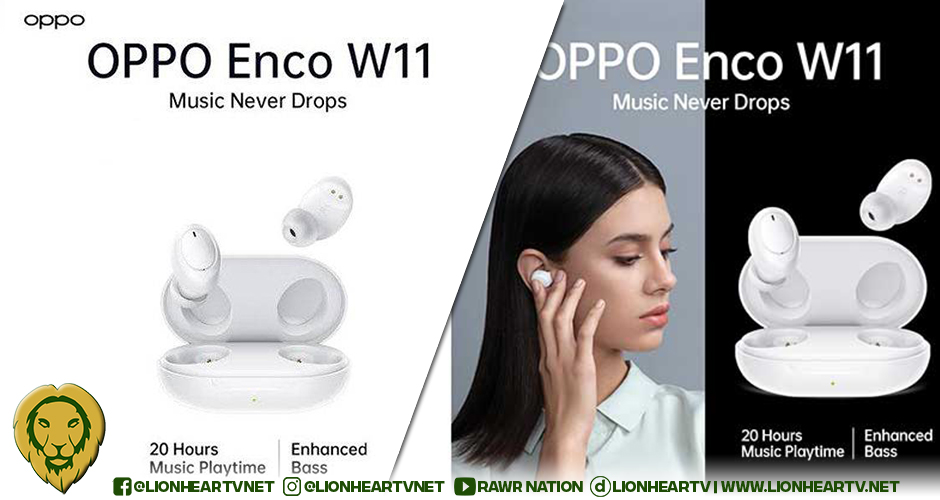 With OPPO W11 Enco earbuds, carry your favorite sound wherever you go!
These wireless headphones are meticulously designed for people on the go with their compact and lightweight build. Certified IP55 dust and water-resistant, the Enco W11 remains at full throttle, even when sweating it out or caught in the rain.
With its titanium-plated composite diaphragms and 8mm dynamic drivers, you get enhanced bass and a wide range of high frequencies for superior audio quality. Enjoy your music at its crispest sound—thanks to the AAC audio format, which gives a higher coding rate.
OPPO Enco W11 earbuds, immediately connect your phones and other Bluetooth-powered gadgets. They have a long battery life that lasts up to 20 hours on a single charge (with the charging case), so you don't have to worry about uninterrupted music. Enjoy lower latency and more stable connection with its advanced feature, allowing the device to receive signals on one side and send them to the other.
Powered by its built-in Bluetooth 5.0 chip, signal resistance is boosted to an unprecedented level to immerse you in your favorite sound. When making calls, Enco W11's noise-cancellation feature impressively shields all the unwanted noise from your surroundings, ensuring the quality and clarity of the call even when making it in crowded places.
These lovely headphones are given a crown by their intelligence. W11's intelligent touch controls let you skip tracks with a double tap and play or pause your music with a single tap. Voice assistance can easily be activated, and with its touch control, you can readily bring more convenience and intelligence to your listening experience.
Shop now: https://shopee.ph/oppophilippines
OPPO Enco W11 earbuds
https://shopee.ph/OPPO-Enco-Buds-Bluetooth-Earphones-Max-24h-Battery-Life-Earbuds-i.24681653.11303243606?sp_atk=071b44f1-77aa-4844-a7e9-b199ceadffd1&xptdk=071b44f1-77aa-4844-a7e9-b199ceadffd1
This 12.12 Mega Pamasko Sale, you can now have these powerful earbuds and other OPPO products at a discounted price, and with free shipping from Shopee! Easily score discounts of up to 60%, get a 'buy 1 get 1' raffle voucher, and PhP1 deals! Make sure to collect both  Shopee and OPPO vouchers this 12.12!
Comments