Summer nights are about to get hotter as you get up close and personal with the country's top content creators and with #TeamGalaxy at Samsung Epic After Hours, coming this May 25th to May 31st at the Bonifacio High Street Amphitheatre in BGC.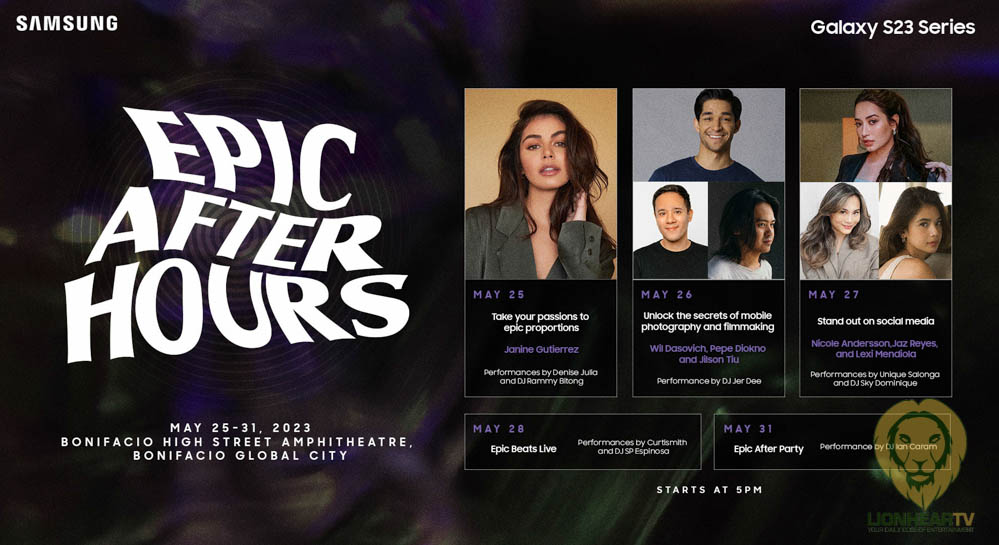 Join your favorite content creators for nights of epic talks and workshops, where they'll share their best tips and how the Samsung Galaxy S23 series helps them take their passions to the next level.
Own the nightlife with these dazzling celebrities and content creators
On May 25, the first day of this week-long event, join TV actress, host, and model #TeamGalaxy Janine Gutierrez and get inspired on how to fuel your passions as she talks about how the Galaxy S23 Series allows her to do more in her hectic lifestyle as a multi-hyphenate.
The talk on May 26 entitled "Unlock the secrets of mobile photography and filmmaking" will feature some amazing tips and tricks using the epic camera features of the Galaxy S23 Series. Learn how to take epic shots at night with the Galaxy S23's Nightography feature from professional photographer and photojournalist Jilson Tiu, useful video techniques from award-winning Filipino filmmaker Pepe Diokno, and how to master your narrative art from TV personality, model, and vlogger Wil Dasovich.
On May 27, get up close and in-depth with renowned lifestyle and fashion content creators Lexi Mendiola, Jaz Reyes, and Nicole Andersson, as they share insider tips to help you take your content creation skills to epic levels.
Aside from getting the chance to meet and greet your favorite content creators, you can discover the epic features of the Samsung Galaxy S23 series in experiential content rooms, and even get the chance to take home the hottest Galaxy devices.
Capture the night and explore the possibilities with the Epic Nightography room, where you can shoot epic portraits and breathtaking photos in various light conditions that will be exhibited in the #withGalaxy Gallery. Spend the evening in the Epic Passions room, where you may play your favorite games, show your creativity, and share your talents.
Join the environmental movement by visiting the Epic Sustainability booth, which features a pledge to life installation live mural painting, and a trade-in station where you can dispose of your old devices to get epic deals on a new Galaxy smartphone. If that isn't enough to entice you, expect special performances from Unique Salonga, Curtismith, Denise Julia, and more throughout the week at spectacular after parties beginning at 7:00pm!
Just like this epic event, the Galaxy S23 Series is jam-packed with premium features to help you take your passions further. With exceptional camera capabilities like Nightography that helps you take crisper, clearer shots in low light, and content-enhancing tools like the Photo Remaster and Pro Mode, you can create larger-than-life content.
All of these are powered by an optimized Snapdragon® 8 Gen 2 Mobile Platform for Galaxy", the most powerful and efficient platform ever in a Samsung Galaxy smartphone and the fastest12 Snapdragon available today. An epic battery experience also awaits with the Galaxy S23 battery lasting up to 22 hours, the Galaxy S23 Plus up to 27 hours, and the Galaxy S23 Ultra a whopping 26 hours.
Experience all this and more at Samsung Epic After Hours and don't miss out on catching your favorite content creators live and in person. For more information, follow @SamsungPH in Facebook, Twitter, and Instagram, or visit https://www.samsung.com/ph/.
Comments