Globe is leveling up its stake in the gaming world through its partnership with AcadArena, home of Southeast Asia's campus gaming. Together, the partners are building a community of gamers aspiring to be leaders in esports, games technology and pop culture.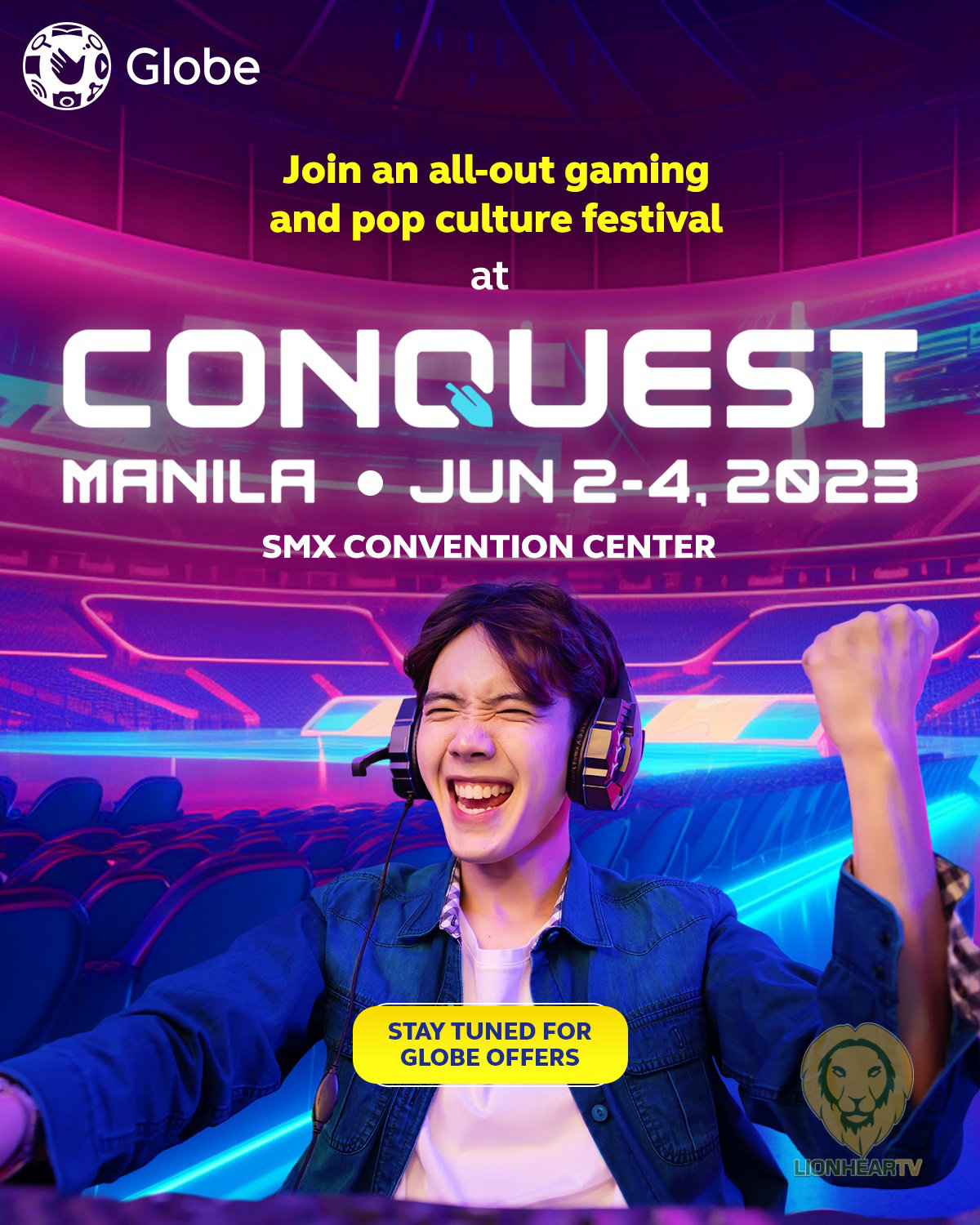 To kick this off, Globe is all set to empower gamers of all kinds at CONQuest 2023, the biggest gaming and pop culture convention in the Philippines set to unfold at the SMX Convention Center at the Mall of Asia Complex from June 2-4, 2023.
CONQuest promises to be a thrilling spectacle featuring top streamers, influencers, shoutcasters, cosplayers, esports athletes, voice actors and musical acts. International sensations Valkyrae, Pokimane, Lilypichu, Michael Reeves, and Tuonto are poised to share the stage with Korean indie rock band The Rose. Matching them step for step are Filipino powerhouses VeeWise, RikuPH and a host of other local figures.
The festival is gearing up to be an experience like no other, especially for Globe customers. Through the partnership with AcadArena, subscribers can get exclusive perks such as 10% discounts on tickets and chances to win tickets from different tiers, from day passes to coveted Premium passes, using their Globe Rewards points on GlobeOne.
Globe users can also enjoy express lane entry simply by showing their proof of SIM registration. They also get the privileged opportunity to lay claim to special CONQuest 2023 merchandise.
For a hassle-free trip, Globe customers can ride the shuttle service from SMX to three selected Ayala Malls using Globe Rewards points. On top of these treats, they also get the opportunity to score an academic scholarship and a CONQuest Premium Pass for a chosen student leader.
Globe plans to ignite the venue of the much-anticipated event with an immersive, experiential booth that will reward gamers for their life's wins. From getting freebies when they donate their Rewards points for a cause to indulging in free arcade plays and memorable meet ups with their favorite streamers, the Globe gaming community is in for an action-packed, unforgettable weekend!
"We in Globe are very much thrilled to once again present and enable AcadArena's CONQuest, especially as it becomes a space for all types of gamers, with the event going beyond just games and esports and expanding into music and pop culture. It's a perfect match as we aim to strengthen the Philippines' gaming community and provide festival goers with the most reliable mobile network in the Philippines.," said Ralph Aligada, Head of Globe Games and Esports.
Ariane Lim, AcadArena COO shared, "With CONQuest getting bigger each year, we at AcadArena are very excited to see the festival goers in the activities and events that they will be able to experience. Our presenters, led by Globe, always give new gaming experiences each year, with 2023 shaping up to be the most novel one yet. We look forward to bringing our festival goers the best that AcadArena and Globe can offer."
To learn more about the event and the different promos available, check out the GlobeOne app.
Comments