Don't let the rainy season let you down. With a mix of action and drama, Lionsgate Play brings you a range of content that will strap you to the comfort of your home for wholesome entertainment. If you're a fan of action-thrillers, we have One Ranger; all supernatural crime drama fans, The Rising will hit your screens on 21st July. For intense mystery, thriller One Night in Bangkok will entertain you all the way. Lionsgate Play has it all! So grab your popcorn and slip into something cozy, because Lionsgate Play's exclusive new releases are sure to keep you entertained this July.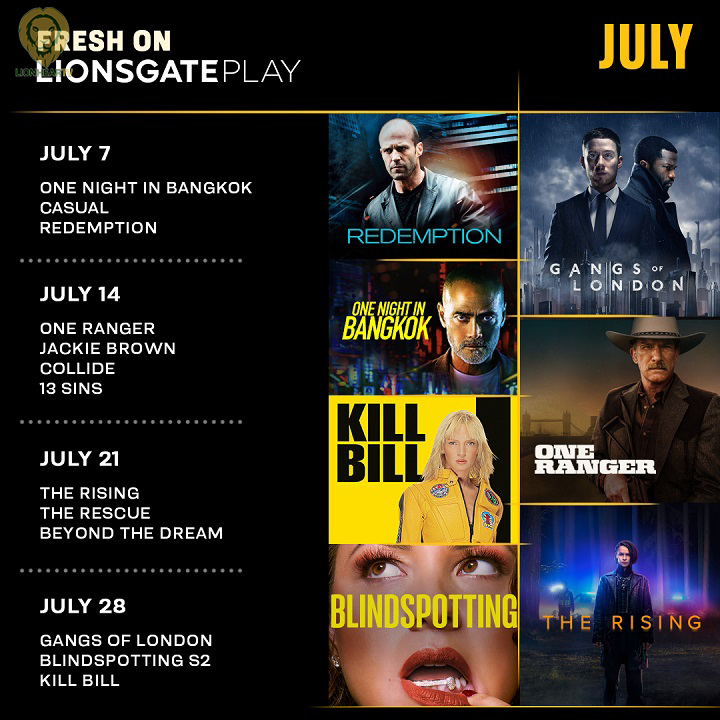 Exclusive to Lionsgate Play
Movie Premieres
One Ranger – Release Date: 14th July 2023
One Ranger follows the story of a Texas ranger (Thomas Jane) as he tracks a bank robber (Dean Jagger), who is actually an international terrorist set on detonating a bomb in London. When the ranger's partner is killed during the pursuit, he is forced to team up with a British intelligence agent (Dominique Tipper) and her boss (John Malkovich), to bring the outlaw to justice. Directed and written by Jesse V. Johnson, this gripping film combines the grittiness of a classic Western with the intensity of a modern-day thriller, making it a must-watch for fans of both genres.
Series Premieres
The Rising – Release Date: 21st July 2023
An intense eight-part British supernatural crime drama series, The Rising follows Neve Kelly (Clara Rugaard), a young woman who has been murdered and is resolved to find her killer and get justice. Using her newfound supernatural abilities, Neve investigates her own death, unearthing deeply buried secrets and forcing those around her to change, confess, or cover their tracks. As she navigates her new existence, Neve's return also causes fractures within her own family, including her estranged father, beloved mother, and step-siblings. With a unique tone and visual style, The Rising is about love, justice, and the cost of pursuing truth in a world that wants it buried.
Gangs of London (Season 2) – Release Date: 28th July 2023
Come back to the violent and dangerous underworld of London, where the landscape has been redrawn in the aftermath of Sean Wallace's death. The new ruling force in London is led by brutal gang leader Koba (Waleed Zuaiter), who seeks to impose a dictatorship on the criminal landscape and hold a monopoly over the city's drug trade. As ex-undercover cop Elliot Carter (Sope Dirisu) investigates a series of gangland assassinations, he uncovers a rebellion brewing beneath the surface, and old alliances and new players emerge to fight back against the new order. With its signature twists and turns, brutal murders, and cinematic action sequences, Season 2 of Gangs of London promises to be as thrilling and unpredictable as ever.
Blindspotting (Season 2) – Release Date: 28th July 2023
Blindspotting is a compelling drama that explores the complex themes of race and class, set in the rapidly gentrifying city of Oakland. As Miles, Ashley's partner of 12 years and father of their son, is suddenly incarcerated, she is left to navigate a chaotic and humorous existential crisis when she's forced to move in with Miles' mother and half-sister. The stunning cast includes Jasmine Cephas Jones, Jaylen Barron, Rafael Casal, Candace Nicholas-Lippman, and Benjamin Earl Turner and the series provides a perfect dopamine hit with its witty and artful comedy style.
More exciting content this Month
One Night in Bangkok – Release Date: 7th July 2023
Directed and written by Wych Kaosayananda, One in Bangkok is an action-packed thriller that follows hitman, Kai (Mark Dacascos), who arrives in Bangkok and hires a female cab driver (Vanida Golten) for an all-night ride. The unsuspecting driver soon discovers that Kai's plans for the night are far more sinister than she could have ever imagined. As he goes from stop to stop, murdering his targets, the driver is forced to stay on board. Meanwhile, an offbeat police detective (Kane Kosugi) tries to piece together the seemingly unrelated murders before more blood is spilled.
Comments