Is Julia Barretto choosing to mask her relationship status as private on her Instagram-official account at the start year 2021?
Social media users noticed from Baretto's IG cryptic-like post showing a man's hairy arm by the driver's seat.
In the photograph, Julia Barretto uploaded a picture while carrying a St. Bernard dog in her car.
View this post on Instagram
Social media users, however, noticed the hairy arm at the driver's seat. They compared it to Gerald Anderson's.
A Netizen, @fangirling4joshlia can't contain her emotions and asked Barretto to [finally] reveal if it was Anderson in the photo.

Another fan even teased asking if it was 'G' stands for Gerald beside her,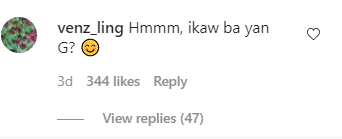 As the public knows Gerald Anderson and Julia Barretto have been romantically-linked since 2019. Initially, it was controversial since the actor had just separated from his former girlfriend-actress, Bea Alonzo.
In November, Barretto admitted that she was in love. But she said that she now intends to keep her relationship private, after the "trauma" of a public breakup with her ex-boyfriend Joshua Garcia.
"So one of the things I made myself confident in when it comes to my personal relationships is that, I'm in control," Barretto said in her Mega interview.
"I am in total control of how much I am only willing to share and how much I am only allowing people to know."
In December, she once again sparked rumors of a relationship with Anderson where she was seen wearing a "G" necklace. Once again, this fueled speculation that she might be in a romantic relationship with actor Gerald Anderson.
"I've already come to realize how important it is to protect your peace and privacy — and that both go well together."
Comments