Claire dela Fuente's son Gigo de Guzman relates her mother's battle against COVID-19 before passing away on Tuesday morning.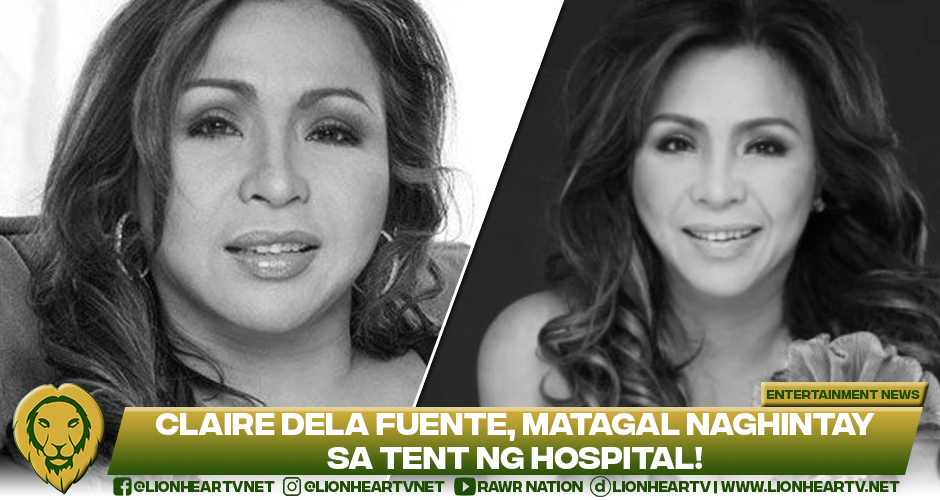 In an interview with GMA News, Gigo said that Claire and himself tested positive for COVID-19 last week, he is asymptomatic while his mother experiences mild symptoms.
"Everything seemed fine and she seemed OK until last night when her anxiety got the best of her. We were told that her heart gave in this morning and they tried to revive her but there was nothing they could do," said Gigo.
Claire's untimely passing has exposed the situation of our hospitals, overwhelmed at present due to the shoot up of COVID-19 cases in the country, especially in the NCR plus bubble.
According to Gigo, Claire stayed in a tent outside while waiting to be admitted inside the hospital.
"Actually, she wasn't confined completely. She was actually staying in a tent outside Las Piñas Doctors Hospital waiting to be admitted.
"Doon po siya naka-stay. It wasn't until yesterday that she was transferred to Pope John Paul II hospital in Las Piñas as well. So that [in] the ER of that hospital, that's where she passed away," revealed Gigo.
She was rushed to the hospital on Saturday and she was transferred to another hospital on Monday.
"Basta Saturday po siya pumunta sa tent sa Las Piñas Doctors Hospital and pagdating po ng yesterday lang po siya trinansfer sa Pope John Paul," he said.
The 'Jukebox Queen' and also known as the 'Karen Carpenter of the Philippines' passed away at the age of 63, due to cardiac arrest caused by her anxiety upon knowing that she tested positive.
Celebrities expressed their grief online and sent their sympathy to the OPM legend's bereaved family.
https://twitter.com/zsazsapadilla/status/1376769840996708352?s=20
Heard Claire dela Fuente died this morning. Condolences to her family. We performed together many times, she was proud to be called a Jukebox Queen. Rest In Peace, Claire.

— Leah Navarro (@leahnavarro) March 30, 2021
https://twitter.com/ronnieliang/status/1376798557068398592?s=20
https://twitter.com/iamkarendavila/status/1376792337402097669?s=20
https://twitter.com/gretsfullido/status/1376763826675220481?s=20
https://twitter.com/kbrosas/status/1376772414067994628?s=20
https://twitter.com/xoxo_gma_riel/status/1376813647121424388?s=20
To Claire's fans, Gigo has this message:
"Sa mga fans po ng nanay ko sa mga sumuporta sa kanya sa mga taong natulungan niya thank you po for everything you've done for my mom, for giving her such a fulfilling life and know that we will be strong. Me and my brother we're raised to be strong by my mom and my dad so we will be OK," he said.
As of March 28, the CAR region is in the critical stage as 85% of their ICU beds are occupied. In NCR, only 186 ICU beds remained out of 781. If the COVID-19 cases will continuously increase day-by-day, sooner these beds will be fully occupied and some patients may not be treated well.
Let's look at ICU bed occupancy:

– CAR is still CRITICAL (over 85% occupancy) ‼️

– NCR, Region 4A and Region 3 are all HIGH RISK (70-85%)

– 76% occupancy in NCR is the highest since Aug 15, 2020 ⚠️

– 68% occupancy in Region 2

The situation is likely WORSE on the ground. pic.twitter.com/DPxXdEmKkf

— Edson (@EdsonCGuido) March 29, 2021
As of writing, there are already more than 124,000 active cases in the country.
Comments