With the vaccines limited and prioritizing health workers, there was information that some local government officials have cut the line in order to be inoculated by vaccines issued by COVAX.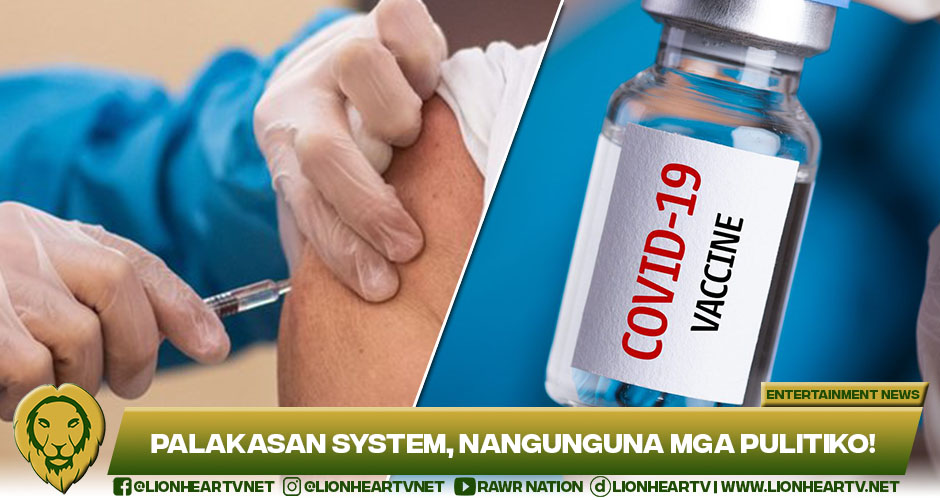 On Saturday, March 20, the Inter-Agency Task Force on Emerging Infectious Diseases (IATF) has approved the request of the League of Cities (LCP) on Friday its request to be considered as "essential workers" who will be fourth in line to receive doses of the limited vaccines.
"The move will reclassify 1,634 provincial governors and city and municipal mayors and 42,046 barangay captains all over the country to Category A4 or 'frontline personnel in essential sectors including uniformed personnel and those in working sectors identified by the IATF as essential during ECQ (enhanced community quarantine)' of the Interim National Immunization Technical Advisory Group," said LCP in a statement.
The chosen to be prioritized is the 1.7 million health care workers followed by senior citizens and persons with comorbidities.
The indigent population teachers, and social workers, followed by other government workers, follow the frontline essential workers which the local chief executives are now classified as.
However, many personalities and netizens do not believe that this list will be followed.
Twitter personality, AlterMidya exposed 30 Philippine National Police (PNP) personnel as they cut a line designated for health workers in a Quezon City vaccine site.
https://twitter.com/altermidya/status/1374240650581864451
Another Twitter personality called out the Department of Health and the Department of Interior and Local Government as Tacloban City Mayor Alfred Romualdez was inoculated despite not being part of the priority list.
Ano gagawin @DOHgovph or even @DILGPhilippines about this? Probably say "it must be stopped" and call it a day. #DuqueResign #DutertePalpak https://t.co/Oz8cMASp55

— what are they distracting us from? (@psychokenetics) March 23, 2021
With the Tacloban City mayor's inoculation, Broadcaster Menchu Macapagal criticized how Romualdez received the vaccine at the comfort of his house. Meanwhile, Francisco Duque III has reiterated that the DOH does not have the capabilities to conduct house-to-house vaccination due to a lack of resources.
Home service? And yet according to DOH chief Duque we cannot do this for poor communities as we don't have the resources. https://t.co/zJRITOWdjf

— Menchu Macapagal (@menchumacapagal) March 23, 2021
Ex-PBB Housemate Justin Dizon also criticized Romualdez for being inoculated in his home and at the same time, not being included in the list. Dizon also pointed out that Romualdez took advantage of his position and his name as he received the vaccines first.
Wow VIP na VIP si mayor.

1) Skipping the lines.
2) Home service pa ng DOH.

Iba talaga ang nagagawa ng position saka ng apelyido. https://t.co/Eu0DN2WxxK

— Justin Dizon (@iamjustindizon) March 23, 2021
Another mayor, Cebu Mayor Elanito Peña received his AstraZeneca vaccine despite being not a healthcare worker.
CNN producer, Lara Tan, reiterated the WHO's recommendation that vaccines with limited doses should be used on medical frontliners, then elderlies, followed by persons with comorbidities.
That is why Tan feels that the country will lose its vaccine allocation due to government officials being prioritized first before health care workers.
The Philippines stands to lose its succeeding vaccine allocation from COVAX after this mayor — a non-health worker — received his AstraZeneca shot.

WHO strongly recommend using limited doses on medical frontliners, then elderlies, then those with comorbidities. @cnnphilippines https://t.co/DCdRbd7Xgd

— Lara Tan (@laratyan) March 23, 2021
Advocate Jeff Crisostomo, on the other hand, thinks that the inoculation of local government leaders is a way to boost the confidence and trust of the public in the vaccines.
Palagay ko ok na isama ang local officials sa bandang unang batches. Citizens at the grassroots want to see their leaders vaccinated before they try it out themselves. Yan ang pulso dito sa amin sa isla. Tataas ang vaccine confidence nila if they see officials undergo the process https://t.co/02nQHKyfyU

— Jeff Crisostomo (@jeffcrisostomo) March 23, 2021
But with many jumping the line, DOH has issued another warning against those that disregard the priority list.
"The DOH once again emphasizes that because our vaccines are limited, these doses should first be given to our healthcare workers who most need and deserve it," said Health Undersecretary Maria Rosario Vergeire.
"All doses must first be administered to the agreed-upon priority groups starting with HCWs (healthcare workers). Giving the vaccines to non-HCWs when not all HCWs have been vaccinated will jeopardize succeeding doses from COVAX."
WHO Philippine Representative Rabindra Abeyasinghe also stressed that at this point, the organization has prioritized both health workers and vulnerable populations since the global supply of vaccines is still limited.
"We recognize the need to protect them (other groups) also but in all fairness, we need to protect the health workers and those who are most at risk of dying," Abeyasinghe said.
Comments