Pres. Rodrigo Duterte addressed the nation on Monday, March 29. His speech only prompted actress Angel Locsin to send a powerful message addressed to him.
During Duterte's televised speech, he ranted about how he is close to tears. As the nation continues to fail in keeping COVID-19 transmissions rampant, the President admitted that he is having a hard time managing the pandemic.
"Gusto ko na nga umiyak sa harap ninyo pero naubos na ang luha ko," said Duterte. "Hay, buhay. Kung alam lang ninyo. Para akong dumadaan ng purgatoryo ngayon."
But before he could share the new quarantine measures for April, Duterte once again ranted about how this year is no different from last year's lockdown.
"Halos back to zero tayo dito," Duterte admitted.
After he allowed the private sector to procure vaccines at their own will, Duterte once again ranted about having a hard time due to the pandemic.
"I'm having a hard time. I'm grappling with this issue of COVID. It takes most of my time actually. More than any other papers, it takes most of my time looking for ways, where we can get [a vaccine]," ranted the President.
With Duterte sharing his problems on national television, Angel Locsin urged the President to address the number one problem in the country—COVID-19.
"With all due respect to your feelings for our countrymen, Sir, it's concrete solutions [and] not emotions that we need to hear from you right now," wrote Angel on her Instagram story.
"Millions of Filipinos wait for you to address the nation. I know your time is precious. But so is ours. Especially now that every step matters."
Angel also criticized how Duterte became emotional during his latest speech.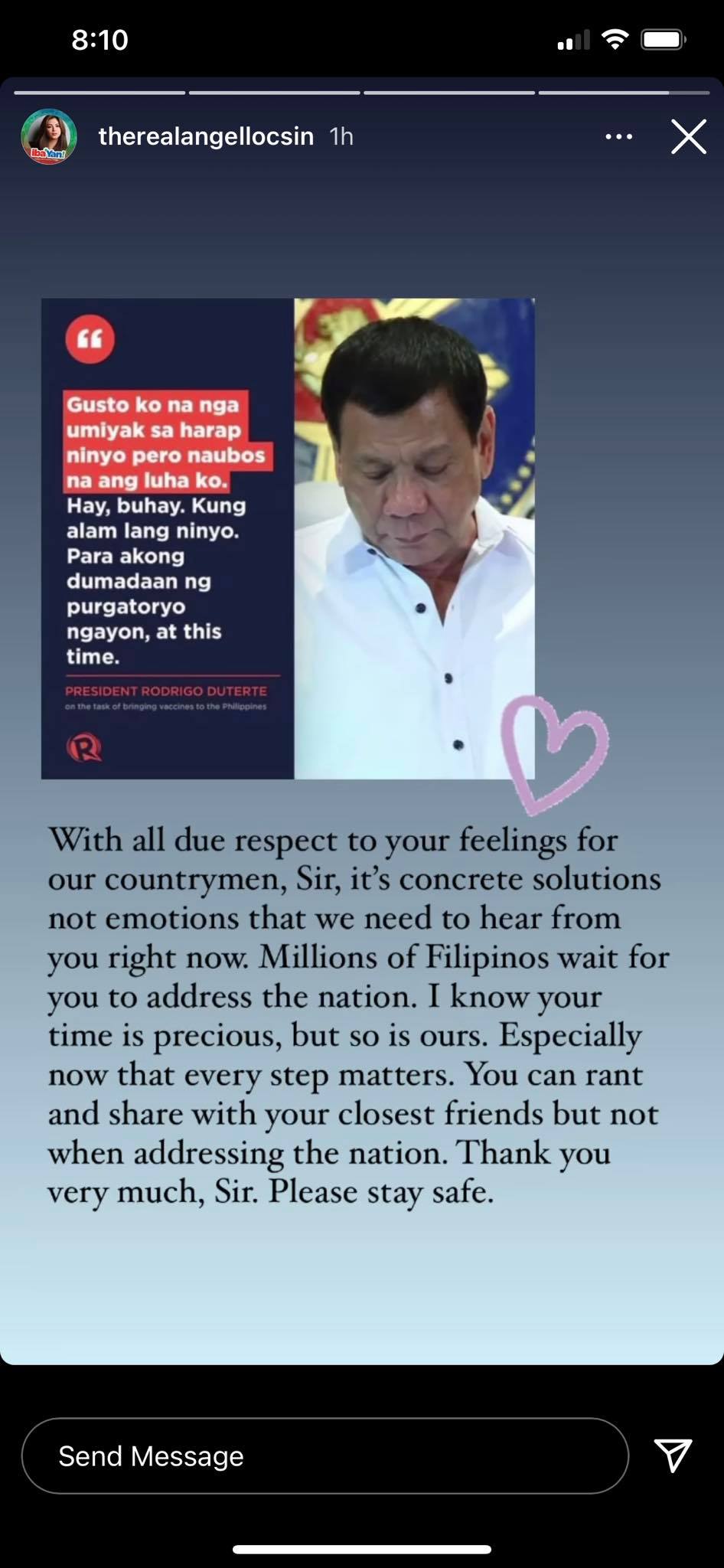 The actress stressed that the President should not be emotional when addressing the nation. Furthermore, Angel discouraged Duterte from ranting on public television. Now that the country is lagging in its pandemic response, it is not the right time to be emotional.
"You can rant and share with your closest friends but not when addressing the nation. Thank you very much, sir. Please stay safe," Angel said.
Earlier this year, Duterte made a notion that the highest position in the country is not for women. The President stressed his point as he compared the emotional setup between a man and a woman.
"Hindi ito pambabae. Alam mo, the emotional setup of a woman and a man is totally different," said Duterte during a speech in Quezon City.
Comments