Like Kapamilya-produced shows, Kapuso also takes pride in its highest-rated shows. Some of the Network shows also got listed as among the longest-running TV shows on Philippine television.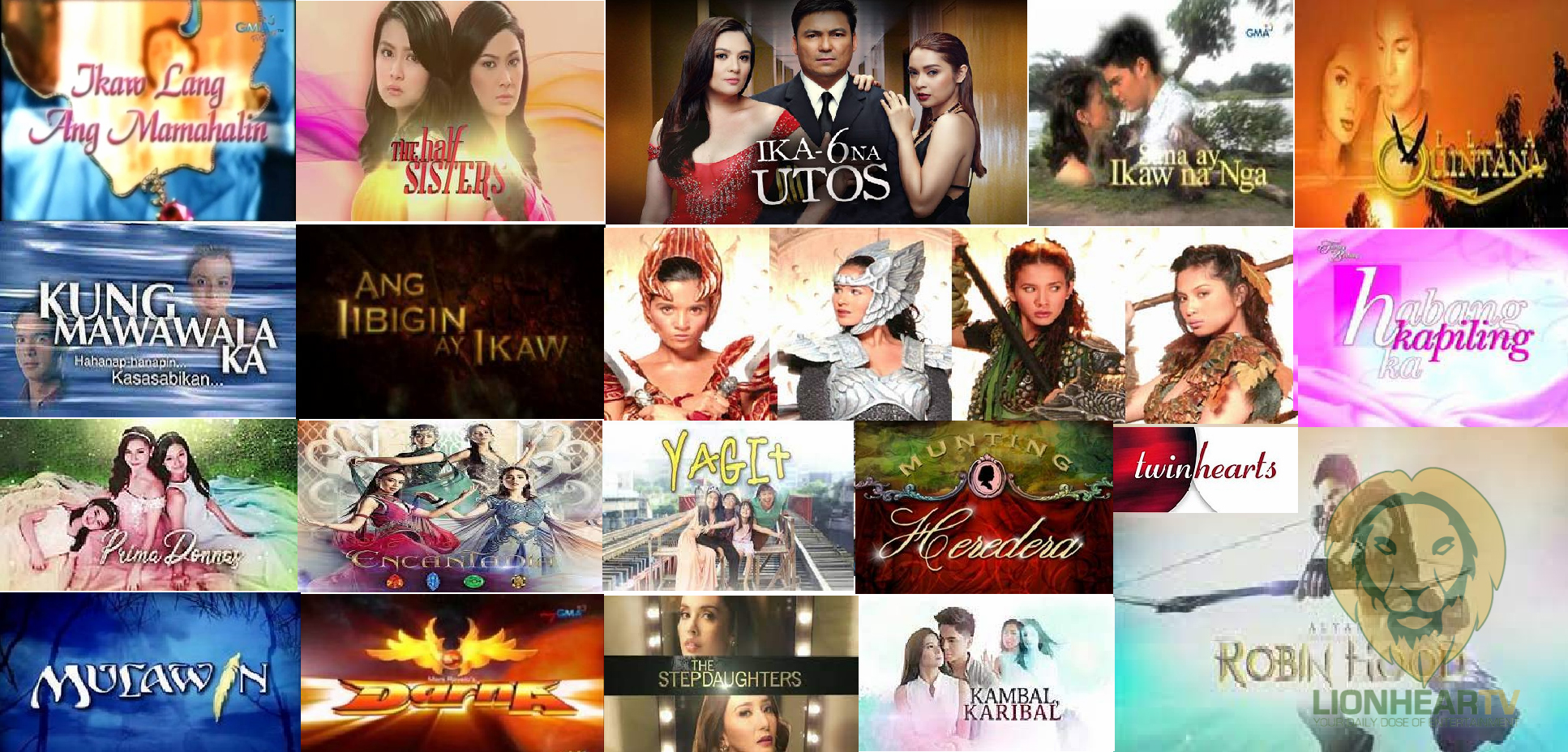 These days, a TV series can already claim a successful run, if it was able to stay on-air, for a minimum of 13 weeks, or at least 65 episodes. 
The following lists the longest-airing GMA Network-produced shows. 
The list excludes weekly series, and those entirely produced by block-timers, but includes those co-produced by GMA. It also excludes soap operas aired in the 80s and earlier. Because these shows air on weekdays, or five times a week (except holidays, or during irregular programming), the show's ranking is based on their total number of completed episodes.
Ikaw Lang ang Mamahalin with 425 episodes.
In the world of crazy 90s and 2000s Pinoy soap operas, Ikaw Lang ang Mamahalin is arguably one of the craziest—if not the craziest. Dark, brutal, and violent—all the makings of a crazy traditional soap opera, made up this show, and to its credit, it massively worked, as proven by its being one of too few GMA-produced shows that lasted on-air, for at least two years. Starring Angelika de la Cruz and Sunshine Dizon, it went head-to-head with ABS-CBN's massively successful soap opera, Sa Dulo ng Walang Hanggan.
The Half Sisters with 418 episodes.
This top-rated GMA drama tackled the rare pregnancy case called, superfecundation, where a set of twins has two different fathers. Then Kapuso teen actresses, Barbie Forteza and Thea Tolentino played the title roles. The show grew in ratings from a modest 11.5% pilot during its pilot to a 23.2% finale rating, based on AGB Nielsen charts.
Ika-6 na Utos with 383 episodes.
As far as viral-meme-generating shows go, Ika-6 na Utos is without a doubt, a show to beat. Although the show didn't frequently take the spotlight solely for great reasons—as it intermittently shot up to the trending charts because of Netizens ridiculing the show. That being said, the high ratings—which are too high for its daytime slot—alone, was a strong indication of its massive following. It is also widely credited for Ryza Cenon's biggest breakthrough show—before she moved to ABS-CBN, of course.
Sana ay Ikaw Na Nga with 361 episodes.
Sana ay Ikaw Na Nga was GMA Network's answer to ABS-CBN's mammoth hit, Pangako Sa'Yo, and while it wasn't able to take the lead, it was, nevertheless, ended completed its run with greater success than its contemporaries and predecessors. It also paved way for Garcia and Dantes' subsequent projects. The show also went head-to-head with the Nora Aunor-starrer, Bituin.
Villa Quintana with 318 episodes.
The original Villa Quintana was a co-production between Viva Television and GMA Network, and starred Donna Cruz and Kempee de Leon. De Leon's impressive performance in the series earned him a PMPC Best Actor award. The show ran from 6 November 1995 to 24 January 1997, earning considerable success. In 2013, it made a remake of the show, starring Elmo Magalona and Janine Gutierrez.
Kung Mawawala Ka with 303 episodes.
Sunshine Dizon's departure sudden from Ikaw Lang ang Mamahalin, didn't happen for no good reason. On April 22, 2002, she returned to GMA Kung Primetime bock, to headline Kung Mawawala Ka, alongside then fellow Kapuso teen star, Cogie Domingo. The series concluded on June 6, 2003.
Ang Iibigin ay Ikaw/Ikaw Pa Rin with 293 episodes.
This series was flaunted by GMA Network as its most ambitious project in 2002, for having an ensemble cast and a humongous production budget similar to a film. Starring Richard Gomez, Christopher de Leon, and Alice Dixon, Ang Iibigin ay Ikaw, extended to a second book because of its overwhelming success.
Encantadia 258 with episodes.
The original Encantadia was among GMA Network's most successful telefantasyas, ratings-wise. It was also one of its most expensive. It also catapulted its lead stars, Karylle, Iza Calzado, Diana Zubiri, and Sunshine Dizon into greater fame, as well as served as a strong takeoff for several then-emerging Kapuso stars, including Jennilyn Mercado. Because of its massive success, the show had a prequel show (Etheria), and had another season, before it concluded its first franchise with more than 250 episodes. GMA Network retold the stories of the Sang'gres and their kingdom, Encantadia, in a remake that premiered in 2016.
Habang Kapiling Ka with 248episodes.
Habang Kapiling Ka starred Angelika de la Cruz and Victor Neri. The series debuted on the Kapuso Telebabad Block on November 4, 2002. The series was a follow-up to the highly successful soap, Ikaw Lang ang Mamahalin, in which de la Cruz and Neri also played the lead characters.
PrimaDonnas with 231 episodes.
One of GMA Entertainment's most recent hits, PrimaDonnas was headlined by Kapuso teen stars, Jillian Ward, Althea Ablan, and Sofia Pablo. The series marked Aiko Melendez's return to GMA Network after years of doing projects with ABS-CBN. The show was among tv dramas and other shows that went off-air when the imposition of the Luzon-wide quarantine was imposed last year, due to the pandemic. Still, the show aired more than 200 episodes to make it one of the network's longest-running series. The show ended its run on February 19, 2021.
Encantadia (2016) with 218 episodes.
Following its trend of reviving past hit shows, GMA Network rebooted Encantadia in 2016, tapping three of its fast-rising female stars to play the roles of the three mythical Sang'gres. Sanya Lopez, Glyza de Castro, Kylie Padilla, and Gabbi Garcia portrayed Danaya, Amihan, Pirena, at Alena, respectively. During its run, Encantadia was among the very few shows that came closer to FPJ's Ang Probinsyano, and had, toppled the hit Kapamilya program several times, on the AGB Nielsen NUTAM scorecards.
Yagit (2014) with 203 episodes.
Based on the 1983 tv drama of the same title, Yagit is about a group of indigent children who tried navigating their lives, together, even amidst the scarcity, the hardships, and countless knee-breaking misfortunes that came in their way. The series premiered on 13 October 2014 on GMA Network's Dramarama sa Hapon block, and concluded on 24 July 2015.
Munting Heredera with 195 episodes.
This primetime soap opera was intended to run for only 13 weeks, but was extended several times because of its very high ratings. Starring Mark Anthony Fernandez, Camille Pratts, and Katrina Halili, the soap also featured some of the network's brilliant child stars, in a family drama that, no doubt, captured many viewers. The final episode of the series posted a whopping 27.7% AGB Nielsen Mega Manila Household ratings.
Alyas Robin Hood with 190 episodes.
Alyas Robinhood, was one of FPJ's Ang Probinsyano's toughest competition. Starring GMA Network's primetime King, the series marked the first time Dingdong Dantes went head-to-head with the Coco Martin-starrer (he would later star on primetime series, Cain at Abel, and the Descendants of the Sun, which both went against the Kapamilya action drama). While it wasn't able to make the ABS-CBN show succumb, it did, nonetheless, perform much better than its predecessors. Because of its success, the show went on to have a second season and completed a total of 190 episodes.
Kambal Karibal with 178 episodes.
Kambal, Karibal is a riveting family drama with a supernatural twist. Starring Bianca Umali and Pauline Luna, this Kapuso follows the story of twins, Crisanta and Criselda, whose rivalry transcends beyond the death of the latter, who gets consumed by hatred and jealousy for Crisanta. Also featuring Miguel Tanfelix and Kyline Alcantara, the show went on to be very successful, as it consistently posted high ratings.
The Stepdaughters with 178 episodes.
Starring Megan Young and Katrina Halili, this show tried to mimic the success of the hit afternoon drama, The Half-Sisters, and while it wasn't able to reach the same popularity as the latter, it went on, nevertheless, to complete a very successful season. The series run from February 12 to October 19, 2018.
Narito ang Puso Ko with 175 episodes.
This primetime drama served as Jolina Magdangal's first major project on GMA Network when she departed from ABS-CBN. She starred on the show, alongside Kapuso leading mean, James Blanco and Raymart Santiago. The series aired from 9 June 2003 to 5 March 2004, as part of GMA Telebabad line-up.
Twin Hearts with 173 episodes.
This series was a follow-up project for Tanya Garcia and Dingdong Dantes, after the massive success of Sana ay Ikaw Na Nga. The show also starred Karylle, with whom Dantes would have an offscreen relationship with. This was also one of Dennis Trillo's first projects on GMA Network, after transferring from ABS-CBN.
Darna (2005) with 170 episodes.
One of GMA Network, highest rating teleseryes, Darna was among the Kapuso network's crowing glories during the height of its reign as the most-watched TV network in Mega Manila. It was also arguably, Angel Locsin's most successful project on GMA, before she transferred to ABS-CBN in 2007. GMA Network, made another tv adaptation of the Mars Ravelo material, in 2009, starring Marian Rivera.
Mulawin with 166 episodes.
Widely regarded to have spearheaded the Kapuso telefantasya craze, Mulawin was also Angel Locsin's and Richard Gutierrez's golden ticket to superstardom, as the success of the show paved the way for their separate successes, and also for their onscreen partnership's further ascent. In 2017, GMA Network aired its sequel entitled, Mulawin vs Ravena.
Captain Barbell with 165 episodes.
It made sense that Richard Gutierrez bagged the role of Captain Barbell because Darna already belonged to Angel Locsin, with whom he shared the success of Mulawin, and their subsequent projects as a love team, in both movies and television shows. Gutierrez reprised the role when GMA Network rebooted in 2011.
Comments