Being a look-alike of someone should be flattering. However, if the person being associated with the DDS is not a DDS, then they would probably take it as an insult.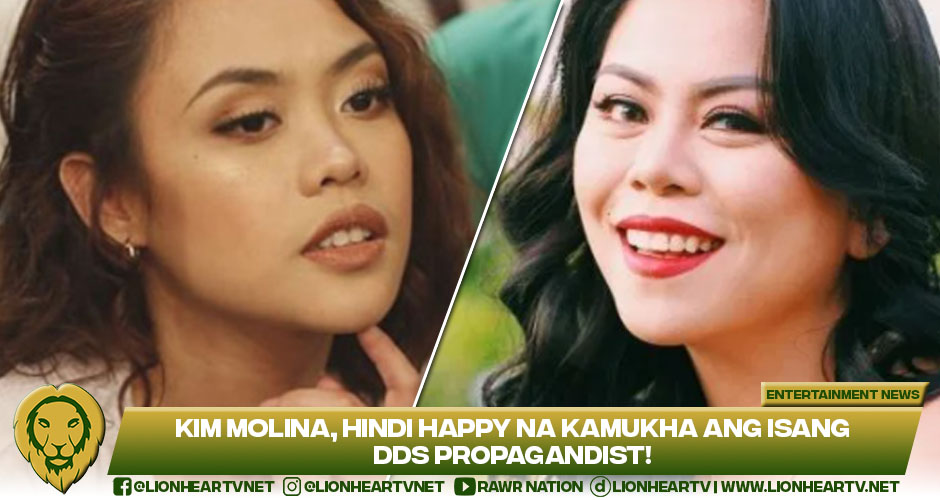 Recently, actress Kim Molina did not appreciate netizens finding her looks similar to that of Jam Magno, a DDS propagandist. The "Jowable" star also slammed a netizen for saying that the DDS propagandist was the leading lady in said movie.
Uhm. NO.

— Kim Molina ✨ (@kimsmolina) March 13, 2021
In another tweet, she replied to a netizen who expressed the similarities between her and Magno. The actress did not like the odds of comparing her with the DDS propagandist.
The actress replied, "Marami kayo. At di ako natutuwa. Lol."
Being associated with Magno is not good for anyone's image. Recently, the DDS propagandist was slammed by Liza Soberano's supporters for trying to cancel the actress.
https://twitter.com/kimsmolina/status/1376529877419974657
Though she was not vocal in criticizing the government, her boyfriend Jerald Napoles was. And with her being in a relationship with a government critic, Molina also became a subject of attacks from trolls.
Molina recently threw some shade with the enhanced community quarantine (ECQ) being implemented in NCR. This followed after the government failed to address the growing number of Covid cases in the Philippines.
https://twitter.com/kimsmolina/status/1376179209249255433
With her voicing out her opinion regarding the matter, a netizen ridiculed her for complaining. This prompted the actress to question the netizen for saying so.
She replied, "Huh? Anong nireklamo ko?"
https://twitter.com/kimsmolina/status/1376528742881783817
Jam Magno has been in hot waters for calling out empowered women like Rabiya Mateo and Liza Soberano. The DDS propagandist was also criticized for spreading false information about the pharmaceutical firm Pfizer.
Magno defended President Duterte for choosing Sinovac over Pfizer. In a series of TikTok videos, she attacked Pfizer's president, Albert Bourla who did not take his own product. This led to people assuming that Bourla does not trust his own vaccine.
However, what Magno failed to tell was that the CEO and his team did not want to "cut the line". Since vaccines are limited, health workers and other priority groups are being put first in line to be immunized.
Furthermore, Molina did not want any comparison with Magno due to her fake news peddling. The DDS propagandist denied that the Philippines is dead last to start its vaccination program. Contrary to what Magno has implied, the country is in fact the last among its neighboring country starting its inoculation drive.
Comments