Holy Week in the Philippines is unmistakable. You just know you are in the Philippines spending the holy week when certain things happen around.
In the local entertainment setting, things are even more exciting as the vibrant personal life of popular celebrities, are being thrown into the spotlight, as well as a number of traditions that mostly only take place in the local entertainment scene, during the holy days that lead to and during Easter.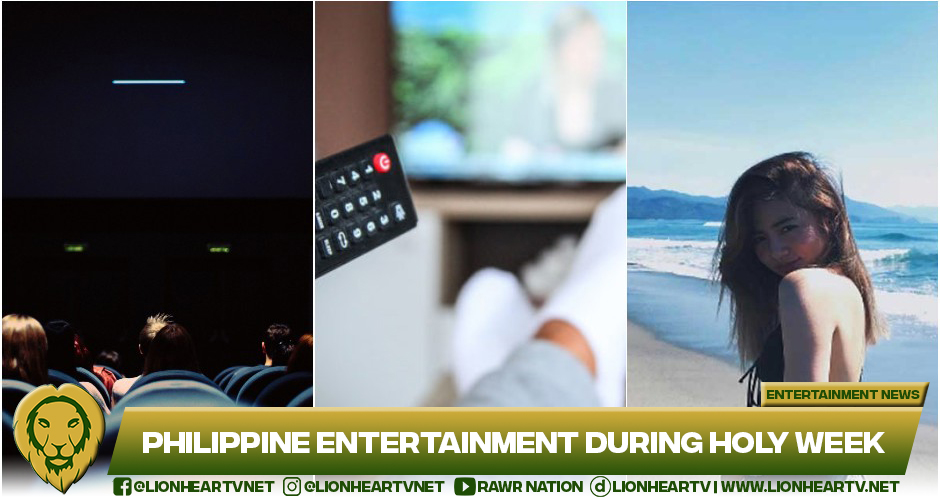 Black Saturday movies
No local movies open during the "holiest" days of the Holy Week—the Holy Mondays to Fridays, that is. The observation is true mostly only in the local entertainment setting, and while the practice is partly due to the traditional belief that no major activity must be carried out during those holiest days, it can also be largely attributed to the fact that people go out and flock the malls, beaches, and other leisure spots, starting Black Saturday, hence local film studios' tendency to release new films on the penultimate day of the Holy Week.
Among those films that opened on a Black Saturday, and grossed highly in the box office, are the 2006 Sandara Park-headliner, D'Lucky Ones, Anne Curtis and Sam Milby's 2010 film, Babe I Love You, the mammoth 2013 Sarah Geronimo, and John Lloyd Cruz-starrer, It Takes A Man and A Woman, the 2014 horror-comedy film, Da Possessed, the 2015 Coco Martin and Toni Gonzaga-starred rom-com, You're My Boss, KathNiel's fifth starring film, Can't Help Falling in Love (2017), and the 2018 JaDine film, Never Not Love You.
Grand Holy Week Vacations of Celebrities
Holy Week is often the only period of the year where celebrities are able to take long breaks from a practically entire year of work. Fans usually keep tabs on their fave items, including love teams, and individual idols, who usually deliver fan service social media photos that highlight their grand Holy Week escapades.
Headlines are made by the hottest celebrity photos that sizzle the online world, and those that take social media fans, by storm. Most of these photos are shot at beaches, an incredible display of skin, is likely the ones to take the most attention.
Celebrities Do the Visita Iglesia and Pilgrimage Site Visits
If you think fasting and other local week Lenten practices are exclusive to the masses, you know you're just fooling yourself. Whether it's just for display or not, many celebrities gather attention when they participate in and observe various Lenten traditions.
Using social media, celebrities keep their fans updated with photos documenting their activities during the Holy Week. Some film and shoot their Visita Iglesia trips, and their visits to popular pilgrimage sites. Since last year, when authorities began to restrict movements, celebrities have found ways to still carry out their usual Holy Week deeds with precaution and compliance with the law.
Take Nikki Valdez, for example, who posted her online Visita Iglesia trip on her social media pages, last year. Some, settled down with posting inspirational quotes on their IG accounts, while singers, like Angeline Quinto, offered their followers inspirational songs.
Celebrities Do the Extremes of Lenten Observance
Some devout celebrities even practice the extremes of holy week traditions. While not too many popular celebrities do the traditional forms of "penitensya", including hurting themselves to—as they claim—help them cleanse from sins, some do and practice these traditions, to some extent. Fasting is a popular choice, but what could be the usual 'extreme' to most celebrities is giving up their vices, throughout the entire Holy Week. In some cases, some even join the long processions during stations of the cross.
Elizabeth Oropesa, a veteran actress, and a known Lenten observer is one of those celebrities who share their practices during the Holy Week.
Local TV Line-ups Becomes Inspirational
It's been the practice of local tv networks to temporarily revamp their entire line-ups with programs that reflect the Lenten season. Inspirational TV shows and movies are suddenly back again on television and live mass celebrations, and docufilms about the sanctified occasion, become regular features. This year, both GMA-7 and ABS-CBN are bringing back staple inspirational programs, as well as Lenten-themed movie blocks to fill their Holy Week line-ups.
This year, however, as movements are restricted by the current pandemic, the aforementioned activities, and other things that make our local Lenten celebration unique, can't be practiced—at least, for the time being—the way we previously did. There are still countless different ways to carry them out, and there seems to be no other better way of discovering them, than following our favorite celebrities. Go stalk the social media pages of your idols now!