Toni Gonzaga dispels reports that she and husband Paul Soriano broke up in the past due to an alleged third party.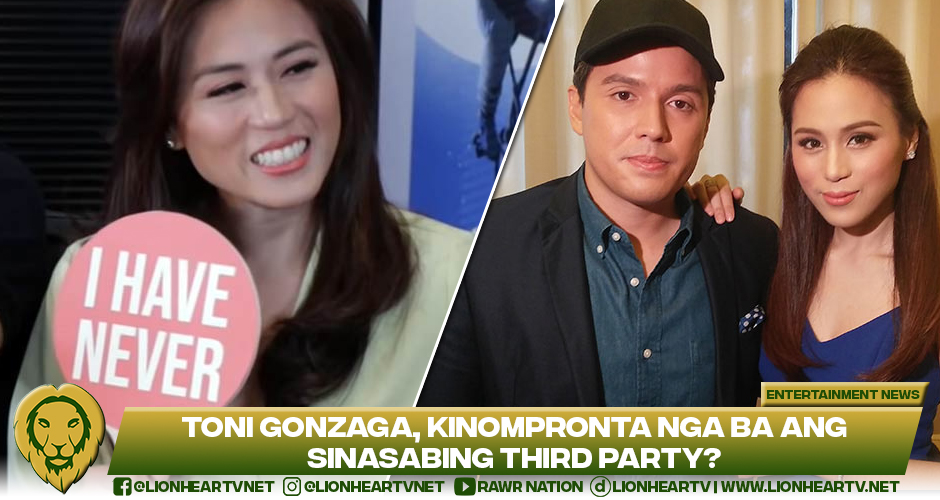 In Alex Gonzaga's YouTube Vlog, where her sister Toni Gonzaga and husband Paul Soriano were guests, Alex was able to finally asked Toni on a past rumor about her sister and Paul,
Referencing the said rumor, Alex Gonzaga asked, "Ito, rumor na sagutin mo ngayon. Totoo ba na may sinabihan ka ng 'Not my husband!'?"
Answering with no pause, Toni Gonzaga immediately denied and said that the rumors are not true,
"Wala. Baduy mo naman. 'Yun talaga rumor mo?"
Alex being cunny asked again and reassured if her sister is telling the truth, "Walang katotohanan?"
"Wala," Toni truthfully said.
Tracking back, Filmmaker Paul Soriano was linked in an infidelity scandal with actress Erich Gonzales. According to rumors, Soriano spent six weeks after shooting the movie in Siargao.
There were reports at the time that while other cast members took the opportunity to return to Manila in between filming schedules, Gonzales and Soriano decided to remain for the duration.
The infidelity scandal began when they were occasionally seen lunching together on the island.
Despite this, Alex Gonzaga followed up her sister's answer and said that she witnessed how Toni didn't mind the said rumor and If the rumor turned out to be real, Alex would not hesitate to fight with Paul.
"Gusto ko lang sabihin sa inyo, I'm very protective of my sister. And if ever man na may mangyayari sa kanila—tandaan niyo sa mga Tinsters who are watching—na I will be the Solange Knowles.
"Talagang makikita niyo na lang sasapakin ko si Direk Paul. Pero walang naganap na ganun. Never po nangyari. Wala pong katotohanan na may sinabihan ang ate na 'Not my husband!' Kasi ang corny. Hindi niya talaga gagawin."
With a conservative upbringing, this is the first time that celebrity sisters Toni and Alex Gonzaga spoke candidly on the subject of marriage and even sex since now that they're both married.
Toni Gonzaga was married to film producer Paul Soriano in 2015, while Alex recently married Lipa City Councilor Mike Morada in November 2020.