Miss Universe is considered to be the biggest and most prestigious international pageant. Just like the eyes of an eagle, some netizens were quick to capture some sidelights from the 69th Miss Universe.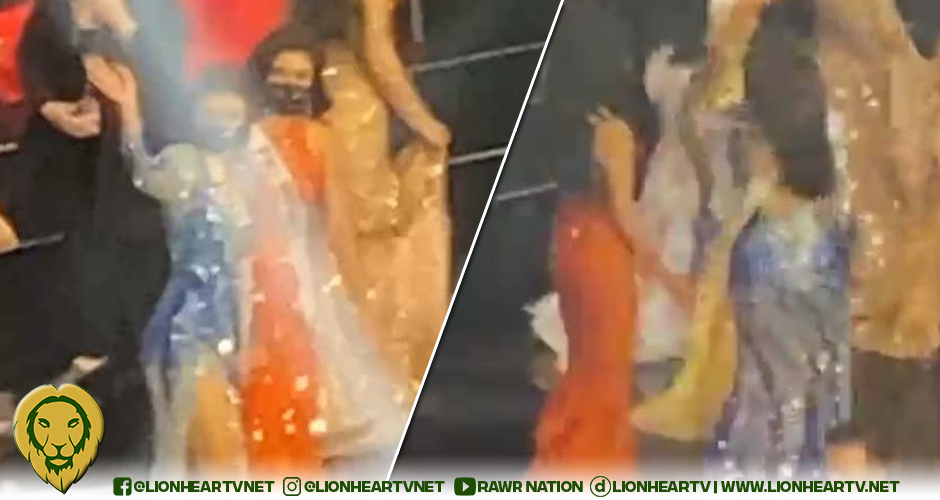 These sidelights are shared on different social media platforms especially on Twitter.
Let's take a look at this list of interesting sidelights.
Philippines and Thailand representatives spotted holding each other's hands 
Moments after Miss Universe Mexico Andrea Meza was crowned as 69th Miss Universe, country's bet Rabiya Mateo and Thailand representative Amanda Obdam held each other's hands as they walked off the stage.
Both the photos and videos of these two Asian queens circulated on different social media platforms.
Twitter user @BossScotch posted the said photos. He was amused by the camaraderie built by Mateo and Obdam despite the feud happening between the Filipino and Thai pageant fans.
https://twitter.com/BossScotch/status/1394135828478054402?s=20
Some Filipino pageant fans loathe Obdam as they believe that she is copying Miss Universe 2018 Catriona Gray's style.
Seen for exposure
Netizens found Nadia Sayers of Ireland funny when she peeped out from the back of Lopez.
Lopez was unintentionally blocking Sayers' view from the camera.
HAHAHAHAHAH IRELAND! EXPOSURE! #MissUniverse pic.twitter.com/gUZFsIwrAi

— hewwo (@sebbbyyyy) May 17, 2021
Mateo did the same thing. Miss Spain was standing in front of her and it appeared that Mateo's view was also blocked. She then moved towards her right so that the camera will be able to capture her.
Meanwhile… Ibyang pic.twitter.com/4pf8j0jog7

— cl;nt (@epongcj) May 17, 2021
Olivia Culpo doing double-check after Peru was announced 2nd-runner up
Miss Universe 2012 Olivia Culpo became a trending topic on Twitter after netizens made fun of her listlessness to co-host the pageant with American actor Mario Lopez.
Netizens were tweeting hilarious memes out of Culpo's vibe on stage.
Aside from her perceived lack of energy, netizens got a shot of her reaction while taking a look at the result.
Culpo's confused reaction was caught on camera and it seems like she was doing a double check after Peruvian representative Janick Maceta was announced as this year's Miss Universe second-runner up.
Twitter user @jojojojoe shared a short clip of Culpo's reaction. He then said that he also felt Culpo's confusion upon knowing the result.
Same Olivia, same. Ahahahahahahah pic.twitter.com/oFYxEACG7c

— Jorell (@jojojojooe) May 17, 2021
69th Miss Universe delegates gathered together for a hug and failed to observe social distancing
Since the pandemic erupted, people are advised to observe proper social distancing to avoid the spread of the virus.
During the announcement of the winners for this year's Miss Universe, the last two finalists, Andrea Meza of Mexico and Julia Gama of Brazil were standing far away from each other. Instead of doing the traditional holding hands, the two have their arms stretched out in front of them.
However, right after Meza was crowned, the delegates of the said pageant rushed their way for a group hug. The delegates seemed to be oblivious of the virus.
https://twitter.com/jsarahina/status/1394126020635095041?s=20
PH's bet Rabiya Mateo on her long gown rehearsal
Another Filipino Twitter user @INTOKTTPS shared a video clip of Rabiya Mateo's walk during the pageant's final rehearsals.
https://twitter.com/intokttps/status/1394165807194591236?s=21
In the video clip, Mateo was walking gracefully. Some netizens who are able to watch the video clip said that it was indeed heartbreaking to see her.
The Latina queen Andrea Meza beat 73 other women for the "Power of Unity" crown.
Including in her runners-up are Julia Gama of Brazil, Janick Maceta of Peru, Adline Castelino of India, and Kimberly Perez of the Dominican Republic.
Both Mateo and Obdam were not able to make it to the final cut which was the top 5. Mateo ended her Miss Universe journey at Top 21 while Obdam was able to make it through the Top 10.
The pageant held on May 17, Manila time and it was broadcast live from the Seminole Hard Rock Hotel and Casino Hollywood in Hollywood, Florida.