Filipinos may watch the last State of the Nation Address (SONA) of President Rodrigo Roa Duterte on the state of the country this pandemic through ABS-CBN's "SONA 2021" special coverage on the ABS-CBN News Channel (ANC), TeleRadyo, ABS-CBN News Digital, and Kapamilya Channel this Monday (July 26).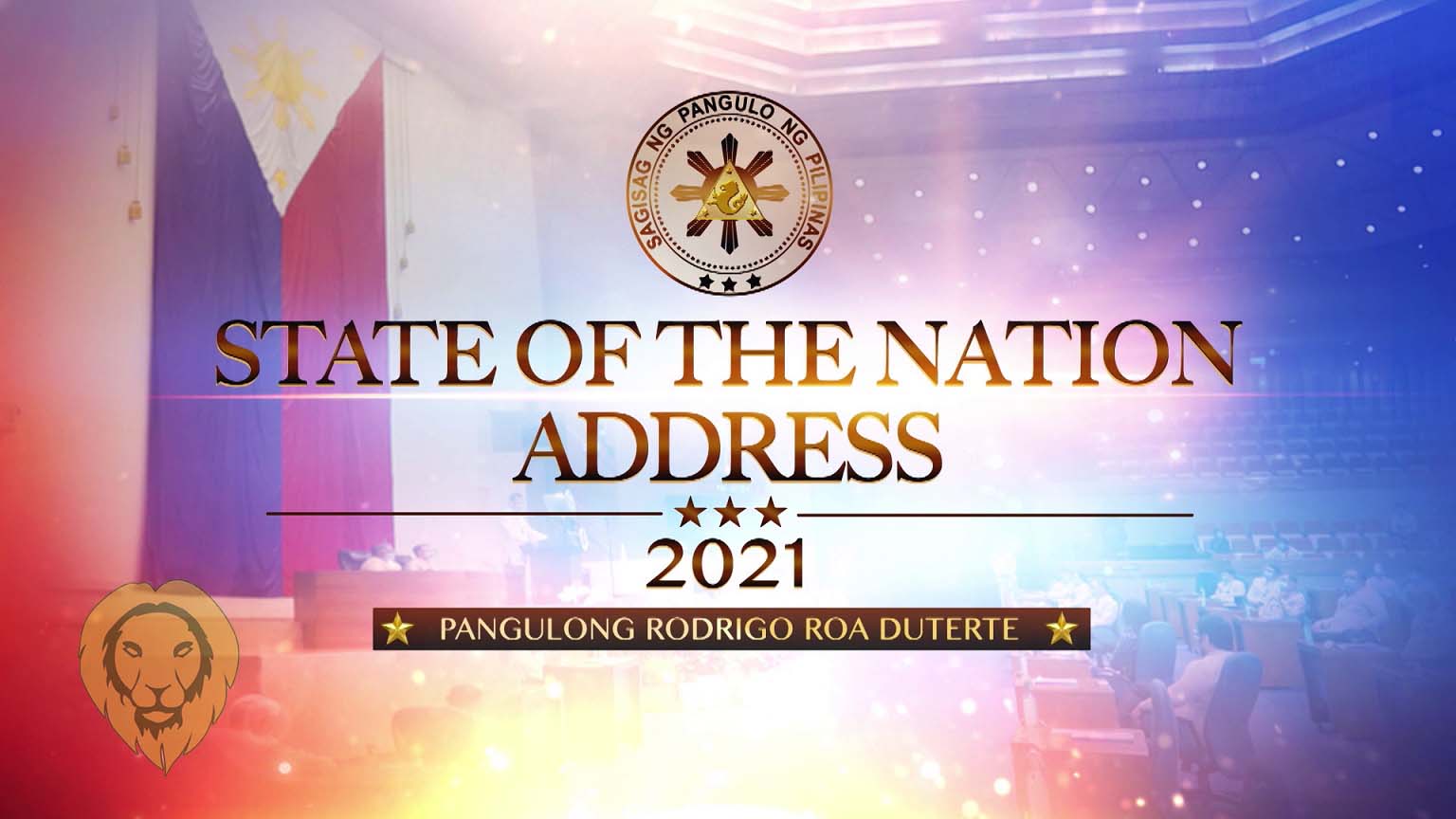 Leading the special on ANC are journalists Karmina Constantino and Christian Esguerra who will mount the network's wall-to-wall coverage of the event from 3 pm to 6:30 pm. ANC viewers will also get the insights and analyses of representatives from various sectors about President Duterte's penultimate SONA, what to look forward to in his last year in office, as well as reactions and commentaries from netizens about the event.
Earlier at 11 am, Stanley Palisada anchors a SONA special that will look at the biggest issues that the administration faced in the last five years. For a week prior to Monday's big event, ANC has also been heavily reporting on and discussing President Duterte's sixth SONA in its major newscasts.
For TeleRadyo viewers, the "SONA 2021" special coverage will begin at 1 pm on Monday and will be led by journalists Henry Omaga-Diaz, Karen Davila, Peter Musngi, Rica Lazo, and Ricky Rosales. Besides a deep dive on the SONA, viewers will also get updates from live reports on the day of the SONA. Filipinos can also listen to and watch the coverage via the ABS-CBN Radio Service App and the ABS-CBN News App.
"SONA 2021" will also be live streamed on the Facebook and YouTube pages of ABS-CBN News: facebook.com/ABSCBNNews and youtube.com/ABSCBNNews. ABS-CBN News Digital is also carrying special reports looking into the different campaign promises of the President and if these were delivered by the government. These reports can now be accessed on ABS-CBN News' website. The SONASERYE articles offer a comprehensive look at issues such as the economy, corruption, public health, war on drugs, and foreign policy from ABS-CBN journalists.
For those watching on Kapamilya Channel, regular updates are available through News Patrol and "TV Patrol."
ABS-CBN News continues its mission to deliver news and information to Filipinos and gives them explainers so they can better understand the pertinent issues the country is facing. Don't miss the last State of the Nation Address of President Rodrigo Roa Duterte this Monday (July 26) on ANC, TeleRadyo, ABS-CBN News Digital, and Kapamilya Channel, as well as on TFC, iWantTFC, and ABS-CBN News social media platforms and YouTube channels.
For other news, follow @ABSCBNPR on Facebook, Twitter, and Instagram, or visit www.abs-cbn.com/newsroom.