As Presidential Spokesperson Harry Roque earns flak online for his disrespectful behavior against health professionals, netizens discuss the thing on his mouth during the virtual meeting.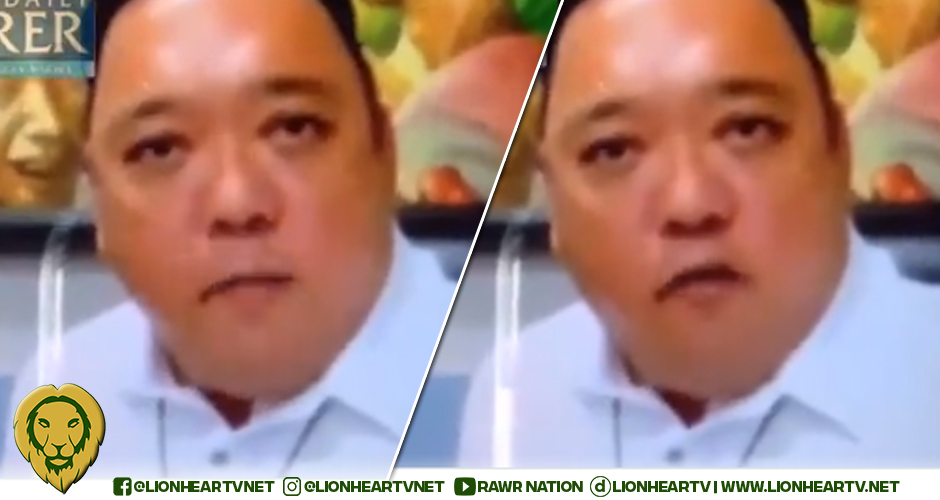 Netizens are curious about the thing on Roque's mouth while berating health professionals online.
There's… something… near his… mouth ??? https://t.co/ocf9JepQnG

— Stan: strugglebus era (@stnync) September 10, 2021
parang ang daming droplets ni harry roque, ano? nag-cringe ako.

and what's that at the side of his mouth? mumo? tinga? eeeeew.

— Marie Rivera (@MarieRi57435041) September 10, 2021
stages of watching Harry Roque's rage:
1. look at the dot on the edge of his mouth
2. watch again to know what it is really
3. watch again after knowing it is boba
4. actually listen to his rage
5. laugh.
6. talk about boba
7. defend doctors.

— Hanash Daily (@infantcee) September 10, 2021
Some suppose that it is a fly, while some say it is chocolate.
ano yung nasa bibig ni @attyharryroque, kulangot or tae? sabgay either or walang difference, ambaho ng bunganga https://t.co/HWe0PDztvB

— Ron Mia (@rojan88) September 10, 2021
However, @rojan88 said that whatever it is, there is still no difference because everything that comes out of Roque's mouth is stinky.
According to the source of @iammarlonramos, Roque was drinking milk tea during the meeting so, the thing on his mouth was tapioca or boba pearl.
Since madami din pong interested, hindi po yun langaw or chocolate.

One of my sources said it's actually boba or pearl as he's drinking milktea daw po during the IATF meeting. pic.twitter.com/P68ygYDnWh

— Marlon Ramos (@iammarlonramos) September 10, 2021
Upon knowing that it is boba pearl, @oknext8 said that he is done with milk teas.
Now.
I'm done with milk teas 🥴
How could you #TaeKaHarry ? https://t.co/uEVZ0xRohg

— 🇵🇭 Kayumanggi Ako (@oknext8) September 10, 2021
https://twitter.com/sseannyyy/status/1436208848960851975?s=20
Other netizens also pointed out that Roque's drink just described him as a person.
"You are what you drink" raw 😭 https://t.co/Rbla3UP4uO

— Juls (@hijultch) September 10, 2021
u are what u drink 😂 BOBA 🤪 https://t.co/qddKg7xPw9

— ` (@kieflyx) September 10, 2021
You are what you drink, I guess. https://t.co/5urs8KP8ki

— J (@ceeejong) September 10, 2021
Boba din naman sya mismo so whats the difference 🙄🤣 https://t.co/y3Fj32VxON

— Ryan*Gil (@ryan_ka_nanaman) September 10, 2021
Roque became a target of criticism online after insulting health professionals during the online IATF meeting on September 7.
Pagod ka na no? Kami din e.
Resign ka na pls https://t.co/RFz0fXS6as

— Gab Pangilinan (@gabpangilinan) September 10, 2021
Here's the Presidential spokesperson shouting down frontliners who haven't even received their pandemic meal allowance, and shouting so with visible food crumbs in food in his mouth. Very reflective of how the comfortable can shamelessly insult the vulnerable during a crisis. https://t.co/WmSMlp1eZG

— Ash Presto 💜 (@sosyolohija) September 10, 2021
Edi pinakita mo rin ang tunay na kulay mo😏
Sabagay 'di na kagulat-gulat ito https://t.co/aJFcJY9DfK

— Arshie Larga (@Arshiethromycin) September 10, 2021
Respect begets respect. We did not see that angle in the video.

Sec. Roque was out to malign and demolish the physician leaders so they won't request again for help. That's the reason for my cryptic messages.Truth.

We should not allow evil to reign over good. Never. https://t.co/YzI1TdRyMe

— Tony Leachon MD (@DrTonyLeachon) September 10, 2021
Wag iboto ang gago na to SA KAHIT NA ANONG GOVERNMENT POSITION sa 2022 AT MAGPAKAILAN MAN.

Hindi dapat nasa gobyerno tong arroganteng animal na to. https://t.co/JevDJtsgsw

— kiko rustia (@kikorustia) September 10, 2021
His central little screech is demonstrably false: The gov has not prioritized economic health and a macro or individual level at all.

They did not roll out stimulus. They have not supported households. Financial support for MSMEs is functionally non-existent.

They. Don't. Care. https://t.co/B9itBvcGxn

— Nik (Get Vaccinated) (@iwriteasiwrite) September 10, 2021
Parang di gumagalaw ang noo nya? NagpaBotox kaya? 🤪 https://t.co/upRX09QcJI

— John Lapus (@KorekKaJohn) September 10, 2021
Pero magkaiba naman ang emotional sa bastos

— Jonathan de Santos (@desamting) September 10, 2021
How dare him. Shame on him on the highest level. https://t.co/nsVgCITVa5

— Jules Guiang (@julesguiang) September 10, 2021
Ayaw makinig at nagalit pa sa health experts. This explains a lot. https://t.co/jfzr9Bu9PX

— Barnaby Lo 吳宗鴻 (@barnabychuck) September 9, 2021
Despite Dr. Maricar Limpin's, President of the Philippine College of Physicians, humble appeal to retain the strict quarantine measure in NCR and other high-risk areas, Roque still insulted and scolded her during the meeting.
Because of this, the #TaeKaHarry trended online.
Trending at number 9 ang #TaeKaHarry pic.twitter.com/J9ahmTAesW

— Gina A. Policarpio (@gapolicarpio) September 10, 2021
Comments