Struggling to make up for his past mistake, Tony Labrusca delves into the dangerous world of social media wars. The dangers of social media wars, in this episode, put the spotlight on Labrusca.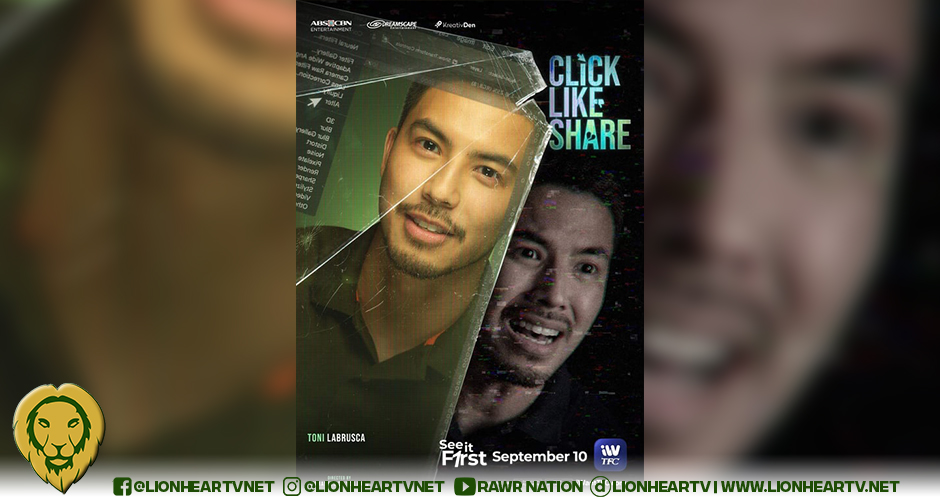 iWantTFC | Dreamscape Entertainment
Actors: Tony Labrusca, Paolo Gumabao, Tess Antonio, Nina Dolino
Genre: Youth, Drama, Suspense
Premise: A young man is ruining the reputation of social media celebrities to make a living, and to make up for a family he has wronged in the past.
Timeslot: Saturdays, 7:00 PM on iWantTFC, Sundays, 8:30 PM on Kapamilya Channel and A2Z
Why You Should See It:
The danger of 'photo altering' to ruin a person's reputation is where Click, Like, and Share's Altered episode has its focus on the said episode.
Tony Labrusca plays tech-savvy Homer, who earns massively by ruining the reputation of social media personalities. With his dream of providing for his family and making up for his past mistake, he willingly takes the job as a means to earn money. 
He dreams of finally coming home to his family, having told them he has been working in Dubai when he's been, hiding somewhere in the country to do his dirty works.
One day, a mysterious client wants him to smear a budding businessman's reputation by making him appear engaged in criminal activities in altered photos. The transaction, however, went south when the target celebrity got killed because of the photographs.
The intent of the episode is clear: any illegal activity costs a price. That's true in Homer's case, as he, later on, gets entangled in a life-threatening hullabaloo–one that would put him behind prison bars. 
Labrusca manages to articulate his character well. He pulled off his character's anger, frustration, hunger for validation and redemption, and the regret that comes in the wake of his crime.
As in the past episode's case, 'Altered' offers a compelling look at how technology, albeit its many beneficial uses, may cost someone when done for wrong reasons. This episode plumbs to yet another depth of fascination with technology and social media and critically examines the dangers that come with its advantages.
Click, Like, and Share stream new episodes on iWantTFC every Saturday, before having a TV premiere on Kapamilya Channel and A2Z every Sunday, 8:30 PM. Watch the official teaser below: