The Kapuso Network takes its quest to seal its industry domination to the digital realm via its own YouTube and Facebook streaming platform, 'GMA Kapuso Stream.'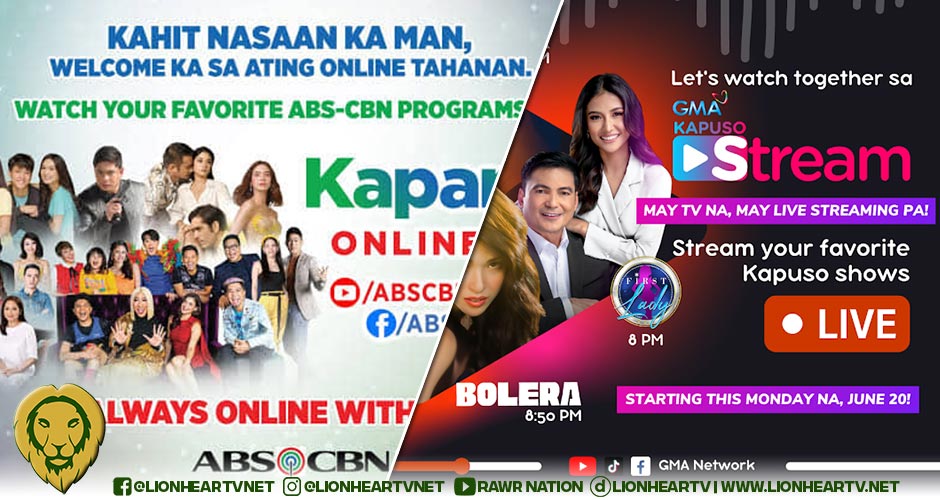 The move is largely seen by many to catch up with ABS-CBN's formidable presence online.
Aside from being the most subscribed media entity on various social media and video-sharing platforms, ABS-CBN enjoys a gargantuan lead over its nearest competitors, in terms of concurrent viewers. Through the streaming platform, Kapamilya Online Live, ABS-CBN has been able to deliver its past and current content to its avid viewers. It's a move that GMA Network is seemingly trying to mimic and similarly get successful at. 
On June 20, GMA Network officially launched GMA Kapuso Stream. The service intends to stream various Kapuso shows live on YouTube and Facebook. For its maiden offer, GMA Kapuso Stream makes it possible for Kapuso viewers to watch their favorite afternoon and primetime programs online. 
Kapuso viewers can now watch on their smartphones and smart TVs, these exciting Kppuso weekday afternoon dramas: Apoy Sa Langit at 2;30 pm, Raising Mamay at 3:25 pm, and The Fake Life at 4:15 pm. On primetime, they can now watch First Lady and Bolera, which air at 8:00 pm and 8:50 pm, respectively.
Before the GMA Kapuso Stream launch, several Kapuso programs notably started streaming on GMA Network's Youtube channels, including the top-rating game show, Family Feud, the flagship primetime newscast, 24 Oras, and the Sunday noontime musical variety program, All Out Sundays. Eat Bulaga, the country's number one noontime show, also streams daily on the platform, via the show's own YouTube channel.
Judging the concurrent viewership numbers on their first day of going head-to-head with each other, it may take a while before GMA Kapuso Stream can become a formidable threat to ABS-CBN's Kapuso Online Live.
That said, this move of GMA Network undoubtedly benefits viewers as they now have more options.
That said, this move of GMA Network undoubtedly benefits viewers, as they now have more options to choose from.