More hoops action awaits Filipinos overseas as iWantTFC brings all the drama, exhilarating plays, and triumphant moments from the country's most iconic basketball league, the Philippine Basketball Association (PBA), to audiences abroad starting June 9 (Thursday).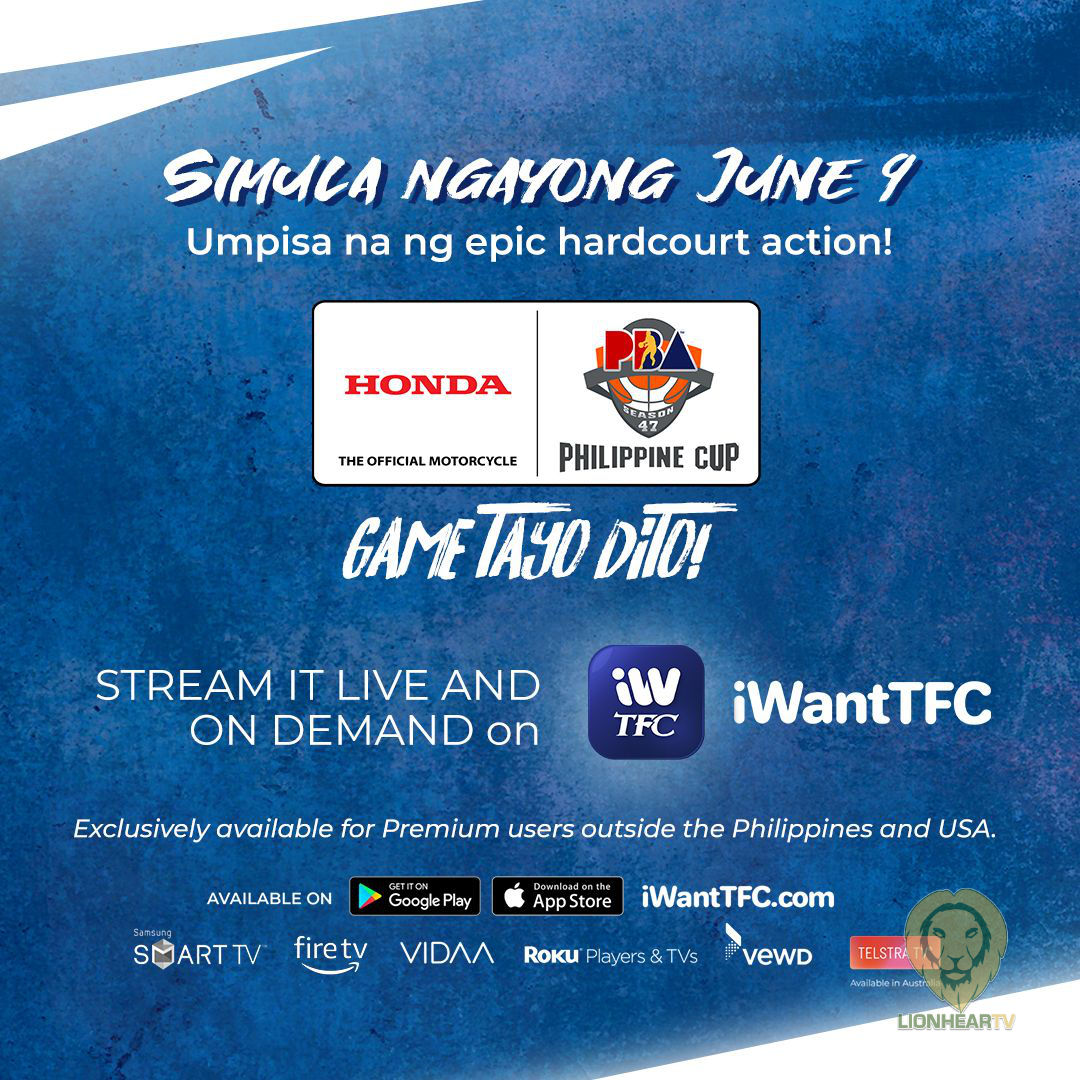 Following the continuous success of bringing intense collegiate basketball and volleyball games from the University Athletic Association of the Philippines (UAAP) to viewers worldwide, ABS-CBN Global and Pilipinas Global Network Limited (PGNL) partner anew to stream PBA games in territories outside the Philippines except for the U.S. via iWantTFC, live and on-demand.
Now in its historic 47th year, Asia's longest-running professional basketball league recently opened its 2022–23 season last June 5, with 12 teams featuring its newest contender Converge Fiber Xers, battling out for the coveted title in the latest installment of the Philippine Cup, followed by the Commissioner's and Governor's Cups.
The 47th season opens with TNT Tropang Giga defending their Philippine Cup crown against perennial powerhouse teams and dark-horse contenders. Another title is up for grabs as the Commissioner's Cup finally re-opens this season while defending Governor's Cup champions Barangay Ginebra San Miguel hopes to win it all this year with their "Never Say Die" mantra in full force.
Apart from streaming the season opener and previous games on-demand, fans can watch the live broadcast of PBA's Thursday double-header, featuring a head-to-head collision between the defending Philippine Cup champions TNT Tropang Giga and the reloaded Blackwater Bossing, followed by the Rain or Shine Elastopainters taking on Northport Batang Pier. Coverage begins at 5:15 PM PH Time.
5:15 PM PHT TNT Tropang Giga vs. Blackwater Bossing 7:15 PM PHT Rain or Shine Elastopainters vs. Northport Batang Pier
Canada PT | ET 2:15 AM | 5:15 AM 4:15 AM | 7:15 AM
London | Rome 10:15 AM | 11:15 AM 12:15 PM | 1:15 PM
Saudi Arabia | Dubai 12:15 PM | 1:15 PM 2:15 PM | 3:15 PM
Hong Kong | Japan 5:15 PM | 6:15 PM 7:15 PM | 8:15 PM
Sydney | New Zealand 7:15 PM | 9:15 PM 9:15 PM | 11:15 PM
Catch Scottie Thompson, Robert Bolick, Paul Lee, June Mar Fajardo, and more of your favorite cagers in the 47th season of the PBA live and on-demand on iWantTFC Premium, available in countries outside the Philippines except for the U.S. New eligible users can enjoy streaming free for one month.
iWantTFC is accessible via its website (iwanttfc.com) or the iWantTFC app on iOS, Android, and other devices—including VEWD, ROKU, Amazon Fire, and select Android smart TVs.
Follow iWantTFC on Facebook (fb.com/iWantTFC), Twitter, and Instagram (@iwanttfc) to stay updated on the latest game schedules.
Comments