If anything has wreaked havoc on the dating scene, it would be the pandemic. The uncertainty caused by virus fear has greatly hampered people's desire to make new connections or find new love, given how challenging it was to go on a date amidst mask mandates, social distancing guidelines, and limited dating spaces.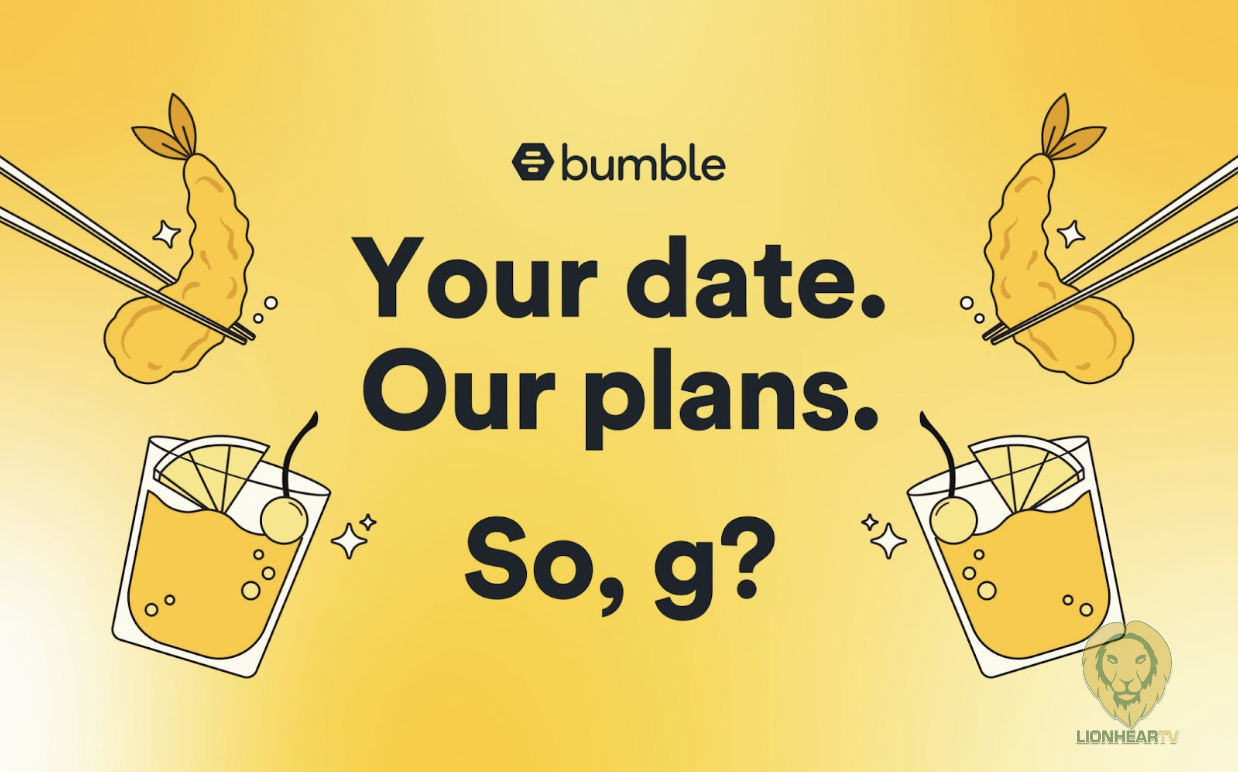 Now that restrictions have finally eased, people remain hesitant to begin dating anew. If this sounds like you, don't despair because you are not alone. According to Bumble's study on people's dating intentions after the lockdown, 49% are more anxious about dating now than before the pandemic*. Despite this, people have not given up on dating. Bumble found out that 56% of Filipinos surveyed have expressed they are looking for a long-term relationship after most pandemic protocols have eased and more establishments have opened for face-to-face interactions, with only 5% indicating that they do not want to date at all.
With Filipinos craving social connections and ready to explore the dating game, Bumble, the women-first dating and social networking app, is announcing the launch of their first-ever take-over series with their "So, G?" campaign. The initiative will see the app partnering with 14 local Manila-based businesses to offer its community in the Philippines the opportunity to connect with others in real life (IRL) and offer a shared experience for 2 weeks from 12th November 2022 to 25th November 2022. New and existing Bumble singles can simply present their Bumble profile to the selected merchant counter and get the chance to win exclusive Bumble merchandize on top of merchant promotions. Spanning local fitness studios, restaurants, bars, and recreational areas, "So G?" aims to give the local Bumble community unique dating experiences for all interests, paired with their own exclusive deals. Find out more about Bumble's take-over partners and details here.
To help even more Filipinos find their holi-dates, Bumble is hosting their first singles mixer, "Bumble Hosts" on December 1 at Sanctuary, Poblacion, where users can experience the fun and excitement of making new connections outside the app. Guests can look forward to a night of entertaining games, snaps for their Bumble profiles, unique cocktails, and many more. Interested singles with Bumble profiles can sign up for the exclusive Bumble event via this link here.
Lucille McCart, Bumble's APAC Director, said: "Bumble exists to empower new connections and foster healthy and equal relationships. Now more than ever, singles are eager to connect in-person as pandemic restrictions are being lifted in the Philippines and around the world. Our partnership with local small businesses through So, G? and our first-ever Singles Mixer allows us to provide our Philippines community with curated date opportunities that play to their passions and lifestyle preferences. This helps create a fun environment for singles to bond with their dates, and hopefully develop meaningful and lasting connections."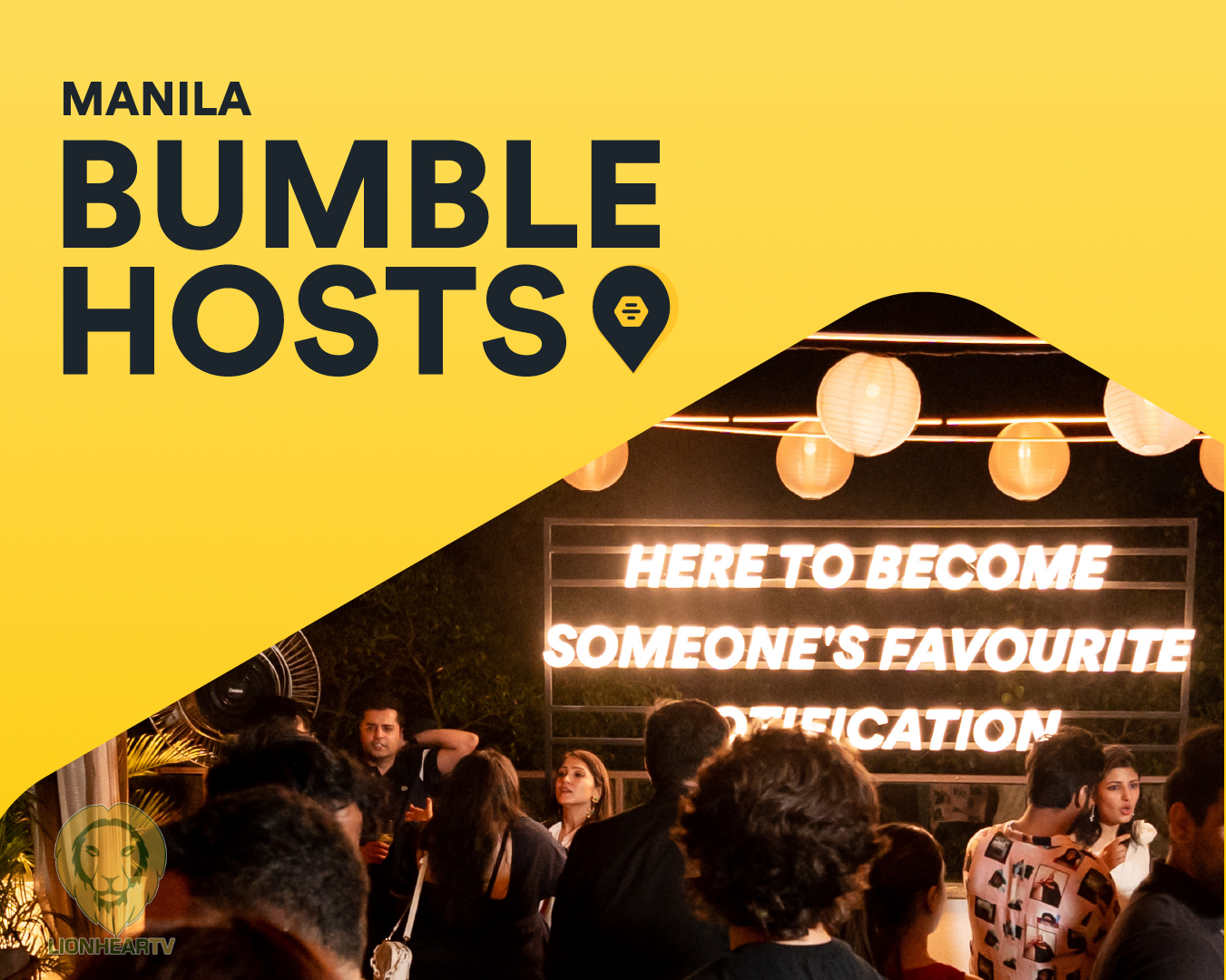 Get ready to rediscover the thrills of dating. Download Bumble and Make The First Move now to enjoy the promos and have an exciting IRL dating experience! So, G?
*Methodology of Survey:
All figures, unless otherwise stated, are from YouGov Singapore Pte Ltd. Total sample size was 1,108 Single adults aged 18 – 41. Fieldwork was undertaken between 5 – 16 August 2022 across the Philippines. The survey was carried out online.
Annex: Full List of Participating Vendors for So G?
Partner
Date Experience / Exclusive Offer for the Bumble Community
Tipple & Slaw Katipunan

Tippie & Slaw Katipunan is

best known for the BEST SHAWARMA RICE in Manila and hosts the best party scene in Katipunan! On the weekends you'll find live DJs and theme nights, and during the week there are game nights and viewing parties.





Enjoy

Buy 1 Get 1*

for all cocktails.




*

Limited availability

Snack Shack

Snack Shack is known as the best burger place in Manila with fresh homemade beef patties straight from the friggin' grinder!





Enjoy

Buy 1 Get 1*

on SS1 Combo – Q.Pounder+Fries+Iced Tea 

*Limited availability 

Drive Karrera

For a cool date place where you can marry cars, great food, and coffee, you can visit Drive Karrera. Inside, there's a well-curated mix of classic cars, automotive art, memorabilia, and merchandise, and a vintage turntable set peppered with repurposed automotive furniture.

Complimentary of 2 iced coffee or draft beers when you spend a minimum of PHP1,000.
*Limited availability 

Bumi and Ashe

If you are into pottery, you can go to

Bumi and Ashe

for beginner-friendly pottery classes and enjoy the most memorable date you'll ever be in. Enjoy the company of your date (or BFF) in their intimate class.

Enjoy PHP 1000 OFF when you book any of the following pottery classes: Wheel Throwing 101 / Hand Sculpting Pottery Workshop / 2-in-1 Private Pottery Date for 2
*Use the code TARAPOTTERYG when you book via this link. You can schedule your class from November 12 until December 5. Limited availability applies.

The Bouldering Hive

If you and your date like something more thrilling, you can go to The Bouldering Hive. It is the perfect spot for an engaging activity after work or on the weekends! The Bouldering Spot has a vertical playground of 400 square meters of bouldering with walls as high as 4.5 meters.



Special offer: Bumble Pack for ONLY PHP900 per person

– includes 3 entries with rental shoes, valid for the month of November only




*Valid for first-timers only. Starter pack rule applies non-refundable and non-transferable. Limited availability applies.

F45 Training

Calling all the fitspo couples! Get a date and get fit with F45 Training with a 45-minute functional full-body workout session at Makati Avenue or BH Homes. 


Buy one, get one free deal on the F45 Single Class Pass
*valid only at Makati Avenue or BF Homes outlets

Power Up Alabang

Explore the Power Up Wall Climbing Gym at Festival Mall Alabang with your date.

Enjoy 20% off the All Day All-In Pass

1C Coffee

As any cyclist in the know will tell you, 1C Coffee is a certified biker hangout. Greeted by friendly staff, you can simply pop by the window to place your order, sip your brew while you chat with fellow cyclists, and bike away with your date.

Enjoy Buy 1 get 1 for their best sellers Iced Sea Salt Honey or Lemon & Kumquat Iced Tea.

Blackbox Katipunan

This hip bar, located in Quezon City, is for daters who are looking for exciting cocktails (they have drinks that they set on fire!) and who want to end the night dancing to music by a live DJ (so remember to wear comfortable shoes).

Enjoy Buy 1 Get 1 on Cocktails.

Good Sh*t Coffee

Good Sh*t Coffee can be found along Enriquez Street in Poblacion, Makati. Don't be fooled—this small café in Poblacion is big on flavour. More than just delicious, expertly-made coffee,

Good Sh*t Coffee

boasts an array of unique bites to pair with every sip. The sourdough croissants, guava cheese rolls, and kween-saymada (a brilliant fusion of a kouign amann and ensaymada) are just three of the must-try treats on the menu, with many more delightful surprises in store.



Buy Two(2) Drinks and Get a Free Pastry
Common Folk

Common Folk is a coffee bar serving cups of joe for the average Joe. Common Folk also serves all-time favourite dishes that everyone can enjoy, ensuring you that their meals are tasty and filling

Buy 1 Coffee + 1 Starter (or any meal), Get 1 Free Coffee

Ovo Poblacion

Found on the outskirts of Poblacion, Ovo is a dynamic restaurant that changes its operations to fit the different times and settings of the day. In the morning from 6 a.m. to 10:30 a.m., it's a breakfast buffet for Y2 Residence Hotel. Then, as the clock strikes 11 p.m, the space transforms into a cocktail bar.

20% off on the total bill (excluding promo menu items)

Yardstick Coffee

A specialty coffee place. Not only do they serve great coffee, but they also roast it there as well. Varieties range from Ethiopian, Colombian, and some other fine coffees from around the world.

They serve some mean waffles too, and some sandwiches, and if you're looking for something beyond waffles and sandwiches

Buy one get one on coffee.
*Promo is only applicable at MOA Square, Pasay.

Ebi10 Makati

Ebi 10, the newest addition to an area that's now dubbed "Tambai Alley.", there is a tempura bar that allegedly has the best tempura in town.

10% off on the total bill & buy 1 get 1 on iced tea.
*A minimum spend of PHP1,000 is required. Promo is only applicable at Ebi10 Makati.
Comments