ABS-CBN's early pivot to digital, long before meeting its tragic May 2020 free TV shutdown, allowed it to quickly find not just a potent new revenue-generation stream, but also to carry on with what it does best: content creation.
Rising from its slump and post-shutdown–ABS-CBN's future gets bullish with a promise of profitability in 2022 as it surges forth to an era of digital domination and continued expansion in both linear and non-linear media.
The former biggest TV network in the country, ABS-CBN, may have to spend a couple more years before it can regain its former fiscal glory. Signs of an inevitable recovery, however, have already been showing more than two years since it met its tragic May 2020 free TV shutdown.
It's worth noting that this return may take place sans a valid broadcast franchise, although the presence of one may expedite its bid for a glorious rebound.
TV Patrol's free TV return. ABS-CBN's effort to further expand free television in 2022, manifested on the very first day of the year, when the country's longest-running newscast, TV Patrol, returned to free television for the first time, in nearly two years.
Now airing via A2Z Channel 11, the Kapamilya flagship newscast greeted the year with a new opening billboard that sports new graphics and a logo.
The new OBB seems to represent the onward surge of the company toward digital domination. TV Patrol, itself, went fully digital in the wake of its free TV departure in 2020, by going online via YouTube and facebook.
TV Patrol marked its 35th year on air in March, with new segments and anchors. In December, last year, the program welcomed former PAGASA meteorologist, Ariel Rojas, as its new weatherman, to fill the void left by Kim Atienza. Rojas's arrival came weeks after the program introduced new segments hosted by seasoned broadcasters, Winnie Cordero and Boyet Sison.
On its first day on A2Z, TV Patrol welcomed ANC anchor, Migs Bustos, as tech and gadgets segment anchor, thus completing the program's segment line-up for its free TV return.
Further free TV expansion. Both A2Z and TV5 have pulled off expansion efforts since the beginning of their collaboration with ABS-CBN last year.
A2Z partnered with the Tacloban-based regional TV station, DYPR-TV in September 2020, which made the Kapamilya programs aired by the network accessible to Western Visayas homes. TV5, on the other hand, initiated the digital TV broadcast of nearly all its regional TV stations nationwide, making the ABS-CBN programs aired by the network, available again to former Kapamilya bailiwicks, including Cebu, Davao, and Baguio.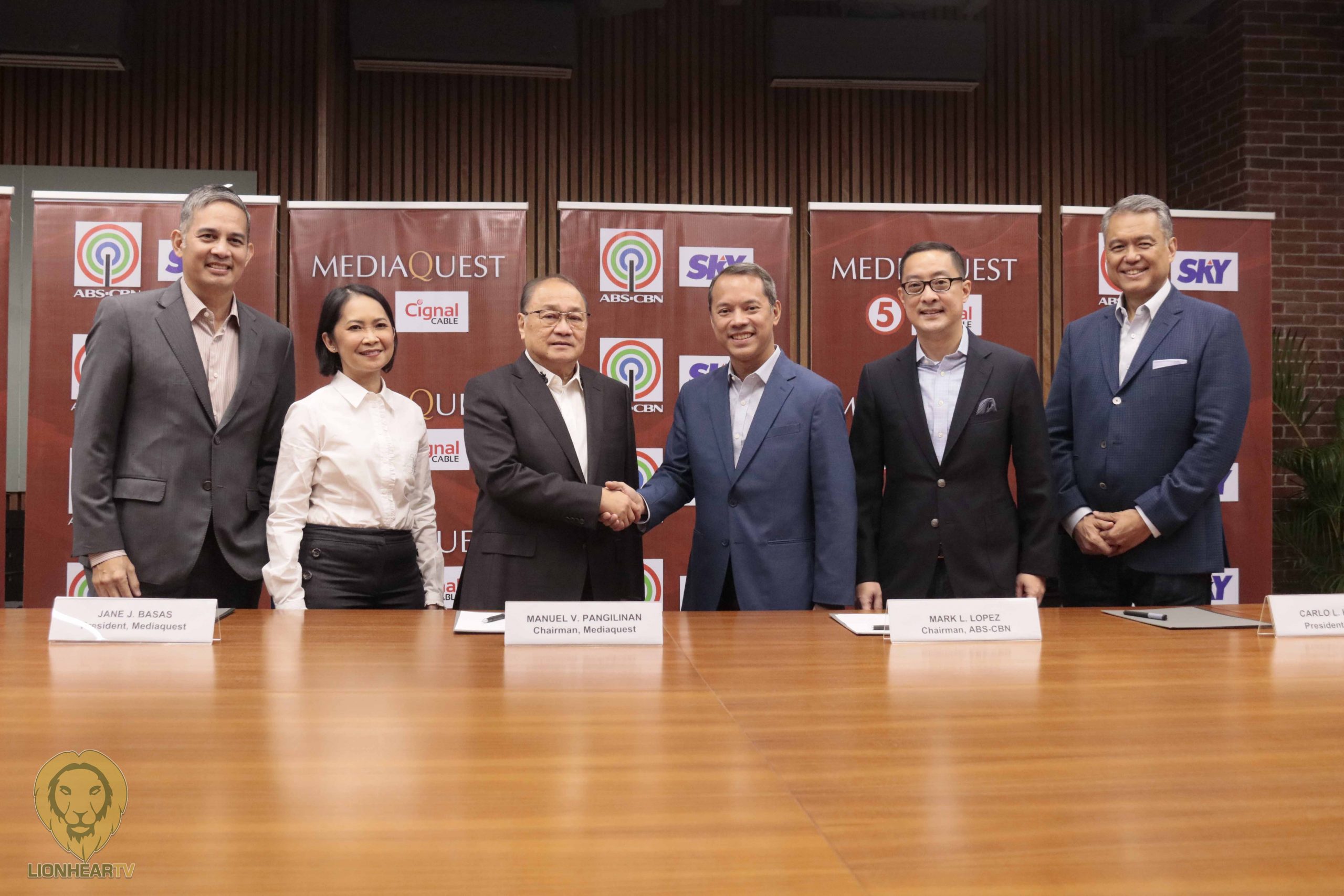 In May 2022, the network's Tagalog news channel, TeleRadyo made its glorious return to free TV via Zoe Broadcasting Network. Pie Channel, a free-to-air channel co-managed by ABS-CBN, Globe Studios, and BEAM Inc., also debuted in the same month.
It remains to be seen whether ABS-CBN will make yet another block-time agreement with another broadcaster, although there are stronger signs that the Network's deal with either TV5 or A2Z may further expand in the future.
Continued online domination. With the entire local television scene continually adapting to the increasingly changing, viewing dynamics of Filipino consumers–ABS-CBN's bid to strengthen its presence in the digital realm. Thus, it's expected to bring about revolutionary changes to the Network. In 2021, alone, ABS-CBN established landmark partnerships with several global streaming services and production houses, including WeTV, iQiYi, and GMMTV. Early in January, this year, the network sealed its partnership with Viu, one expected to deliver numerous titles. The series, The Broken Marriage Vow, based on the BBC Studios original, Dr. Foster, marked the beginning of that collaboration, and subsequently followed by the Philippine adaptation of the Korean hit TV series, Flower of Evil in June.
These collaboration deals are poised to continue in the rest of 2022 and onward in 2023, with subsequent follow-up shows, directed towards capturing the ever-growing online market.
ABS-CBN's over-the-top platform, iWantTFC, continued its reign as one of the leading streaming platforms, with a roster of new shows for 2022, including the new seasons of its highly-successful web series, He's Into Her and Click, Like, Share. It also released new series, Bola-Bola, Misis Piggy, The Goodbye Girl, Sleep with Me, Run To Me, Beach Bros, and Tara, G!
On YouTube, ABS-CBN keeps its place as the most-followed and most-viewed channel in the country. As of November, the network's main entertainment channel, ABS-CBN Entertainment, has already 41.5 million subscribers, making it the most subscribed in the Southeast Asian region. It is screaming proof of the network's strengthening presence in the digital realm.
Ambitious banner shows in 2022. The year also saw the debut of the Philippine adaptations of two of the biggest global drama hits in recent history. On January 24, The Broken Marriage Vow finally premieres after months of preparation and production.
The much anticipated ABS-CBN TV adaptation of Mars Ravelo's iconic superhero, Darna, made waves during its debut in August. In November, a new era of action ushers in on primetime, via Richard Gutierrez-starrer, The Iron Heart.
Partnership with GMA Network. ABS-CBN and GMA Network first struck a partnership deal in April. On the GMA's free TV channels, several Star Cinema-produced movies will air as part of the agreement. It was an unprecedented move in Philippne television.
That partnership expanded further when a landmark agreement got signed by two networks in November. The new agreement saw the ABS-CBN's drama unit, Dreamscape Entertainment, and possibly other Kapamilya units, producing shows for the Kapuso Network with Jodi Sta. Maria and Richard Yap-starrer, Unbreak My Heart, will serve as opening salvo.
Return to profitability. Judging its continuously decreasing quarterly losses, ABS-CBN seems to be on track to finally become profitable again after two years of staying in the red zone.
THIS ARTICLE IS AN UPDATED VERSION OF THE ORIGINAL PIECE POSTED IN JANUARY 2022.
Comments