Days after its sensational premiere at the SXSW Festival where it captivated fans and critics, Dungeons & Dragons: Honor Among Thieves will have a two-day special sneak previews in cinemas nationwide this coming Monday & Tuesday, March 20 & 21. Check out your favorite theaters for the screening schedule and admission prices.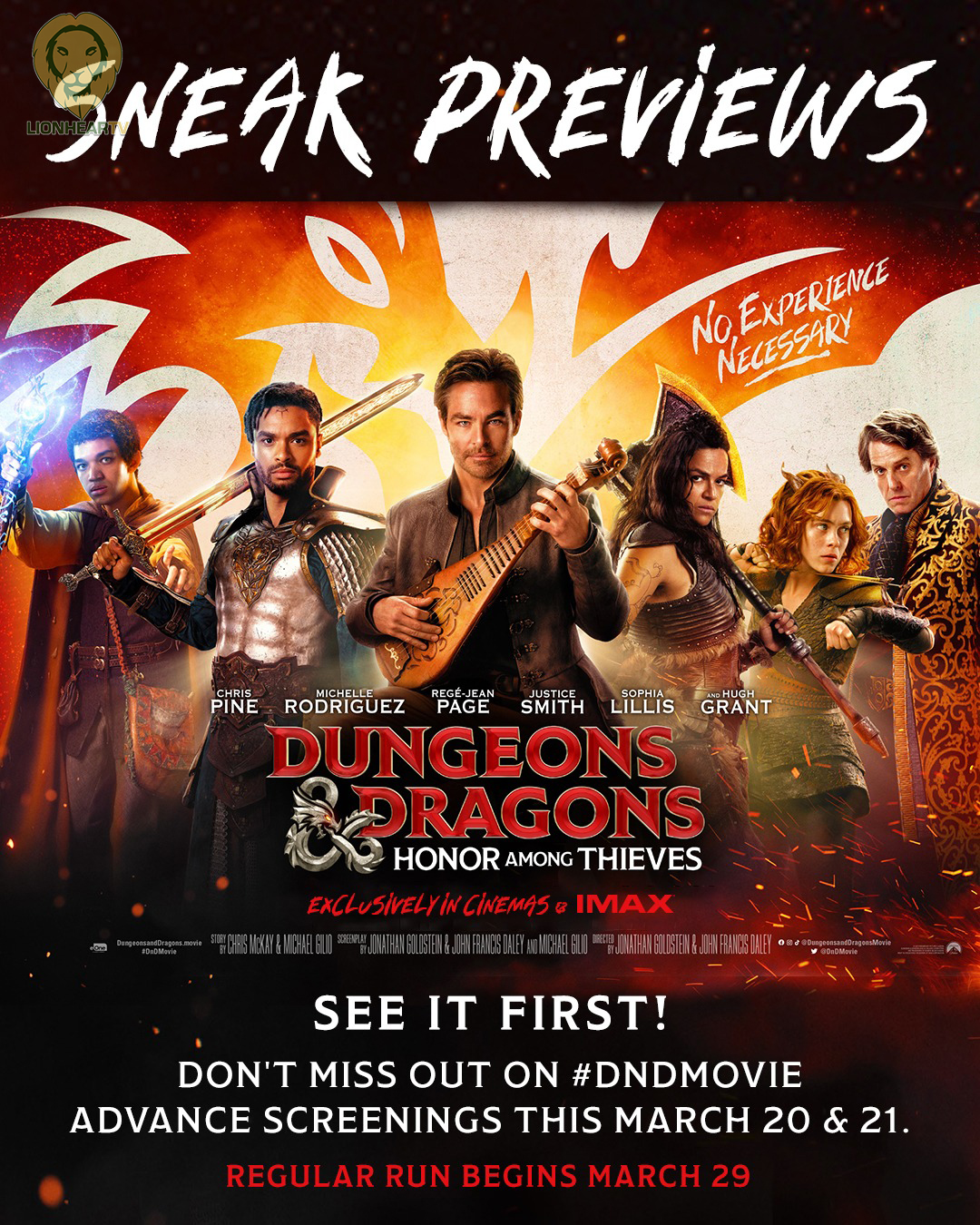 Catch these sneaks and be among the first in the world to see Dungeons & Dragons which will open in the US on March 31st yet. In the Philippines, it opens wide two days earlier on March 29.
A charming thief and a band of unlikely adventurers undertake an epic heist to retrieve a lost relic, but things go dangerously awry when they run afoul of the wrong people. Dungeons & Dragons: Honor Among Thieves brings the rich world and playful spirit of the legendary roleplaying game to the big screen in a hilarious and action-packed adventure.
Directed by Jonathan Goldstein & John Francis Daley (Game Night), the film stars Chris Pine, Michelle Rodriguez, Regé-Jean Page, Justice Smith, Sophia Lillis, Chloe Coleman, Daisy Head and Hugh Grant.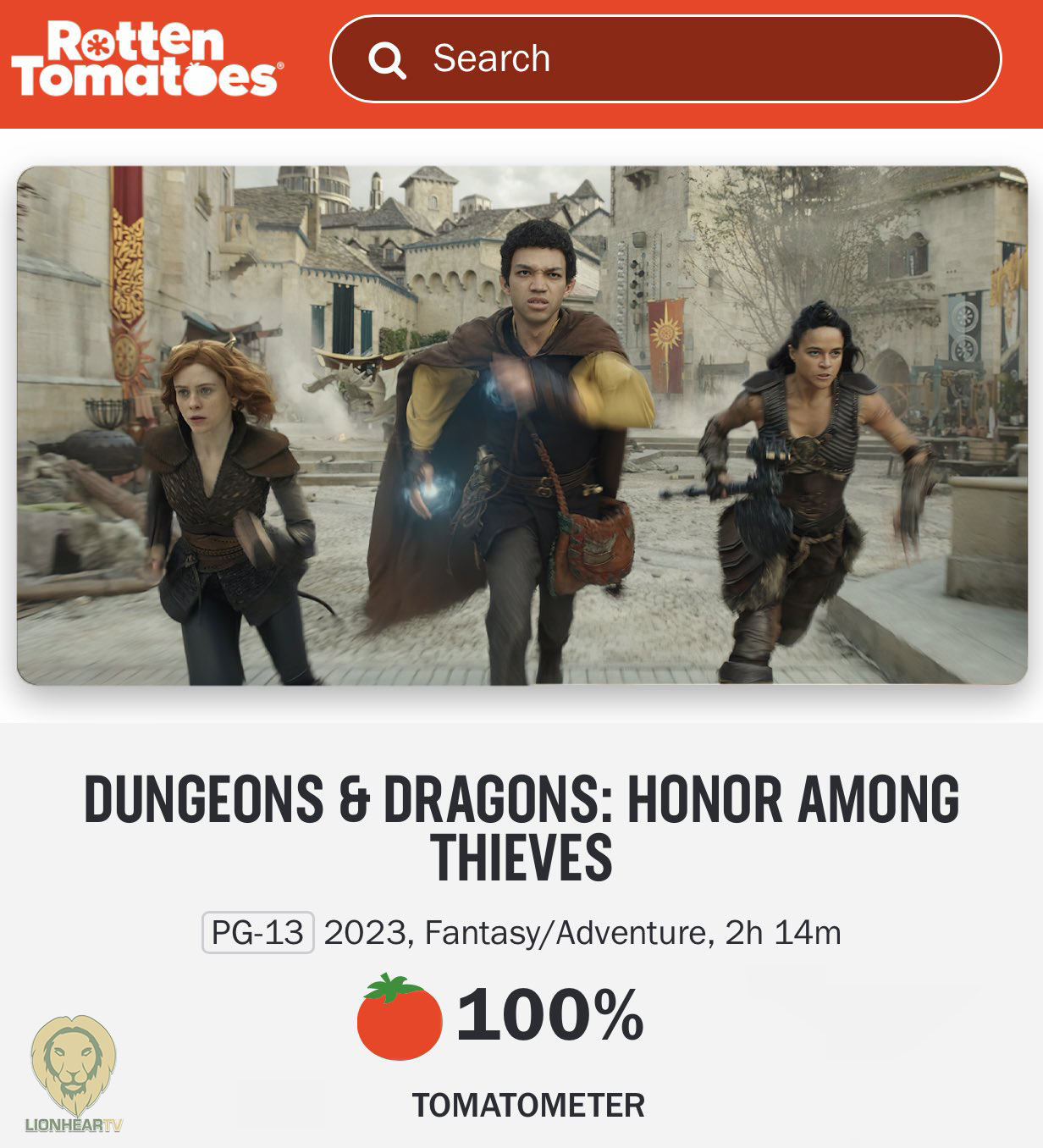 Dungeons & Dragons: Honor Among Thieves currently as a 100% Fresh Rating at the review aggregator site, Rotten Tomatoes.
In its review of the film, Variety writes "Chris Pine, Michelle Rodriguez and Regé-Jean Page rule in an adventure that turns pop-fantasy derivativeness into its own form of fun. Dungeons & Dragons should be a major hit, because it knows how to tap into our nostalgia — not just for a game, but for the entire fantasy culture it helped to spawn. It's the movie itself that's role-playing.
The Hollywood Reporter, for its part, writes "[T]he highly anticipated Dungeons & Dragons: Honor Among Thieves exceeded expectations. The [filmmakers] have created an adaptation that will appeal to the nostalgic side of existing fans and entertain those whose eyes glaze over at the mention of Dungeon Masters, bards or druids.
Meanwhile, Mashable raves, "Dungeons & Dragons is the kind of epic fun fans have been waiting for. Throughout the film, there are moments of life-or-death stakes and even jolting jump scares. But this bounce, this sense of play, helps keep things light and fun so that [the film] might be enjoyed by grown-ups and kids alike.
Finally, The Austin Chronicle admires, "[T]his is D&D, where high weirdness, magical beasts, and terrible, world-ending conspiracies are an everyday matter. Yes, there's an overarching plot, but the path to the end is through a series of encounters, each their own quest. Each plays out as a glorious set piece – some funny, some clever, some action-packed, some thrilling, and never boring – all executed with the frenetic, giddy energy.
Dungeons & Dragons: Honor Among Thieves is distributed in the Philippines by Paramount Pictures through Columbia Pictures. Connect with #DnDMovie and tag @paramountpicsph
Comments