KonsultaMD, the Globe Group's innovative healthcare SuperApp, in partnership with AC Health, has joined forces with its sister entities, AC Health's Generika Drugstore and Healthway Medical Network, to expand healthcare services for Filipinos nationwide.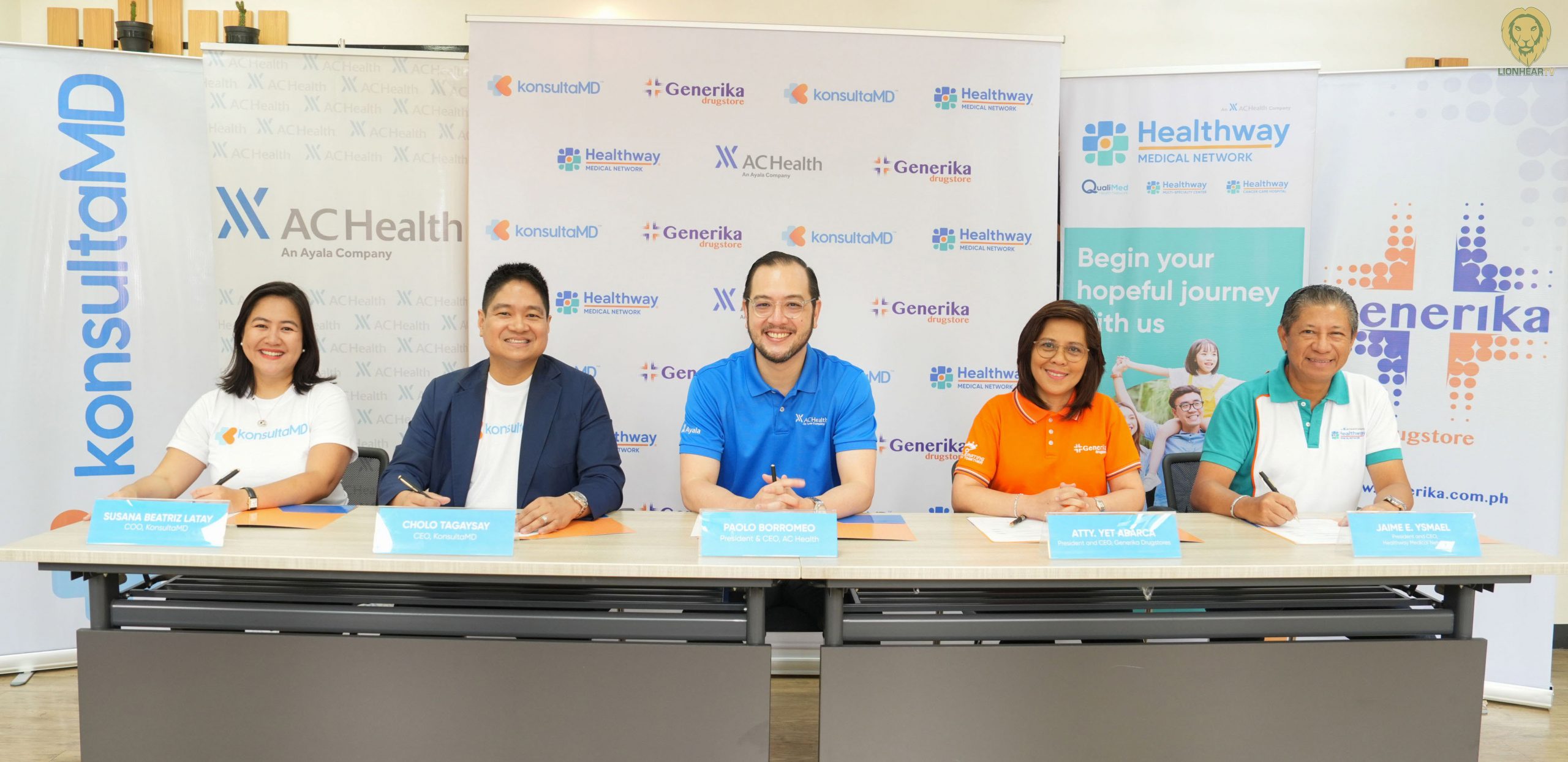 The partnership was launched recently in an event at the Makati Stock Exchange, bringing together AC Health President and CEO Paolo Borromeo, Healthway Philippines President and CEO Jaime "Jimmy" Ysmael, Generika Drugstore President and CEO Atty. Yet Abarca, KonsultaMD CEO Cholo Tagaysay and KonsultaMD COO Beia Latay.
Through the integration of AC Health's comprehensive ecosystem with KonsultaMD, patients now have the convenience of connecting with a wide network of medical professionals, hospitals, clinics, and an assortment of health services using online and offline platforms.
KonsultaMD members can now order medicines directly from Generika Drugstore and access the Healthway Medical Network's comprehensive suite of in-clinic diagnostic services such as laboratory, imaging, and rehabilitation. The app will also soon feature a convenient hospital appointment booking feature.
Further enhancing its offerings, the newly launched KonsultaMD Online Pharmacy service powered by Healthway QualiMed Manila will ensure round-the-clock medicine delivery service within Metro Manila.
"The launch of this partnership encapsulates the ecosystem and synergies that AC Health stands for. By linking Generika Drugstore and the Healthway Medical Network's services to KonsultaMD, we enable more Filipinos to conveniently access healthcare through different touchpoints," said AC Health President and CEO Paolo Borromeo.
The KonsultaMD SuperApp currently has over 1,000 doctors and medical professionals nationwide, covering over 60 specializations and speaking over 16 dialects. It offers a one-stop shop for all healthcare needs, including 24/7 teleconsultations, mental health support, online pharmacy delivery, at-home labs and diagnostics, and wellness services.
Cholo Tagaysay, CEO of KonsultaMD, expressed his enthusiasm for this synergy, saying: "Through this partnership with AC Health, we are able to further expand our reach and offer a more complete healthcare journey for our users, taking us a step further in our dream of democratizing healthcare in the Philippines."
Established in 2015, AC Health is a wholly-owned subsidiary of the Ayala Corporation that aims to provide every Filipino accessible, affordable, and quality healthcare. Its portfolio includes Generika Drugstore, the pioneer in generic retail pharmacies, IE Medica and MedEthix, a major pharmaceutical importer and distributor, the Healthway Medical Network, a network of multi-specialty clinics, ambulatory centers, and full-service hospitals, and healthcare SuperApp KonsultaMD. Through its three pillars—pharma, hospitals and clinics, and digital health—AC Health creates a seamless and integrated healthcare ecosystem for the Filipino patient.
KonsultaMD is a portfolio company of Globe's 917Ventures and AC Health. As the largest telehealth company in the Philippines, KonsultaMD consistently strives to provide accessible and affordable healthcare for all via its end-to-end services, advocating for physical and mental health among Filipinos.
This collaboration is a leap forward in the Philippine healthcare sector, driving accessibility, convenience, and innovation. For more information about KonsultaMD, visit https://konsulta.md or download the app on the App Store or Google Play.
Comments