Sustainability has always been ingrained in Watsons' DNA. The leading health, wellness, and beauty retailer is always at the forefront of helping educate and encourage customers do their part in saving the planet and encouraging them to make it a better place to live in for future generations.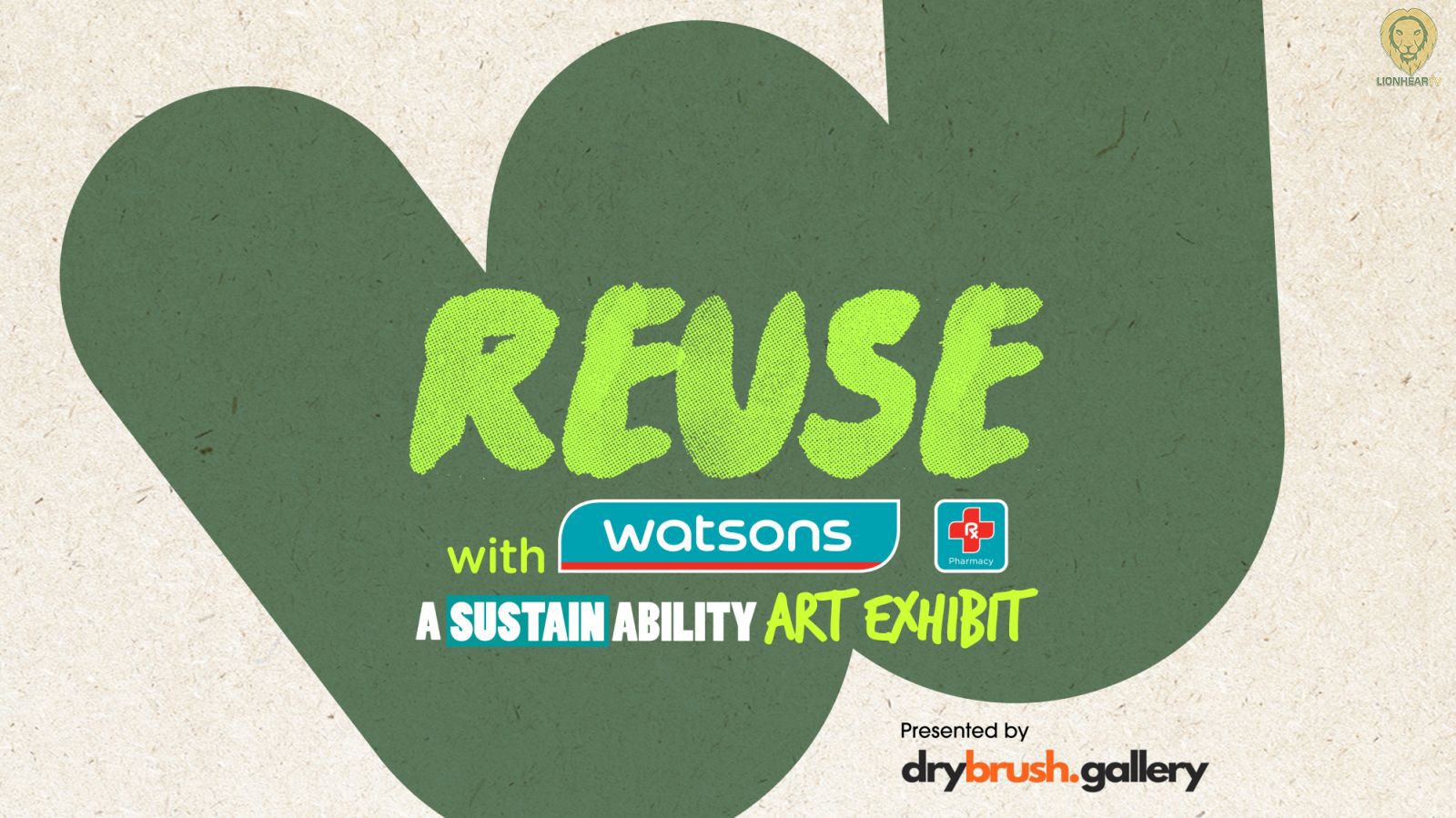 Watsons has also integrated sustainability into its corporate strategy with initiatives like Sustainable Choices and encouraging volunteerism among its employees, pushing boundaries to show its customers that it can walk the talk.
As part of its sustainability initiatives and to celebrate Filipino artistry and talent, Watsons, in collaboration with drybrush Gallery, launches "Reuse with Watsons: A Sustainability Art Exhibit" held at drybrush Gallery in SM MOA Square, Mall of Asia Complex, Pasay City.
Watsons hopes the art exhibit will be an avenue to raise public awareness about the importance of reusing by showcasing art pieces created from discarded materials such as plastic bottles/containers, plastic wrappers and containers, paper/carton boxes/tissue, blister packs, metals, sponges, foam, brushes, and cosmetics) collected from Watsons' Recycle for Rewards Campaign/ Products found in Watsons Stores.
The exhibit also seeks to continuously educate and inspire the public to practice Reusing and the 3RS (Reduce, Reuse, and Recycle) as these would contribute to the preservation of our planet.
The participating artists were tasked to create art pieces that integrate discarded materials sourced from Watsons Stores and from all the entries, the three outstanding artworks, which best fit with the theme of the exhibit, will be chosen.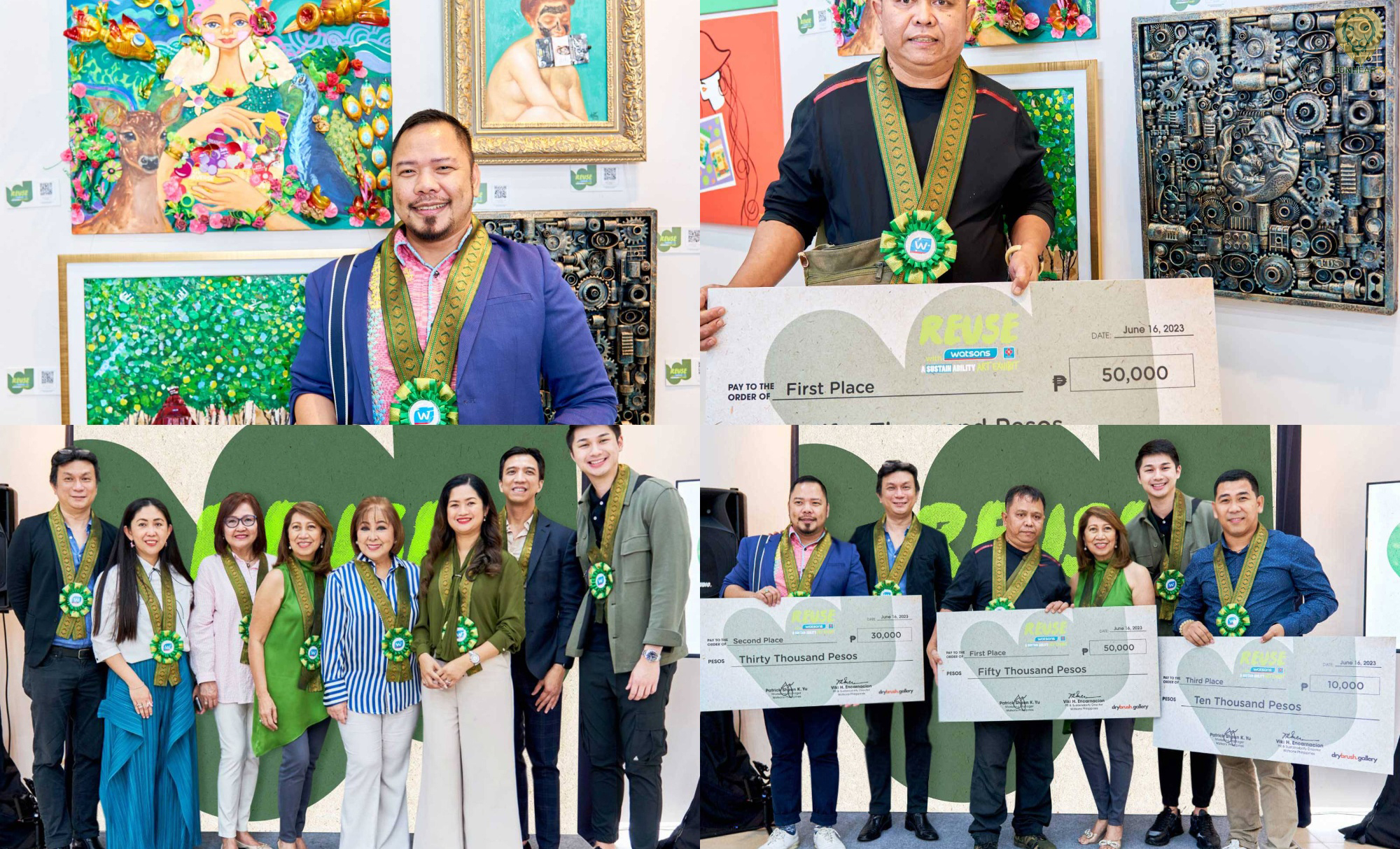 The artists that will be featured in the exhibit are Iñigo Acuña, Astrid Anabo, Neptalie unzo, Arnel Borja, Meijan Cabagay, Ape Castillo, Jeff Dahilan, Ronwaldo Dasal, Cesar Dela Torre, Angelo Delola, Daniel Dumaguit, Noli Española, Juno Galang, Esther Garcia, Ann Gatdula, Loise Angelo Go, Edgardo Granada, Anne Labesores, Ronald Limayo, Linggit (Briks Benigno), Ricardo Mallari, Ron Masaga, Luisito "Jon" Paras, Pancho Piano, Isah Rodillo, Roland Rosacay, Ferdinand Sanchez, James Sanorjo Jr., Rinald Sotto, JL Timbreza – Siao, Dominic Urbano and Ariel Villalobos.
The top three artists will be chosen based on Creative Reuse (50%), the extent to which discarded materials are creatively repurposed and transformed into the artwork; Aesthetic Appeal (30%), the visual impact and artistic quality of the artwork, considering elements such as composition, use of color, texture, and overall craftsmanship; and Environmental Message (20%), the artwork's ability to convey a message of environmental sustainability, raising awareness about the importance of reusing and reducing waste, and inspiring consumers to adopt more eco-friendly practices.
"We are very happy with our collaboration with drybrush Gallery, which helped greatly in making all this possible. To the participating local artists who have tremendously supported us and have given their whole dedication in creating art pieces using sustainable products from Watsons, we salute your passion and your love for our planet," said Watsons Sustainability and PR Director Ms. Viki Encarnacion.
To view the Watsons Sustainability Exhibit artworks and learn more about the artists, log on to drybrush Gallery website.
Comments