Planning to enjoy visa-free travel to Taiwan? Savor that mouthwatering xiao long bao, stroll through vibrant night markets, and explore its beautiful ancient temples while keeping your loved ones up to date with Globe's latest roaming offer, GoRoam Taiwan.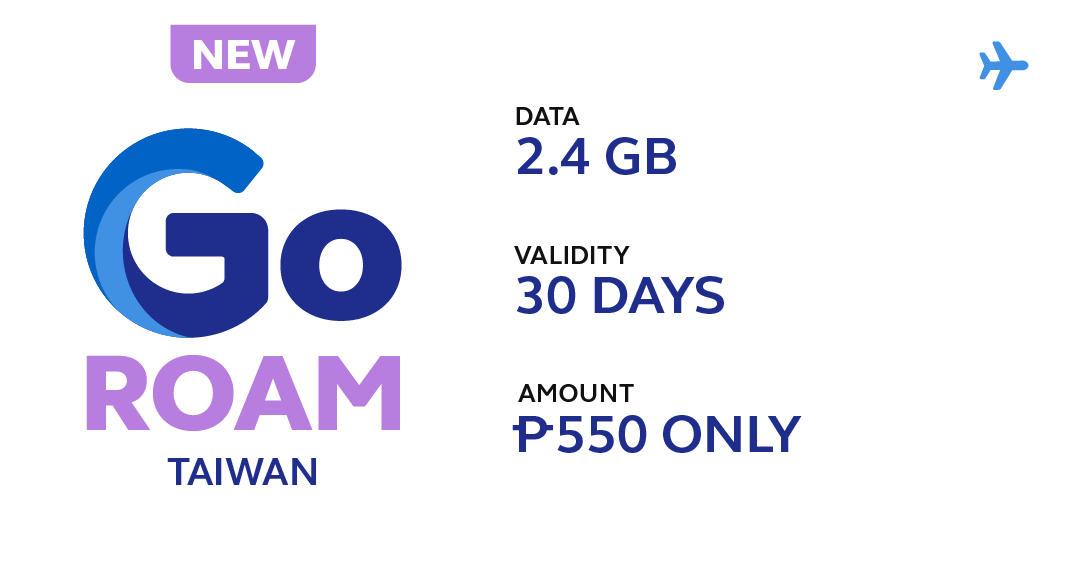 As a leader in transforming mobile roaming services, Globe infuses convenience and affordability into wanderlust-driven adventures. The expanded GoRoam offering is the perfect digital companion to your Taiwan escapades, offering competitively priced data packages nearly at par with local SIM rates.
You can avail of the Taiwan-exclusive GoRoam package for just PHP550, which comes with 2.4GB of data valid for 30 days. No need to swap SIMs – keep your home contact number and let your Taiwan story unfold seamlessly.
"We've been listening, we understand the traveler's desire for unhampered connection at rates close to what they'd find in the country they are visiting," said Coco Domingo, Vice President of Postpaid and International Business at Globe. "Our vision is to redefine roaming by putting customer convenience at the forefront. GoRoam Taiwan is another exciting chapter in our journey."
But the globe-trotting does not stop at Taiwan. GoRoam has got you covered in other popular Asian destinations. Get GoRoam Thailand with 15GB of data at PHP500, usable for 8 days when you go to Thailand. If you want to explore Hong Kong, stay connected with GoRoam Hong Kong's 3GB of data for PHP600, good for 5 days. Access the GlobeOne app to register to these offers at never-before-seen roaming rates.
"We're changing the game. We're making roaming more affordable and worry-free for our customers. With GoRoam, our customers can fully immerse themselves in their travels without sacrificing their need for connection," added Domingo.
Ready to roam like a local? Channel your inner explorer with GoRoam. Register via the GlobeOne app and let your adventure take flight!
● Postpaid subscribers can pre-register a day before their trip via GlobeOne. Once abroad, simply turn on data roaming and mobile data on your phone settings to activate the offer.
● Prepaid customers can register while abroad, also via GlobeOne. Once registered, begin surfing simply by turning on mobile data and data roaming, and set network connection to 3G. Then restart your device. Once GoRoam is active, set your network connection to LTE or 5G for the best possible data roaming experience.
To enjoy seamless data browsing while abroad, ensure your device's APN is set to internet.globe.com.ph. Track your GoRoam data usage via the GlobeOne app. To learn more about Globe Roaming, visit https://www.globe.com.ph/international/roaming.html .
Comments