Kris Aquino finally speaks up about her relationship with Boy Abunda
King of Talk Boy Abunda has been one of Kris Aquino's closest friends in showbiz for decades
Kris Aquino was gracious enough to answer a fan
Kris Aquino and Boy Abunda, Philippines' Queen of All Media and King of Talk, their bond is one of the most well-known friendships that have been united by hosting. The two were so inseparable, that even off-cam they still see each other.
Some of the most epic and great talk shows that will forever be remembered were 'Aquino & Abunda Tonight,' 'The Buzz' and 'Boy and Kris' of the ABS-CBN network. But then when Aquino left the network in 2016 their relationship had somewhat changed.
Speculations about their friendship started when they seem not catching up on each other. Especially knowing that Kris is very active on daily updates on her social media accounts, her posts did not contain any word, photo or video of Abunda.
And finally, Kris broke the speculations via an Instagram reply giving the real score about their friendship status.
It was on February 06 that the controversial Aquino first posted a video presenting a hand-written letter that gave a brief update about her condition following the previous medical examination she has had.
https://www.instagram.com/p/BtgQKyTF5UX/?utm_source=ig_web_copy_link
As many of her followers poured their love and support for Kris, one Netizen out of nowhere caught Aquino's attention when it freely raised a question asking if Kris is still friends with Boy.
"Still friends with Abunda, Miss Kris? Just curious.."
Kris without any hesitations honestly answered. "To satisfy your curiosity, I believe we'll always care about each other but we are no longer active participants in each other's lives."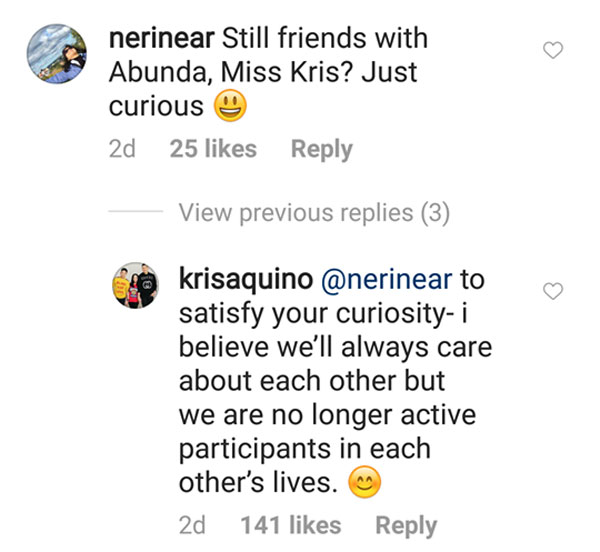 Netizens were shocked and saddened by Kris statement that they gave their comments on the two showbiz celebrities' relationship.
Abunda stressed in a 2017 interview that nothing has changed in his friendship with Aquino even though they no longer get to work on a television show together.
Also in a 2018 episode of Boy's late-night show The Bottomline, he expressed that he missed working with Kris as a co-host saying, "She will always be one of the best, "Kami ni Kris, basa namin ang isa't-isa. Uumpisahan niya ang sentence, tatapusin ko. We've been talking to each other for over 20 years."
Abunda added, "I miss her, I miss her as a host."
This is indeed a saddening disclosure but there is always hope in friendships to be enliven and restored.
Comments