The pandemic took a great toll on the local entertainment scene with live audiences and productions put on hold.
As new and fresh content become scarce on free television, smaller production units take the charge in the country's foray into spicing up the audiences' to-binge-list.. Here's a look at the best digital series produced and aired within the year.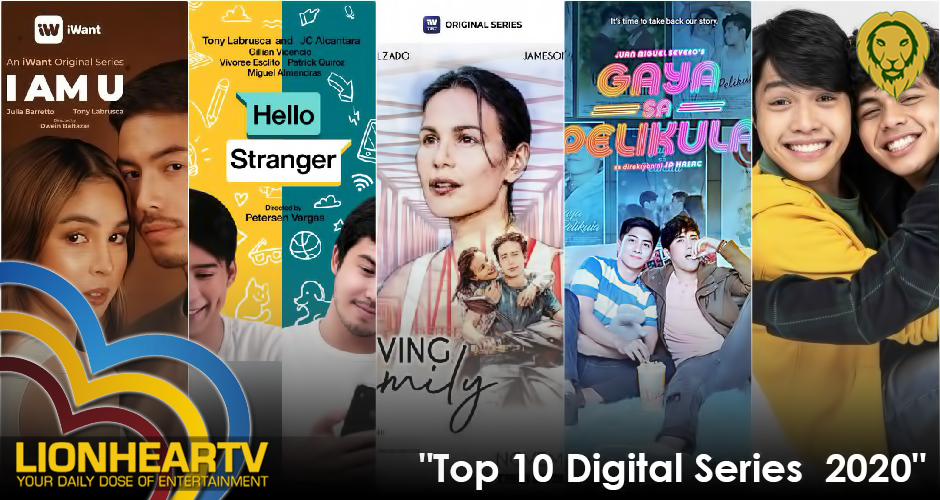 As the boys' love phenomenon explodes in the Philippines, more production houses tap online streaming as a potent platform to deliver beautiful stories, which the audiences are more than willing to follow. 2020 is definitely the Boys' love year, but there are others that managed to break out, nonetheless, amidst the BL-crazy market.
Options, definitely, are awfully reduced, but there are certain gems that stand out, and would surely still stand out, even when compared to last year's debuts.
1. Gaya Sa Pelikula (Globe Studios)
Gaya sa Pelikula is highly regarded as one of the most—if not the most—acclaimed boys' love series of the year, and there are overwhelming merits to it. In a year where almost every sort of abnormality abounds, Gaya sa Pelikula's charming effort to make what to most people looks anomalous, perfectly normal, imparts some much-needed sense of normalcy. At the heart of this Juan Miguel Severo-penned masterpiece, is a lovely tale of self-acceptance.  I'm Drunk, I Love You director JP Habac beautifully navigates Severo's exquisite exploration of a young man's bid to confront devastating truths about his identity; and while it is common in series like this to feature characters who are coming to terms with their sexuality, Gaya Sa Pelikula's articulate take on its subjects, provides a liberating testament to the universality of love. It creates a bubble that serves as a safe space to anyone who sees themselves in Karl and Vlad, but encourages them to courageously explore the world outside, at the same time.
Ian Pangilinan and Paolo Pangilinan are both lauded for their portrayal of their exceptionally-written characters. It must be Severo's intent to place a pair of two completely different characters at the core of his story, and to the two Pangilinans' credit, the Karl and Vlad they brought to life are as tangible as any two characters from the extreme ends of the character spectrum, can be.
2. Gameboys (IdeaFirst Company)
As government-imposed protocols immobilize local production units, most of the BL dramas that came out during the pandemic practically mimic the events of the lockdown, with most of the new titles set during the pandemic. Gameboys doesn't only take the pandemic as its backdrop, it also mirrors how people communicate during these times when citizens' aren't allowed to get physically close with each other.
In Gameboys, the story of Gavreel (Kokoy de Santos) and Cairo (Elijah Canlas) is made possible by a fateful online encounter, which later on blossoms into a tender, sweet romance. Both de Santos and Canlas faced the same challenge of pulling off their roles with ease, given that its director, Ivan Andrew Payawal, delivered instructions virtually, and to the audiences' surprise, the Gav and Cairo they were able to deliver are emotionally-rich and grounded in reality.
Gav's assertive and confident personality is perfectly embodied by de Santos, but his playful take on the character's tight nuances is what amplifies the charm the character already possesses, making it one of the most memorable BL characters ever introduced to Filipino audiences. Canlas' streak of critically-acclaimed performances in film enabled him to transform Cairo to its most affectionate form, with his entire performance largely built upon moments of restraint.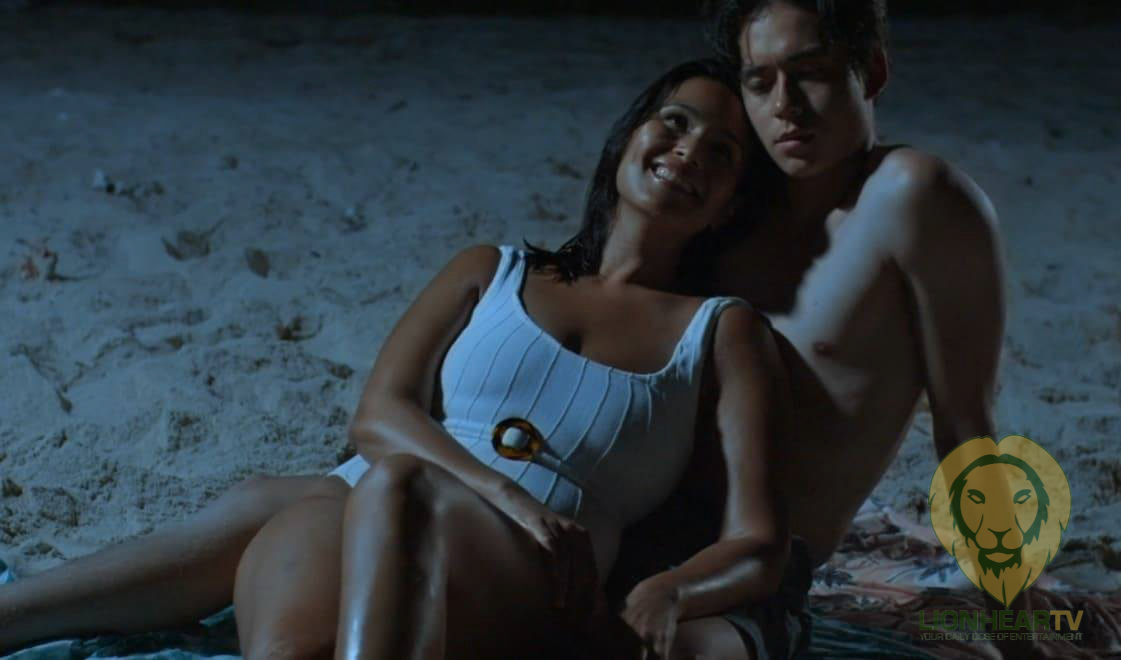 3. Loving Emily (iWantTFC)
Beautifully shot and compellingly-written, 'Loving Emily' does not just underscore Iza Calzado's and Jameson Blake's incredible restraints, but also its moving story about a woman's struggle to free herself from mid-life crisis chains, her long-awaited emancipation immaculately rendered in a forbidden romance.
Emily's wild sexcapades with Vince are an entire character that drives the story to intimate places, but the crisp cinematography rendered in the show's both somber and vibrant palettes is an equally outstanding element that gives this bittersweet anecdote an extra flair. Calzado's moments of restraint are screaming testaments to the actress's unquestionable versatility. Blake navigates Vince's innocence and wild vulnerability through believably-conveyed small but precisely-acted nuances, proving his tested caliber as a truly fine actor.
4. Oh Mando! (iWantTFC)
Mando, a discreet gay guy, takes the spotlight in 'Oh Mando!', ABS-CBN's second entry to the exploding boys' love genre. Kokoy de Santos plays the titular role, whose glaring difference from Gavreel (Gameboys) is as stark as black and white. De Santos, given his inherent comic timing, pulls off Mando's ever-shifting personalities, spot-on. There is magic in how he beautifully delivers the tight nuances of the character. But perhaps, the most important merit of Mando is its symbolic representation of viewers who, one way or another, can relate with his character.
5. Hello Stranger (Blacksheep)
Petersen Vargas' maiden venture into boys' love series, does not offer a fresh take on the still young genre (in Philippine context, at least); it talks about young love, two equally attractive young characters are at the core of the story, and like most entries to the BL genre that came before it, homosexuality isn't treated as a major complication in the plot. The two characters are made to play in a perfectly neutral society that has no strong disapproving judgment on two male characters being in love for each other.
Hello Stranger's simplistic storyline perfectly matches its breezy and light tone. Each of the 20min-ish episodes maintains the beautifully balanced amount of drama and romance, which primarily centers on the magical unraveling of the connection that its lead characters, Mico (JC Alcantara) and Xavier (Tony Labrusca), create.
6. Quaranthings: The Series (RIDE OR DIE)
Ride or Die's 'Quaranthings: The Series' often sad tone, sets itself apart from the usual breezy and lighthearted mood of the Boys' love genre. While this is not the first time a series like this puts the usual BL motifs under tighter scrutiny, 'Quaranthings' impressive fashion of delving into its themes is an emotional delight and a breath of fresh air.
Quaranthings' beautifully written script is sufficiently complemented by its two lead actors with outstanding performances. The series' take on heavier societal themes that are rarely tackled in BL dramas, will excite and warm the hearts of faithful followers of the genre.
7. I Am U (iWantTFC)
I Am U's dark and dramatic plot makes this iWantTFC original a standout, but its overall merit is undoubtedly primarily driven by Julia Barretto's compelling take on twin characters, Elise and Rose. Audiences are engaged in a chaotic guessing game where the culprit is practically a shadow.
Doppelgangers are bliss when it comes to dramas like this, and audiences are quick to dig in when a show features such a character, but here the excitement and thrill are further amplified by the mystery shrouding the characters of Elise and Rose, and viewers could not help but follow their story until the end.
8. Boy's Lockdown (Ticket2Me)
About cute boys in a cute story that feels like a summer teenage romance, 'Boys Lockdown' is pretty inside out, teeming with not just visual treats but some quarantine lessons, too.
There is a bunch of things to admire in this Jade Castro-helmed series. It's lovely, breezy, and tender. It is also beautifully shot, in a nice and Instagram-worthy location that essentially defeats the challenges presented to filmmakers, these days. Admirably, the series takes information dissemination about health and safety protocols too seriously that the first episode kind of feels a 20-minute DOH ad. People here are too nice and law-abiding to be true, but it's still impressive because it makes it a great point without being too preachy. And the boys are fine-looking and can act really well, too.
9. The House Arrest of Us (iWantTFC)
The first 'digi-movie series' starred by Kathryn Bernardo and Daniel Padilla is beautifully shot, with all the feels and vibe of a movie, and the lethal dosages of 'kilig' only KathNiel can generate.
There are heartwarming moments in this 6-episode digital series, that aren't purely found in the hilarious banter and light badgering between the two families, that reminds us how both exciting and frightening marriage is, or any relationship for that matter.
Lovely and brimming with endearing lightheartedness, The House Arrest of Us imparts a beautiful romance whose lessons on love, marriage, and life in general, are definitely any hopeless romantics would appreciate. And of course, that Daniel Padilla and Kathryn Bernardo star in this series, make it an easy sell.
BenXJim (Regal Entertainment)
Regal Entertainment Inc. doesn't just have the enormous talent of Jerome Ponce and Teejay Marquez, and their beautiful rapport, to make BenXJim work. It also has a bracing story that most audiences won't have difficulty relating to.
BenXJim has all the makings of the traditional boys' love (BL) series - it's light, breezy, doesn't dwell too much on deeper societal issues, its complications largely mundane. In moments where the deeper themes of the plot are shed light upon, both Ponce and Marquez satisfyingly respond to the emotional requirements of their characters, their portrayal never less compelling.