Singer Leah Navarro called Senate President Tito Sotto stupid after the latter defended Presidential Spokesperson Harry Roque for telling Filipinos not to be "picky" when it comes to vaccines.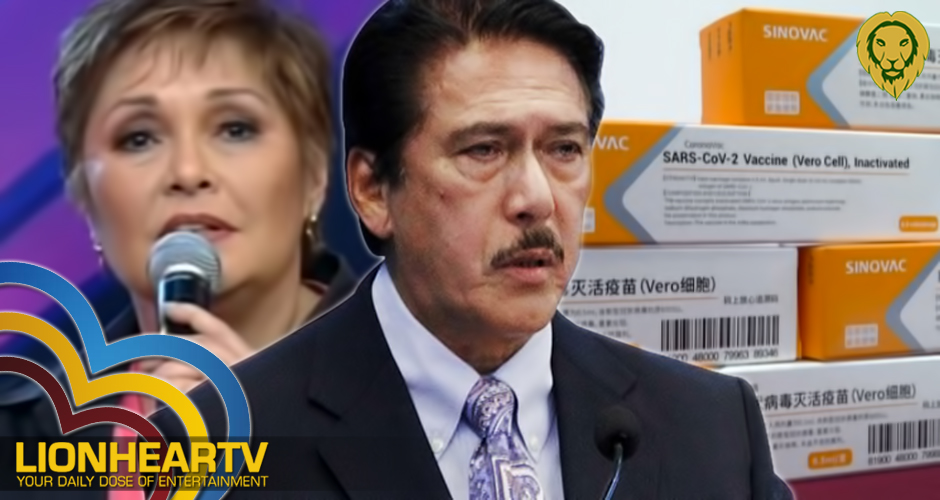 In her tweet, she called Sotto stupid after a satirical post of a Twitter page Duterte Watchdog presents described how the senator would respond to critics of Sinovac.
In the post she retweeted, it made a scenario where Sotto suggested that having 2 doses of Sinovac whose efficacy is 50%, then it would have 100% efficacy making it better than other vaccine brands.
You are so stupid, you don't know you're stupid, Tito. Crap. https://t.co/lMZGC1wWS9

— Leah Navarro (@leahnavarro) January 14, 2021
Even musician Jim Paredes couldn't believe that Sotto would say such thing.
Serious? This has to be a joke!!

— Jim (@Jimparedes) January 13, 2021
Apparently, it is a joke made by the author of the tweet. This was also confirmed by Navarro after some netizens questioned its legitimacy.
It's a joke, apparently. It's also apparent that it rings so true, yes? 😂

— Leah Navarro (@leahnavarro) January 14, 2021
Still, it is related to what the politician have said during an interview in Kapihan sa Manila Bay. During the talk, he stated that the government's choice of vaccine should not be made a "big deal".
"Let's not make a big deal out of it," said Tito Sotto.
He made such statement after Roque pronounced that Filipinos should not be "choosy" on the brand of vaccine that they will receive from the government.
Furthermore, he presented two sides of the issue. One is the availability of the vaccine which the government wants. On the other hand, people refuse to take the vaccine.
"It has two sides eh. Kasi kung ano ang available eh gamitin na natin, ganun yung mentality ng sinasabi nila eh, ng spokesman ng Presidente. On the other hand, meron naman sinsabi na 'Eh kung ayaw ko eh, ayoko niyan eh,' he continued.
However, what's shocking is that his statement after. He said that if Filipinos do not want the vaccine, then don't.
"Ako naman ang dali ng sagot ko do'n: Eh 'di wag, ayaw mo pala eh. 'Wag mo ipipilit, ayaw eh," Sotto said.
Still, there is a pressing concern that the 'available' vaccine, which is Sinovac, has a 50% efficacy rate, lowest among other brand of vaccines such as Pfizer and AstraZenica. Moreover, the price of the vaccine is expensive—P3,629.50.
This is the reason many opposed the chosen vaccine. Not just it's pricey, it is also not that effective.
Leah Navarro is a Filipino singer and an advocate for good governance. She is a big critic of President Rodrigo Duterte. Last 2019, she was considered persona non-grata in Davao City by General Santos City Councilor Atty. Franklin M. Gacal Jr.. This was because of her controversial tweet after the Mindanao and the city, where Pres. Duterte hails from, were hit by earthquakes.
Comments