In a recent episode of It's Showtime, Vice Ganda and Angeline Quinto teased each other about their respective cosmetic procedures.
On Monday, March 1, close friends Vice Ganda and Angeline Quinto, whose onscreen banter frequently ends in teasing remarks, made each other as targets once again. This time on the topic of cosmetic procedures.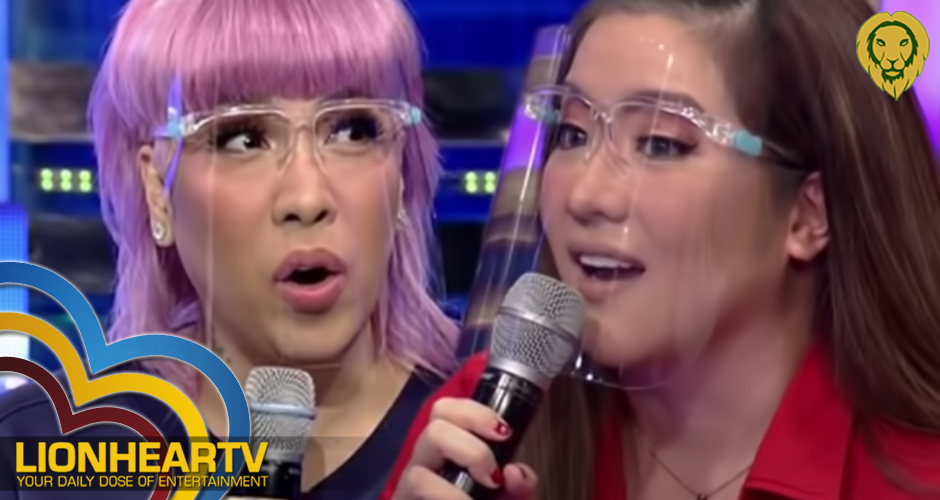 Vice was hilariously challenged by Angeline to reveal the details of his cosmetic surgeries. It came after he made a joke about the female singer's appearance, during It's Showtime's segment Tawag ng Tanghalan, where she was one of the judges.
In the said segment, Quinto remembered a competitor named Ara Bautista as one of her opponents during her amateur singing contest days.
To which Vice Ganda reacted, "Talaga? Mahirap kasing matandaan si Angeline. Magulang niya nga hindi na masyadong ano yan e, anak ikaw ba ito? Parang iba e," as he immediately poked fun on the diva's physical appearance and pointed out how the singer significantly changed over the years.
The singer-actress then defended herself by making a comparison between her and Vice's past appearance.
"Hoy, grabe ka! Kaysa naman ikaw! Kung titingnan ang hitsura mo dati. Ano ang mas malala sa atin?" she protested.
Quinto casually revealed she had a cosmetic procedure performed on her eyes, daring the comedian to unveil his list of enhancements.
The comedian then asked, "Ako, nagpagawa ako?"
"Kalahati ng mukha! O, ano, aminan? Magtanong tayo kay Dr. Belo ng record, sige!" answered Quinto.
Quinto was referring to Vicki Belo, a celebrity doctor whose medical aesthetic clinic she and Vice have both endorsed for various procedures.
"Kalahati talaga, Angeline? Sorry, three-fourths!" Vice Ganda quipped.
Some celebrities in the entertainment industry have denied having cosmetic surgeries, but the two Kapamilya stars have been transparent about their cosmetic procedures and treatments in the past.
Angeline Quinto, 31, has not only proclaimed herself a 'proud retokada', but she has also confessed to having been through this before.
To recall she listed down on her Instagram page all the procedures her face and body went under the knife to respond to haters bashing her for being 'retokada'.
Quinto has undergone eyelid surgery, arm liposuction, belly liposuction, thermage, glutathione injection, and breast reduction surgery, thanks to the celebrity doctor Belo.
In 2013, she confessed to having liposuction under Belo Medical Group and having her eyelids deep-set to make her eyes appear less sad.
She also revealed that she had breast-reduction surgery in 2015, decreasing her size from 36-inch Cup D to 36-inch Cup B.
She thought of getting her nose trimmed as well but eventually decided against it.
According to the Kapamilya singer, having treatments done for her appearance was part of their job as celebrities. She also said that she sees the move helpful to her career.
Meanwhile, Vice Ganda, 44, has said that he underwent hip surgery and treatment to have a rice-shaped or elongated, V-shaped face.
In a rare moment, the ace comedian has shared his personal story about cosmetic surgery.
Vice Ganda had an emotional and insightful interview with Janine Berdin, who recently made her nose done, during his online program, Gabing Gabi na Vice.
The Kapamilya comedian revealed he had procedures to enhance the appearance of his eyes, cheeks, and chin.
Before, he also admitted to receiving botox and having hip enhancement surgery.
According to Vice Ganda, there was nothing wrong with doing cosmetic surgery.
He did clarify, however, that he is not urging people to undergo cosmetic surgery but rather to do what they think would boost their confidence and inspire them.
Comments